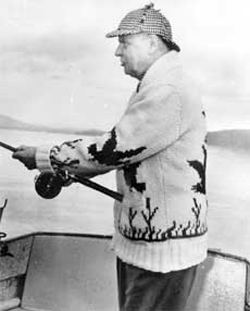 More than 625 Canadian scientists are demanding that the Canadian government abandon plans to gut the Fisheries Act, the nation's most significant and oldest piece of environmental legislation.
Scientists contacted by The Tyee called the changes shocking and unprecedented.
"We believe that the weakening of habitat protections in Section 35 of the Fisheries Act will negatively impact water quality and fisheries across the country, and could undermine Canada's attempt to maintain international credibility in the environment," states the letter.
"Most Canadian men like to hunt and to fish," said David Schindler, a world famous ecologist in a Tyee interview. "The proposed changes to the Fisheries Act are an attack on the rivers and waterways that support these freedoms," added Schindler who drafted the letter.
Schindler rallied biologists after leaked government documents obtained by former federal fishery biologist Otto Langer a week ago show the Harper government plans to remove habitat protection entirely from the act.
Without protection for rivers, streams and lakes, fish populations will decline, species will go extinct and waterways will become lifeless, say fishery biologists.
Proposed changes likely this year
Langer says that the government wants to piggyback the changes onto the next federal budget.
In a prepared statement Fisheries and Ocean Minister Keith Ashfield confirmed that, "The government is reviewing fish and fish habitat protection policies to ensure they do not go beyond their intended conservation goals."
The terse statement added that existing policies "do not reflect the priorities of Canadians," but provided no explanation.
The Fisheries Act, Canada's best and most clearly-worded environmental legislation, says that "no person shall carry out any work or undertaking that results in the harmful alteration, disruption or destruction of fish habitat."
But Tory changes would make it legal to destroy waterways provided that it does not "result in an adverse effect on a fish of economic, cultural or ecological value."
Like 'eugenics' say scientists
Schindler and other scientists compared the division of fish into valuable and non-valuable species to the wildlife equivalent of eugenics, the Nazi idea that some humans are more racially fit than others.
"It's exactly like eugenics," said Schindler. "It's a stupid idea. What do they think all these commercially important fish eat? Did they ask the fish who is fit and unfit and which fish is of ecological value? They should just scratch this wording out and improve the act, not gut it."
Schindler's work on acid rain, nutrient pollution and oil sands water contamination has prompted major public policy changes in North American and Europe.
John Smol, an award-winning lake biologist at Queen's University says the proposed changes are unbelievable if not shocking.
"It's a disconnect with science. Minnows are a part of the food chain. So what is an ecologically significant fish?"
'They are all ecologically sensitive': Smol
Smol also wondered where the proposals originated. "I can't imagine a federal biologist proposing this. They are all ecologically sensitive. They know how a food chain works."
Given the multiplication of stresses on rivers and waterways including nutrient pollution, climate change, and invading species, Smol says the act should be strengthened, not weakened.
"It's an act we've had from the beginning of the country and it's very important."
Schindler says gutting the act appears to be driven by the government's agenda to accelerate mining and oil sands projects.
"The people who will benefit from these proposed changes are developers who want to build roads or big projects who now have to deal with stream crossing permits. The people who won't benefit are commercial fisherman, First Nations and Canadians who just like to angle for pleasure."
In addition two former fisheries ministers, John Fraser and Tom Siddon, have both strongly condemned the government's proposal to emasculate the legislation along with the Canadian Society for Ecology and Evolution.
Since 2009, the government of Stephen Harper has weakened the Navigable Waters Protection Act, exempted big infrastructure projects from the Canadian Environmental Assessment Act and repeatedly downgraded commitments to address atmospheric pollution. Environment Minister Peter Kent is being sued for refusing to uphold the Species At Risk Act and protect woodland caribou in northern Alberta in the oil sands region.
[Tags: Environment.]