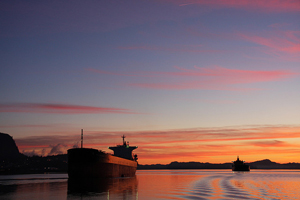 The British Columbia government is considering creating two foreign trade zones, one in the Vancouver region and one in the north.
The scenarios for zones where companies could bring goods into Canada without immediately paying tariffs on them are outlined in the report Feasibility of a British Columbia Foreign Trade Zone (FTZ) Program that Intervistas Consulting Inc. prepared for two B.C. ministries.
One zone, covering the Port of Vancouver and Vancouver International Airport, could add an estimated $5.1 billion in goods a year to the trade already happening, it found. The other is proposed to include the Port of Prince Rupert and the Prince George Airport and could bring an extra $46 million worth of goods through those cities each year.
"An FTZ policy can be an effective tool to improve the competitiveness of North American locations in the global supply chain," the report said. "They can be a powerful attribute for attracting economic activity to British Columbia that would otherwise take place overseas because of tariffs, taxes or other restrictions."
The zones would allow companies to bring goods or materials in from other countries to be assembled, customized or repaired in the province, said the report. The companies wouldn't have to pay any tariffs until the final products were put on the Canadian market. And if they were shipped out of Canada from the FTZ, they wouldn't be subject to Canadian tariffs at all.
Taxes reduced, delayed
"FTZs encourage overseas firms that are already exporting goods into the NAFTA economy to undertake some of the value added activity in North America," the report said. "Host countries use FTZs to attract new business and investment that ultimately creates new local employment and economic activity."
Companies could also use the zones to delay paying tariffs or, in some cases, to reduce them, the report found. It cited the pharmaceutical industry as an example where companies could save money by importing ingredients tax free, then later paying tax at a lower rate on the finished product.
Other industries might use the zones to warehouse goods, avoiding import taxes until they are ready to sell the goods, it said.
As the report put it, "Generally, as duties have been reduced, value added, sales and excise taxes have increased, and temporary postponement of these taxes are increasingly a raison d'être of a FTZ."
Dated Nov. 4, 2011, the report was prepared for the Ministry of Jobs, Tourism and Innovation and the Ministry of Transportation and Infrastructure.
Jobs, Tourism and Innovation Minister Pat Bell represents Prince George-Mackenzie, served by the Prince George Airport component of the proposed foreign trade zones.
The United States has hundreds of such zones, including 35 in west coast states, the report said. Canada has just two: one at the Gander, Newfoundland airport and one in Winnipeg, Manitoba at CentrePort.
Responding to a request for an interview, a spokesperson in Transportation and Infrastructure Minister Blair Lekstrom's office said JTI is taking the lead on the issue. A spokesperson at that ministry took questions, but Minister Bell was unavailable.
Bell hinted in the Legislature last May that Prince George might be under consideration for a foreign trade zone. "You could have a free trade zone around an airport, even in my home community of Prince George," he said, pointing out that they were not limited to ports. "That would be quite possible."
Bell was responding at the time to a question from the New Democratic Party MLA for Delta North, Guy Gentner, who along with independent Delta South MLA Vicki Huntington, was raising alarm about what a foreign trade zone might mean for Delta.
Huntington accused the government of putting economic interests ahead of all other values, including the protection of farmland. Gentner today noted that BC Rail had been buying land in the agricultural land reserve through a numbered company and said it wasn't clear why.
Report seems 'sanitized' says MLA
Having seen the InterVistas report, Gentner said, "It seems very sanitized." The report fails to address labour and environmental issues, he said. "It seems to be evading it."
While the report is full of "nice words", it remains difficult to know what it means and what the province plans to do, he said, adding he'll have lots of questions for the ministers responsible when the legislature resumes sitting after Feb. 14.
The report said that while early foreign trade zones created a few decades ago tended to be secured behind fences and exempted from local laws, including those covering labour and the environment, modern ones are different. Recent foreign trade zones are subject to local laws and the regulation tends to be done administratively rather than through security, it said.
Canada already has some policies that are "FTZ-like" in how they apply duties and allow companies to defer their taxes, but little actual FTZ activity, said the report. "In B.C. and elsewhere in the country there is currently a high level of interest in reforming the FTZ policy and the federal government has indicated it is willing to review and possibly simplify and enhance the programs."
Bell told the Legislature last May that the Foreign Trade Zone Council was to liaise with InterVistas as the consulting company worked on the report. Committee members included representatives of CN Rail, CP Rail, Global Container Terminals, the Greater Vancouver Gateway Council, Port Metro Vancouver, Prince Rupert Port Authority and the Vancouver Airport Authority.
Federal decisions to come
A key question the report addresses is whether FTZs would be bringing new business into Canada, rather than poaching from already existing trade.
"If structured properly, an updated FTZ policy would cause no displacement of any existing B.C. economic activity," the InterVistas report said. "Rather, a revised FTZ program would only generate new economic activity for B.C. -- activity that would otherwise be located overseas or in a U.S. FTZ."
Based on the experience in the U.S., the authors estimated the Vancouver zone would bring in enough new trade to generate 3,100 direct person years of employment and a $200 million boost to GDP.
The northern zone would handle just an extra $46 million worth of goods a year, creating 30 direct person years of employment and adding $2 million in GDP.
For comparison, the province's GDP in 2010 was $203 billion, or about 1,000 times larger than the amount the Vancouver proposal is estimated to add to B.C.'s economy.
The next step, the report said, is for the federal government to develop a new foreign trade zone policy that would keep many existing policies that are working, but also "expand the range of activities that can be done within the FTZ" to match the United States.
Canada and the provinces should also develop a "single window" service where "applicants can deal with a single point person to handle all government issues, regardless of source." The person would act as a "concierge" co-ordinating across federal, provincial and muncipal governments. "While the behind-the-scenes action of the concierge may be complicated, it should appear simple to the actual user."
In June the federal government said it would be reviewing it's policies on foreign trade zones to see if they were competitive with other countries and "able to support Canada's gateway development initiatives."
The NDP's Gentner said he'll be watching to see how fast the file moves now that the Conservatives have a majority in Ottawa and BC Liberal Premier Christy Clark is trying to demonstrate a strong relationship with Stephen Harper's government.