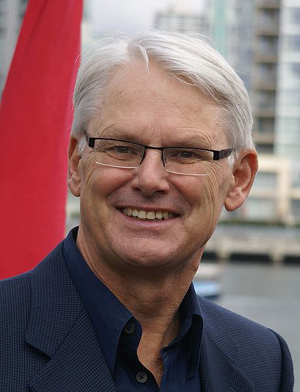 Whoever nominated Gordon Campbell for the Order of British Columbia was not content to let the 27-year politician's qualifications stand on their own.
The nomination package for Campbell was 17 pages long, which was more than double the eight pages submitted in support of real estate tycoon Luigi Aquilini and seven each for Campbell's ex-sidekick Ken Dobell and former Liberal-cum-Conservative Member of Parliament David Emerson.
The nomination documents were withheld in their entirety by the government, which claims that disclosure through the Freedom of Information process would be harmful to personal privacy.
Campbell's award sparked a public outcry when it was announced in September. The nomination deadline was March 12, two days before Christy Clark took over as premier and three days before Campbell resigned as the BC Liberal member for Vancouver-Point Grey.
The Order of B.C. website at the time stated that a nominee "must not currently be an elected person with federal, provincial or municipal governments."
Officials claimed Campbell's nomination was legal because the Provincial Symbols and Honours Act says a person "who is an elected federal, provincial or municipal representative is not eligible to be appointed a member of the Order while that person remains in office."
Campbell was appointed to the Order less than six months after he left office. Bill Bennett, the only other ex-premier so honoured, got his Order of B.C. in 2007, 21 years after he retired from the premiership.
Now the High Commissioner of Canada to the United Kingdom and Ireland, Campbell was absent from the Oct. 4 ceremony at Government House in Victoria.
Decision day
The government did release documents that cast some light on the process that led to the Campbell's controversial award.
The Order of B.C. advisory council met April 26 at an undisclosed Vancouver location. The site of the meeting and the lunch were both redacted under a section of the Freedom of Information law titled "disclosure harmful to law enforcement."
The meeting was chaired by B.C. Chief Justice Lance Finch and included Vancouver Island University president Dr. Ralph Nilson, Intergovernmental Relations Secretariat associate deputy minister Pierette Maranda, Speaker of the Legislature Bill Barisoff, Union of B.C.
Municipalities president and Surrey Coun. Barbara Steele, VANOC chief executive John Furlong and Barbara Ward-Burkitt of the Prince George Native Friendship Centre. Furlong and Steele were 2010 recipients.
Finch offered opening remarks at 10 a.m. followed by introductions, administrative notes and an outline of the process. The nominees were then scored. Lunch was served at 12:30 p.m. The meeting resumed at 2 p.m. with the final selection of approximately 12 recipients.
At 3 p.m., there was discussion of the "carry forwards" to 2012. The meeting was scheduled to wrap up at 4 p.m.
At 6:02 p.m. on the same day, Honours, Programs and Protocol Officer Karen Felker of the Intergovernmental Relations Secretariat, emailed Catherine Alexander the list "Confidential: 2011 Order of British Columbia (Order in Councils)."
"Below is the Order of British Columbia selection list for 2011. As in past years, we'll need the OICs held after they are approved by Exec Council and signed by the Premier. We need to call the recipients, prior to the OICs being signed by His Honour. Preference would be to have an individual OIC for each person."
Luigi Aquilini, Vancouver, business and commerce
Peter Norman Baird, Vancouver, other
Gordon Campbell, Vancouver, community leadership
Ken Dobell, Delta, public service
Crystal Dunahee, Victoria, community service
David Emerson, Vancouver, business, commerce and industry
Yuri Fulmer, West Vancouver, community service
Tim Jones, North Vancouver, community service
Dr. Phil Muir, Hazelton, community service
James C. O'Rourke, West Vancouver, industry
Karen O'Shannacery, Vancouver, community service
Jim Robson, Vancouver, sports and recreation
Baljit Sethi, Prince George, community service
Ellen White, Nanaimo, community service

Relationships
How many nominees were considered was not disclosed. Nor was voting information disclosed, but it would be interesting to know if three of the most controversial nominees were given John Furlong's support.
Dobell was an original VANOC director and chaired the finance committee. Even when Dobell, Campbell's former city manager and deputy minister, was caught flouting lobbyist registration laws, Furlong stood by his man.
"It takes a classy individual to admit it when he makes a mistake, and he has," Furlong said on March 12, 2008. "He's a star member of our board, a great contributor and he's done extraordinary work for us and he will continue to do that."
David Emerson was the federal Olympics minister at a key time for VANOC -- when the world's economy slid downhill. While publicly claiming that its operations budget did not rely on taxpayers, Furlong and VANOC was secretly lobbying the federal government in 2007 for $20 million to produce the opening ceremony. Lo and behold, Emerson showed up at a news conference in VANOC headquarters on Feb. 22, 2008 to stand beside Furlong and announce a $20 million contribution.
Campbell and Furlong shared a mutual admiration. Furlong owed a debt of gratitude for allowing him to do the job that made him famous and opened up new opportunities, like directorships with Rocky Mountaineer and Whistler Blackcomb.
If the premier didn't like the job Furlong was doing, changes would have been made long before 2010. The VANOC board included several directors who were on a first-name and speed-dial basis with Campbell who would have offered their master constant evaluation of Furlong's leadership. Campbell was responsible for appointing Dobell, Rusty Goepel and Richard Turner. Goepel and Turner are prominent Liberal bagmen. Stockbroker Peter Brown was a federal Conservative appointee but a close confidante of Campbell's. Founding chairman Jack Poole, who died in Oct. 2009, was a mentor figure to both Campbell and Furlong.