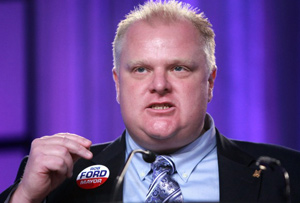 Is Vancouver mayoral candidate Suzanne Anton taking cues from a Toronto mayor who wants to rip up bike lanes? Or are her political opponents overstating the influence of a deception-friendly Ontario communications firm brought on to help get her elected?
What's clear is that Anton's right-of-centre Non-Partisan Association is fighting for its political survival. Reduced to one council seat (her own) in the 2008 civic election, the NPA is now campaigning aggressively against what it terms the ruling Vision Vancouver administration's "half-baked radical green agenda."
The odds of Anton taking down mayor Gregor Robertson and his Vision-dominated council might be daunting. But recent municipal history in Canada has been kind to the underdog. First there was Naheed Nenshi, the now-famous Calgary mayor who seized victory last October with his aggressive courtship of young, tech-savvy voters on Twitter and Facebook. Then, days later, came Rob Ford, a blustery populist whose pledges to "stop the gravy train" and "end the war on cars" helped him ride a swell of suburban resentment all the way to Toronto's mayor's office.
With Vancouver's own election day just over a month away, Anton's political rivals see more Ford than Nenshi in a "negative" NPA campaign that's ridiculed urban agriculture, attacked downtown bike lanes and, they claim, made members of the longstanding, green-minded wing of the NPA feel less welcome in the party.
The NPA says it's just alerting voters to the skewed priorities and hidden costs within Vision's green agenda.
And despite hiring Campaign Research, the communications firm behind Ford's electoral upset, the NPA denies taking cues from the same Ontario strategists who created fake Twitter accounts, impersonated radio callers and pushed emotion over policy in their quest for victory.   
NPA ads cause rift
For most observers, Vancouver's civic election campaign began in earnest this mid-September, when Anton came out swinging with radio ads mocking the mayor's urban farming initiatives. "Vancouverites know something is missing at City Hall, it's called common sense and it's costing you money," read a male narrator over sounds of clinking cash machines. "Backyard chickens, front-yard wheat fields, rising taxes and broken housing promises... Gregor Robertson has made it clear, his priorities aren't yours."
The ads seemed to key off NPA polling data which indicated that Vancouverites were most concerned about government spending and taxes, among other issues. But strategists apparently had ignored the advice of former NPA councillor and mayoral candidate Peter Ladner, who declared the next day that "ridiculing urban farming is a no-win strategy."
"[People are]  jumping into local food-growing with a vengeance," Ladner wrote in a Business in Vancouver column. "Politicians should be making this good work easier and respecting it in every way possible." 
Vision seized on the supposed rift, claiming that the NPA's aggressive campaign strategy was alienating "progressive moderates" within the party. "I don't think Peter Ladner would have ever allowed them to put that ad out if he were the mayoral candidate," Vision executive director Ian Baillie told the Vancouver Sun.  
West coast Rob Ford?
Shortly after the radio ad launch, Anton held a press conference at NPA headquarters, where she likened City Hall under the Vision mayor and council to a "sealed fortress." An NPA administration, she said, would put a three-year clamp on the mayor's office budget, slash travel funding for councillors and make more internal city documents, including expense accounts, publicly available. "Why don't we know who the mayor had dinner with in New York?" Anton said.
More "common sense" announcements followed: first, a plan to return millions of dollars in projected budget surpluses to taxpayers and then, a moratorium on all new downtown bike lanes. "We need to hit the pause button on these controversial trials," Anton said, refreshing her months-old argument that neighbourhoods and businesses haven't been properly consulted.
"What we can't fix, we will take out," she added.
One year earlier, development consultant and former NPA candidate Michael Geller had told The Globe and Mail he didn't want the party led by a candidate like Toronto's Ford, someone "who can generate a great deal of populist support by railing against bike lanes."
The NPA had, after all, under previous councillors such as Gordon Price, created hundreds of kilometres of bike routes and lanes across Vancouver.
Reached by phone this week, Geller said by no means can Anton be compared to Ford. "The NPA is not opposed to bike lanes," he told The Tyee. "But that doesn't mean it can't criticize some of things that Vision has done."
Vision strategists, meanwhile, continued to wonder: had the NPA's "common sense" campaign become a west coast riff on Rob Ford's "stop the gravy train"?   
'War on the car is over'
When Ford launched his campaign for Toronto mayor in the spring of 2010, few observers saw a serious contender. A decade on city council had shown Ford to be a politician who often spoke without thinking, one who turned red and perspired when opponents attacked him. Yet the upshot for many voters, particularly in Toronto's suburbs, was an aura of authenticity that cut through the perceived elitism of big city politics.
One example was Ford's opposition to city bike lanes. "Roads are built for buses, cars, and trucks," he told city council in 2007. "My heart bleeds when someone gets killed, but it's their own fault at the end of the day."
Ford's strategists, Nick Kouvalis and Richard Ciano, principals of an Ontario-based communications firm called Campaign Research, played his everyman appeal to their advantage. Internal polling had shown that the biggest issue for Toronto voters was wasteful government spending. So when Ford's competitors framed the election early on around transportation, Campaign Research had their candidate repeat one focus-group tested catchphrase like a mantra: "Stop the gravy train."
As the months went by, support only strengthened for Ford's vague but defiant promise to trim the fat off a bloated City Hall. It also helped that Campaign Research pioneered an innovative form of voter outreach known as a telephone town hall, which allowed Ford to address tens of thousands of people in the comfort of their homes. Kouvalis and Ciano weren't above using deception either.
In one instance, the Ford campaign anonymously called a potential rival's radio show as part of a four-point strategy to keep him from entering the mayoral race. And in another, they used a fake Twitter account to befriend an OxyContin drug user, obtaining recordings of a damaging phone conversation between the user and Ford. Having those recordings let them prepare a public relations defense before they were leaked to the press. It all added up to a resounding election night win last October. Ford was deemed mayor only eight minutes after polls closed.
"The war on the car is over," he declared on his first day in office.
'They're not involved'
After an electoral upset that stunned the country, Kouvalis and Ciano became sought-after strategists. In February, Campaign Research worked on George Abbott's unsuccessful Liberal Party of BC leadership campaign, courting minor controversy with a short-lived anonymous website called kitties4christy.com that mocked Christy Clark's candidacy.
The firm later landed a provincial contact worth more than $167,000 to conduct telephone town-hall meetings promoting the HST.
And then late this August, news reports revealed the NPA had hired Campaign Research for Vancouver's upcoming civic election.
"This was an indication of the type of negative campaign that they were going to run," Vision's Baillie told The Tyee.
But NPA campaign manager Norman Stowe has maintained since the story broke that the firm's influence is limited. "They're not involved in the campaign's decision-making," he told The Tyee. "They simply provide a very good service in getting out and identifying voters."
Already the NPA is conducting telephone town hall meetings across Vancouver, though the technology is hardly novel by this point, and Vision is doing the same. Reached by phone, Kouvalis refused to discuss Campaign Research's role in the NPA campaign. "I don't want to comment on anything until the municipals are done in B.C.," he told The Tyee.
At least one source within Vision privately expressed concern about Campaign Research's election track record, its ability to shake things up. It's not hard to see why, said George Higgins, a former caucus aide to NPA mayor Sam Sullivan. "In politics if there's a method that works, you use it," he told The Tyee. "If there's a company that gets results, you hire it." 
'Highly negative' opponents
Vision officially counter-attacked the NPA in early October with a campaign video featuring Gregor Robertson set against a sunny downtown panorama. After listing three years of progress on affordable housing, homelessness and urban sustainability, the mayor remarked, "Our political opponents are highly negative, well-funded and determined to take us backward."
Vision has so seized on the NPA's so-called "negative" attacks over the past month and a half that it appears to have become a central plank of Robertson's campaign strategy. During a phone interview, Vision's executive director Baillie mentioned the word "negative" more than a dozen times when describing his opponents. He suggested the NPA is cynically attempting to use "wedge issues" such as bike lanes to mobilize support.
"Whether that's the Campaign Research effect or whether the NPA always planned it as their strategy and then hired Campaign Research to execute it I don't know," Baillie told The Tyee.
Part of Vision's defensiveness may come from a sense that Ford-style attacks, if done right, might actually be successful, according to some observers. "Robertson's greenest city vision could be portrayed as only for the lululemon-Yoga-mat-crowd who can afford organic everything and look down at everyone else," said one prominent pollster who asked not be identified.
Yet for this strategy to work, the NPA needs to elucidate clear alternatives, something the pollster hasn't seen yet, or risk alienating voters.
Anton vs. Ford
There are clear limits, as well, to the degree that Toronto's political lessons can be applied to Vancouver. The most obvious being that Toronto is an amalgamated mega-city, which allowed someone like Ford to play suburban voters against a perceived downtown elite. Metro Vancouver's fragmented municipalities make that less likely, where every Vancouverite has to deal with living in a dense and evolving city.
And the major difference between the "common sense" and "stop the gravy train" campaigns is that Ford's slogan was a populist rallying cry from a politician many described as an "average Joe," while the NPA has traditionally courted a wealthier, more pro-business constituency.
Indeed, a recently leaked private pitch letter from the NPA to Vancouver's developer community referred to Vision's "half-baked radical green agenda," and said the party wants to raise $2.4 million to fight it.
Despite the language, former NPA candidate Geller maintained that "Vancouver doesn't have anybody running at moment who might fit the Rob Ford mode."
Indeed, it's hard to square Anton, who has urged "eco-density" as antidote to car-dependent sprawl, and who spent a recent summer cycling across Europe, with the pro-suburban mayor who pledged several months ago to tear up bike lanes across Toronto.
Yet there was Anton, her bike parked somewhere far out of view, attempting to win votes by proclaiming that any bike lanes installed by Vision that "we can't fix, we will take out."
Anton's vow did nothing to quell political unease about Campaign Research's entry into the Vancouver election. When some NPA candidates recently questioned Vision's alliance with the left-leaning Coalition of Progressive Electors, COPE councillor Ellen Woodsworth counterattacked on Twitter: "The NPA=Ford smear tactics are in play!"