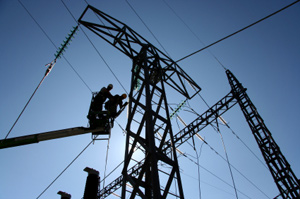 While Premier Christy Clark is pitching ways she hopes to bring jobs to British Columbia in the future, a union official points out one way the province is losing jobs today.
"When it comes to building the power lines, there are very few British Columbian people working," said Doug McKay, the business manager for local 258 of the International Brotherhood of Electrical Workers. "To me it's better to spend the money at home, especially [with] the circumstances we're in right now."
BC Hydro, the publicly owned electricity utility, is spending $1 billion on transmission lines. But rather than hire B.C. companies to do the work, the bulk of it has been awarded to two Alberta companies. Those companies are themselves subsidiaries of Quanta Services, based in Texas.
"It's a lot of money and a lot of work," said McKay. "It's our dime, or the ratepayers' money."
The companies tend to bring in their own workers from out of province, he said. When they're done the work, they leave. "The people from Alberta don't spend much money here," he said, noting that B.C. has been running deficit budgets and growing its debt. "How can we pay it off if people aren't paying income tax to this province?"
Last dollar policy
Last week Premier Clark made a series of announcements rolling out a jobs strategy that she said aimed to bring in the "first dollar" to the province by supporting businesses that are likely to attract foreign investment and customers.
The strategy, which she said would cost the provincial government under $300 million, included money for ports at Delta and Prince Rupert, a goal of attracting more foreign students to the province and bullish talk about building three liquid natural gas plants to provide exports to Asia.
In contrast, allowing BC Hydro contracts to go out of province appears to be more of a "last dollar" policy. Instead of re-circulating in the provincial economy, those dollars are taxed and spent elsewhere, McKay said.
IBEW 258 has posted an open letter to Premier Clark on its website. It highlights the following BC Hydro contracts:
Northwest Transmission Line: The project includes 344 kilometres of new power lines starting from Terrace. It will cost as much as $525 million and create 280 direct jobs. The contract went to Valard Construction, based in Alberta and owned by Quanta Services from Texas.
Lower Mainland Transmission Line: BC Hydro chose Graham-Flatiron for the potentially $780 million job which will provide 543 person years of work. The company has subcontracted to McGregor Construction 2000 Ltd., an Alberta company owned by Quanta from Texas.
Columbia Valley Transmission project: Budgeted at as much as $209 million, the contract to improve the electricity supply between Invermere and Field went to RS Line Contr. Co. Ltd., an Alberta company.
A media contact from Quanta Services did not immediately respond to a request for comment.
Hydro uses competitive bidding
Questions put to minister Pat Bell's jobs, tourism and innovation ministry, which along with the premier had led on the jobs strategy announcements, were forwarded to the energy and mines ministry. Minister Rich Coleman did not return the call by press time, though a ministry spokesperson provided comments on background.
"BC Hydro uses a competitive, fair and open procurement process when hiring contractors for transmission projects that ensures contract awards provide the highest overall value to BC Hydro ratepayers at the most cost-effective price," the statement said. "All proposals are evaluated taking into consideration total overall cost of construction, the firm's qualifications, quality of work, references and other criteria."
The utility is bound by provincial and federal trade agreements, including the North American Free Trade Agreement, the Agreement on Internal Trade and the New West Partnership Trade Agreement Implementation Act, it said.
It has been about 30 years since similar sized transmission projects were completed in the province, so "companies that provide the specialized skills needed to build these projects sometimes have to partner with firms outside of B.C. that have the expertise and experience required," it said.
And while companies may be based elsewhere, "BC Hydro encourages them to hire locally and use local goods and services. For all of these transmission projects, BC Hydro hosted business opportunity networking sessions for B.C. sub-contractors and suppliers to exchange information with the shortlisted proponents."
Own house should come first: IBEW
While there has been some local hiring, it has mainly been for preparatory work and not for parts requiring more skilled labour, said McKay.
"They should certainly be hiring B.C. people if they're available," he said. In general though, the contractors prefer to bring workers in from elsewhere, he said. "They're scared to hire the people out here because we're quite unionized."
Nor do the trade agreements work to B.C.'s benefit, he said. Some B.C. companies and workers do pick up jobs from other provinces, he said. There's demand in particular for workers who do the work "hot," meaning with electricity still flowing through the lines, a B.C. specialty.
But there are many more electrical workers from elsewhere taking B.C. jobs than vice versa, McKay said. The B.C. jobs typically go to the lowest bidders, he said. "Here we look at low price and close our eyes and hope nobody gets killed," he said. "It's a race to the bottom as far as we're concerned."
Spending the money inside the province makes sense, he said. "Sometimes you have to take care of your own house before you work on someone else's."
Dix: Real benefits to hiring inside BC
Jim Sinclair, the president of the BC Federation of Labour said it would be easy to require companies to hire locally. Hydro Quebec, for instance, will only contract with companies that maintain a Quebec headquarters, he said.
Asked if trade agreements wouldn't prevent such an approach, Sinclair said, "I don't think so. Let them challenge us and we'll see."
Nor does he accept the argument that free trade, which also allows B.C. companies to bid on work elsewhere, benefits everyone. "I don't believe in free trade," he said. "I don't think it's real. You have to use your own advantages for your own people."
Sinclair said that when he was on the BC Hydro board, the feeling was it made sense to pay as much as 10 per cent more if a contract was going to a B.C. company. The benefits to the provincial economy justified the extra expense, he said.
"It's not creating jobs in B.C.," said B.C. New Democratic Party leader Adrian Dix. "The government seems to be hiring external contractors and sending money outside the province."
Clark talks about protecting B.C. jobs and making job creation the government's top priority, he said, but "when it comes to the substance of it... she seems not to be interested in that."
Dix said, "There are real benefits to hiring in B.C., including tax dollars staying in the province that have to be taken into the equation." At the very least, B.C. companies should have a fair chance at bidding for the work, he said.