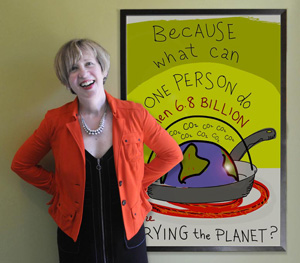 Franke James described July 11, this year, as the day "when all hell broke loose."
The Canadian artist, whose work focuses on climate change and the environment, already suspected that Prime Minister Stephen Harper's Conservative government was trying to sabotage her upcoming travelling exhibition in Europe.
But here was the most solid confirmation yet, James claimed. A major corporate sponsor, she learned that morning, would now be cancelling $75,000 in funding.
The reason? "A Canadian official called and persuaded them to withdraw from sponsoring the exhibition," James alleged to the Tyee.
Then things really started to get weird, she said. An embassy trade commissioner in Berlin who'd previously been enthusiastic about her exhibition sounded "evasive and contradictory" when she reached him on the phone.
Weeks afterwards, an NGO based out of Croatia is now claiming it feels "patronized" and "intimidated" by the "interventions of the Canadian government." And James believes her artistic critiques of Canada's environmental policies, including its development of Alberta's oil sands, are to blame.
The federal Department of Foreign Affairs and International Trade (DFAIT), meanwhile, claimed James' account "does not appear to be based on the facts" and denied any knowledge of meddling with her funding sources.
'Totally blew me away'
The tale began eight or so months ago when Nektarina Non Profit, a Croatia-based NGO "dedicated to educating, connecting and inspiring people to care about their communities and their environment," contacted James about displaying her art in Europe.
Nektarina envisioned a travelling art show where James' colourful meditations on "green conscience" would accompany teen forums on climate change in more than a dozen eastern European cities.
"It was like a dream exhibition for an artist," James told the Tyee.
But sometime in mid-May, Nektarina's Sandra Antonovic delivered a message "that totally blew me away," James said.
The Canadian embassy in Zagreb, Croatia, had decided suddenly to withdraw its support for the art show. Antonovic learned this in a conversation with an embassy official, who explained that a dispatch from Ottawa had requested the decision, according to James' account.
The federal government was allegedly unhappy with a "visual essay" created by James during the 2008 election, criticizing Prime Minister Harper's environmental positions, including his opposition to a federal carbon tax.
"I didn't even know the government knew who I was," James said.
Sponsor withdraws funding
Not long afterwards, James enlisted the help of Ontario-based trade commissioner Candice Rice, who sent out an email to numerous Canadian embassies in Europe, requesting their support.
"An exhibition of Ms. James' work will be travelling to your cities during 2011 (see dates below)," Rice wrote on July 8, a Friday. "Ms. James would like to discuss the feasibility of holding a press conference at the Embassy/Consulate and would also like to invite post participation in the opening of the shows." 
(The Tyee attempted to contact Rice, but a phone message said she'd be out of office until early August.)
When James checked her inbox the following Monday, she was amazed by what she saw: A major corporate sponsor, Swiss insurance company Basler, had decided to withdraw $75,000 in funding.
"[Nektarina's] Sandra told me that she spoke with the people at the insurance company," James alleged. "And they told her a Canadian official called and persuaded them to withdraw from sponsoring the exhibition."
Government denies responsibility
The federal Department of Foreign Affairs and International Trade disputes James' story.
"It is not the department's practice to interfere with private sponsorships of Canadian artists abroad," government spokesperson Jean-François Lacelle wrote in an email to The Tyee.
"We have no knowledge of the alleged telephone call between DFAIT officials and the unidentified private sponsor of Ms. James' exhibition."
Later on the morning of July 11, James called Olivier Roy, a trade commissioner based at the Canadian embassy in Berlin. The week before, she claims, he'd been very enthusiastic about supporting her exhibition. Now things were different.
"He was not that excited during our phone interview," James said. "He was very evasive and contradictory when I asked him about renting space. He couldn't give me very many details."
The federal government flat out denies any interference, claiming "Ms. James' characterisation of her dealings with Canadian officials does not appear to be based on facts."
NGO feels 'patronized' and 'intimidated'
Despite the alleged setbacks, Nektarina Non Profit has continued to try to organize the travelling art show. But James claims that without the Canadian government's willing support, it's been tough, a sentiment backed by the NGO.
"In the past few months, we have encountered many difficulties in organizing the exhibitions, usually connected to interventions of the Canadian government or institutions under Canadian governmental control," reads a statement on Nektarina's website.  
"We continued to look for ways to collaborate with the home land of the artist, although at times we felt patronized and even intimidated, as a small NGO trying to reach an understanding with a powerful state."
The statement added: "This was most surprising given Canada's reputation over many decades as a leader in promoting democratic freedoms."
James is currently seeking more information through Canada's Access to Information Act.