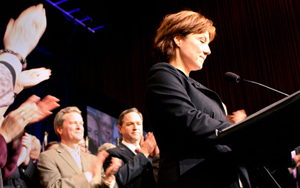 A decade ago, Christy Clark was deputy premier and education minister in a government that introduced the first fixed election date law in Canada. Today, as premier, she has said she's planning to call an early election, ignoring that fixed election law, with many expecting the vote as early as September.
To get a sense of what's at stake, it's worth considering what her government colleagues had to say back in 2001 about fixed election dates.
"The government believes that this reform will bring about certainty and predictability in our electoral process, with the result that government will become more responsible and accountable to British Columbians," said then Attorney General Geoff Plant during second reading of Bill 7, the Constitution (Fixed Election Dates) Amendment Act, 2001.
"The goal, if you will -- the subtext goal of this legislation -- is another step along the way to dispersing the power that is concentrated in the office of the premier under the present rules of our political system," Plant said in that Aug. 21, 2001 speech.
The bill was part of the 90 days of action outlined by the BC Liberal Party during the campaign that brought Gordon Campbell into the premier's office with a 77-2 rout of the New Democratic Party, then led by Ujjal Dosanjh.
Today, Plant says Clark is in a situation he didn't foresee at the time, and she can justify calling an election. But she could also justify not calling one, he said.
'Restoring public trust'
There was little debate in 2001 of the bill itself, and Clark's own thoughts on it were never committed to Hansard.
Campbell's comments appear in a press release. "This is a crucial step in restoring public trust and confidence, by making government more open and accountable," he said. "The timing of elections should not be manipulated for political or partisan purposes. Under this legislation, all British Columbians will know how long the government has to meet its commitments, and when they will be able to hold us to account."
Ida Chong, today the minister responsible for community, sport and cultural development, spoke about fixed election dates in her response to the throne speech. She called them "critically important" and argued that they allow politicians and their families to plan their lives.
"If you want all people of this province, every British Columbian who is eligible, to participate in the democratic process, to decide to seek public office, which is a true privilege and honour... In order for that to happen, they need to know that there are fixed election dates," she said.
Randy Hawes, the MLA for Abbotsford-Mission, said people waited a long time for the 2001 election to be called. "Everyone in the province waited not just this year but last year and the year before, and it dragged out an interminable time," he said. "It becomes very clear that playing with election dates is a game that's also gone on in this province far too long."
Fixing the dates was the right thing to do, he said. "I'm proud of the fact that that's the kind of reform that we're prepared to put forward for the people of this province."
Re-election strategy
In introducing the legislation, Plant was clear that there still needed to be some room for flexbility.
The lieutenant-governor could still prorogue or dissolve the legislative assembly "should a government be defeated in the legislative assembly on a vote of non-confidence" and call a general election immediately, he said. "Those are the traditional powers of the Crown. That is the traditional prerogative of the Crown, and nothing in this bill will undermine that basic rule of a constitutional democracy."
While there had to be provisions for what to do in the case of a non-confidence vote, where the premier failed to win the support of the majority of MLAs in the house, the idea was to get away from elections being called based on the political agenda of the premier as they had been traditionally.
"It would be nice to think that our political tradition shows an unbroken succession of premiers who exercise that authority only when it is in the public interest to call a general election," said Plant. "I don't think that is our political history. Rather, I think our political history indicates, at least in British Columbia, that premiers use their power to determine the timing of the calling of an election as an aspect of their re-election strategy.
"They can accelerate election dates if it suits their political strategy, or they can delay election dates if it suits their political strategy," he said. "In all of those cases where there is an argument about the use of the timing of an election for political purposes, there is at least an argument that the public interest in certainty and predictability in the conduct of public affairs has been subordinated to the private political interests of the premier."
Fixing the dates would help restore trust between the government and the electorate, he said. "When people are suspicious of the timing of an election, they become suspicious of the work their politicians do," he said. "I think that the passage of this bill will begin the process of undermining any legitimate rationale for that suspicion and will restore some sense of confidence that we as politicians are here to serve the public interest."
NDP ready with strong slate: Dix
Clark is yet to name an election date, but she has said she would like to go to the polls before 2013 and that she feels she needs her own mandate from the public.
"I think it says everything that nobody thinks they're going to follow the law," said NDP leader Adrian Dix during a June 24 discussion with The Tyee editorial board.
It makes sense that the Liberals would want to call the election early, giving Clark the chance to run on personality rather than substance, he said. "I think the public will view it with great skepticism. I view it with great skepticism myself."
If Clark really wanted to drive change, she could take two years to govern and demonstrate the kinds of changes she would like to make, he said.
However, Dix said, the NDP has the strongest slate of candidates it has had since 1991 and they're keen to face the Liberals in an election.
"From my perspective it would be good because we could get rid of this government 18 months early," he said.
Early election justified, says Plant
Plant said in a June 23 interview that while his comments a decade ago dwelt on what would happen after a non-confidence vote, Clark is in a situation where an early election could be justified.
"You want to create a space for all those weird and wacky situations democracies throw up sometimes," he said. "The question of whether it's necessary (to call an election) is for her to decide and also for the lieutenant-governor."
It would have been hard for Campbell, or a replacement who was committed to following the plan set out during the 2009 campaign, to justify calling an election, he said. Similarly, now that Prime Minister Stephen Harper has a majority government federally, he has no reason to call an early election.
"She's in a different place," said Plant. "The premier of British Columbia was not elected as premier in 2009... She doesn't have a mandate from the people to govern."
While to some extent she is following the agenda the BC Liberals set out in 2009, she also campaigned for the leadership on a "change" platform and has departed from some past policies, he said. "To whom is she accountable for the mandate of change?"
It would be easier for Clark to convince Lieutenant-Governor Steven Point and the public that an election is necessary were she to lose a confidence vote in the legislature, he said. But with the NDP recently picking Adrian Dix as a new leader and John Cummins now heading the Conservatives, she could argue the public needs a chance to decide who should govern.
"What I don't like is in a context like this we're putting the power back in the hands of the premier's office," he said. But that can be overlooked given the unusual circumstances, he said.
"The ultimate test of all public decisions is whether the electorate accepts them," he said.
Clark risks losing: NDP's Horgan
"I support fixed election dates," said NDP house leader John Horgan.
On a personal level, he was able to run in 2005 because everyone knew when the election was coming and it was possible to get his business and other affairs inorder, he said. "Had I not been able to do that... I may not have bothered to put my name forward."
If Clark calls an early election, it will put the lieutenant-governor in the position of having to decide whether to act on the wishes of the premier or the legislature, unless Clark finds a way to orchestrate her own defeat, he said.
"I don't know how you co-ordinate or achieve a defeat in the legislature when you have the majority of seats," he said. "It takes us back to a time I thought we had left behind."
Still, it's understandable why Clark would want to have an election, he said, noting she seems more comfortable on the campaign trail than she does governing. If she sticks around until 2012 she'll have to table a budget, he said. "She's a campaigner, not an administrator. Gordon Campbell was an administrator."
Horgan said he thought the public would likely forgive Clark for going to the polls early, as they twice forgave Prime Minister Harper for breaking his fixed election law.
The bigger risk for her is that she'll lose the election, and with polls showing the Liberals and NDP tied in public support, that's a real possibility, Horgan said.