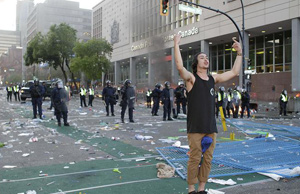 The Vancouver Police Department is revealing more riot-related arrests by the day, thanks in part to thousands of pictures posted to social media sites like Twitter and Facebook.
But who are all those young faces who seem to be revelling in the mayhem rather than fleeing it?
And how should they be educated about social media, so that the next time laws are being broken in public they understand the consequences of lingering?
Christopher Schneider is a professor of sociology at the University of British Columbia in the Okanagan. He didn't attend the riot, but speculates the bystanders were mostly young adults with innocent motives.
"I think these people were normal, law-abiding, everyday citizens," he told The Tyee.
"This was game seven of the Stanley Cup, the whole country, the whole world, everybody's watching. Those not actually watching the game live were out on the streets hanging out, they were part of the action so to speak. When the riots started unfolding, the people who were there still were mindful that 'Well here we are, we're in the action, everybody's watching and wow this craziness is happening.' And again those normal, law-abiding citizens were hanging out, they were snapping photographs of themselves in the riot as evidence of the fact that they were in fact there."
Most of this "evidence" went online quickly, ranging from pictures to status updates letting all their friends know where they were and what was going on as the riot was still unfolding.
"Instead of calling people and saying, 'Look at me, I'm here, can you hear this,' it's the idea of updating Facebook right away," says Jesse Miller, a social media consultant based in Vancouver who runs social media awareness workshops for youth.
According to Miller, this need to constantly update your social networking sites has become common place, creating what he calls a "Generation Me."
"Generation Me is all about... your social media presence, it's your Facebook status, your opinions on Twitter, it's your photos that you capture throughout the day and that you post to Tumblr. People use social media so people can look at them," he says.
Teachable moments from turmoil
While riot gawkers may not be arrested, just remaining on the scene of a riot is technically a criminal offence.
And a lot of bystanders either didn't know or didn't care that their presence made it more difficult for the police to move in and break up the riot.
Stacey Garrioch, a Grade 6 teacher at Kent Elementary School in Aggasiz, says bystanders are just as culpable because they unwittingly protected the rioters. She used footage of the riots from the evening news to explain this position to her students.
"I related that back to their lives. If there's a fight on the schoolyard, when you form a circle so adults can't see what's going on, you're part of the problem," she says.
In addition to bystanders, Garrioch covered violence, alcohol and social media, taking the time to impress upon her students the consequences of using social media to post what could be incriminating photos or comments. It's a lesson she fears may not have sunk in yet.
"I think they do realize that there's definite consequences and things that happen based on online discussions, but I don't know if they realize the severity of everything that's happened in the riots and what's going to follow," she says.
The problem, according to Schneider, is that for a lot of people, what gets put online doesn't seem real.
"You get people that post on their page 'I'm going on vacation for four weeks' and then their house gets broken into," he says.
"People would not post a sign on their front lawn: 'Gone for four weeks,'' he says.
Schooling on social media
Mike Lombardi, a school trustee for the Vancouver School Board (VSB), has been pushing for schools and the ministry of education to be more like Garrioch and teach social media awareness in schools ever since pictures of the sexual assault of a teenage girl in Pitt Meadows went viral last fall.
"What we've got is a generation that's brought up on using technology and social media, but they've just kind of drifted to it and we've never really taken the time to do the education and training to help them understand how to use it, responses to the ethical and legal considerations, etc.," he says.
But while some schools have taken the initiative and hired people like Miller to talk to their students about social media use, Lombardi wants it to be part of the ministry-mandated curriculum.
And waiting to do that within "the regular cycles" of curriculum revision is taking too long, he says. It may be time for "dramatic steps."
The effect of social media on youth has reached a tipping point, says Lombardi. The ministry should change curriculum now to incorporate social media education and awareness.
Who's anonymous?
The fallout from the riot could do a lot to change the way people think about their online presence, according to Schneider.
"The way in which people define situations in everyday life and in cyberspace are, I think, dramatically different. This sort of incident, I suspect, will link these two together and make people become more mindful of their interactions in cyberspace," he says, depending on how many innocent people police arrest or not-so-innocent ones they identify thanks to social media.
The day after the riot, Miller did a presentation to a group of students from various schools in the Lower Mainland who were part of a summer peer mentoring program. He said it was no different than other presentations he has given.
"I was pointing out to the kids that now that it's on a bigger scale, we're seeing people being caught doing something that they believed was in an anonymous way, even though it was with a mass group of people and there were cameras everywhere," he says.
His advice to young people?
"Just be more cognisant of your futures," he said.
"You might think it's amazing, you might think it's something you want to participate in, but what happens when you are caught up in the wrong moment and it is captured and put throughout the world? You might not get the reference letter; you might not get the scholarship recommendation because there's an added story that might be there because of social media."