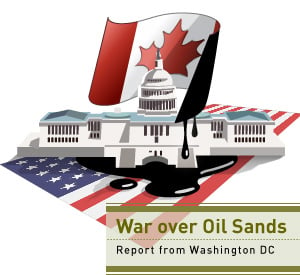 A former advisor to Prime Minister Stephen Harper -- now at the centre of a major political scandal -- worked closely with Canada's biggest energy companies over past years to improve the public image of Alberta's oil sands.
That advisor, Bruce Carson, did this while leading an academic think tank funded with $15 million in federal money.
What this suggests, say environmental advocates, is that the line dividing Harper's Conservative government from Canada's oil industry is very blurry, if it exists at all.
"Carson is the spider at the centre of the web... directing the whole pro-tar sands effort," Greenpeace Canada's Keith Stewart told The Tyee. "He's been moving between the political and business worlds to make that happen."
As previous reporting in this series explained, the close relationship between Canadian government officials and major oil companies has existed since at least 2008, when a lobbying coalition formed to battle clean energy laws in the United States.
But until recently, The Tyee's investigation has uncovered few direct linkages between the Prime Minister's Office and major oil sands players. Carson's advocacy, as documents below would suggest, appears to establish such a linkage.
Allegedly flogging connections for girlfriend
Carson's oil sands connections are less well known these days than the lobbying which has landed him in the middle of an RCMP investigation.
The 66-year-old former political advisor, as the Aboriginal People's Television Network first reported, used his political connections to land a lucrative contract for his 22-year-old fiancée, previously a prostitute.
Allegations of criminal influence-peddling have created a national scandal for Harper's Conservative government.
Federal Liberal leader Michael Ignatieff jumped on the Carson case earlier this week to gain political ammunition for what many observers expect to be an imminent federal election.
"How can Canadians remain trusting of a government guilty of such flagrant abuse of power?" Ignatieff said in Question Period.
Though such issues are worthy of discussion, Greenpeace's Stewart said, much more significant in the long-term are Carson's close connections to Alberta's oil sands industry.
Until Carson left the Prime Minister's Office in 2008, he was considered one of Harper's top political advisors -- a "grey-haired sage," according to one insider.
Carson left to become executive director for the Canada School of Energy and Environment, a think-tank started with $15 million in federal government money the year before.
Though ostensibly a research-oriented group with links to three Alberta universities, Carson's role was much more "political" than "academic," Stewart said.
Moving back into Prime Minister's Office
The Conservative insider took a brief leave in 2009 to work again for the Prime Minister's Office, where he was a key political advisor for Harper.
In March 2010, and back with the School of Energy, Carson met with the Canadian Association of Petroleum Producers -- a major lobby group representing Canada's oil and gas players -- and officials from the Alberta government and Natural Resources Canada.
The purpose of their meeting was to discuss "outreach and communications" for Alberta's oil sands industry.
The public relations strategy they discussed "would not just 'turn up the volume,'" read briefing notes obtained by Climate Action Network Canada, "it would change tact and address perceptions by showing that the issues are being addressed and we have the right attitude."
Translated into plain English, Stewart said, the group was worried about messages raised by environmental organization -- that oil sands development was destroying pristine Boreal forest and spewing greenhouse gases.
That was part of the reason the group met, Carson said in an interview with Postmedia, but not all of it.
"You can communicate all you want, but if you have nothing to communicate, you're not going to go anywhere, so the idea was [that] we had to really up the environmental game," he said.
"The other part of it, to be fair, was trying to establish some sort of protocol to deal with the attacks that were coming on a fairly regular basis."
Carson also worked directly with the Canadian Association of Petroleum Producers to produce a briefing paper for a series of oil sands dialogues taking place across the country.
The paper, with Carson listed as author, argues that "the economic and security value of oil sands expansion will likely outweigh the climate damage that oil sands create -- but climate concerns are not to be ignored."
Carson's paper also notes that clean energy efforts in the U.S., and in particular the push to develop a low carbon fuel standard, "will need to be carefully monitored as [they] could have a potentially negative effect on oil sands imports."
Indeed, previous reporting in this series detailed how major fossil fuel players launched an often successful campaign -- with the "support" of the Canadian government -- to derail any attempt to enact such a standard.
High profile before scandal
In April 2010, Carson appeared before a Canadian Senate committee on energy and the environment.
Here he described the urgent need for an oil sands pipeline to B.C.'s west coast -- presumably something along the lines of Enbridge's Northern Gateway project.
"It will be difficult, given the atmosphere and regulatory approach in which we now live, to see a pipeline being built any time soon," Carson told the committee. "The work you are doing could address that."
Carson made implicit reference to clean energy laws being proposed in America.
"Right now," he added, "if we say to the United States that we will take our ball and go home and go elsewhere, I think they would say, 'Good luck to you,' because there are not many other places to go."
More recently, Carson was appointed to a panel studying water quality downstream from oil sands operations in the Athabasca River.
After the recent scandal erupted, Carson took a leave of absence from the panel. And for the time being, he's no longer leading the Canada School of Energy and Environment.
Greenpeace's Stewart said with an election looming, the Canadian public should start questioning the Harper government's often too-close relationship to Canada's major oil sands players.
"I liken Carson to a political quarterback for the oil industry and the Harper government," Stewart said. "Harper sees the interests of the oil industry as being the same thing as the national interest. We would respectfully disagree."
If Stewart compares Carson to a quarterback, others within Ottawa's circle of power gave him another name. He was known as "the Mechanic."
Why? "I fix things," Carson explained to a reporter. That was before he became embroiled in a scandal that mixes sex, influence and well oiled connections to the Prime Minister of Canada.
On Monday: Why green groups -- and the public -- are still in the dark about most of the Canadian government's lobbying for the oil sands in Washington D.C .