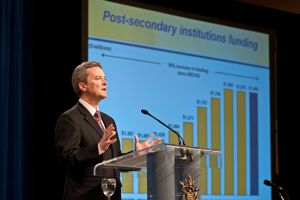 Finance Minister Colin Hansen presented a budget Feb. 15 that he said leaves plenty of room for whoever wins the Liberal leadership and becomes premier.
HST revenues came in above projections, while natural resource and crown corporations revenues fell sharply short. And while the deficit for fiscal 2010-2011 shrank to $1.3 billion from a projected $1.7 billion, the province's total debt is expected to reach a level in 2011-2012 equal to a year's revenue.
Hansen criticized media reports suggesting today's budget will never be debated and said it would be a lot of work for finance ministry staff to go through a fresh budget process. "This is a budget that could very well be passed by the legislature," he said.
It includes a $350 million forecast allowance for the 2011-2012 fiscal year and $600 million for contingencies.
"There's been enough financial improvement that it does leave us a little bit more room for decisions," said leadership candidate George Abbott. Some of those decisions will be tough for the caucus and the cabinet to make, but there's room to manage the deficit and give ministries the resources they need to generate as much revenue as possible, he said.
Abbott said he expects the budget to be passed, with a supplementary budget introduced in the fall.
Mike de Jong, who is also running to lead the Liberals, said the flexibility may not be as large as it appears. "My guess is some of it has already been notionally committed," he said. "It may not be $600 million. It may be appreciably less than that."
Leadership contestants should be wary of making promises that cost money, he said. "We are still in a very fragile state," he said. "While there is a recovery underway, it is a fragile one."
Christy Clark said the budget confirms her leadership platform that commits to balancing the budget before offering any new tax cuts or large spending commitments. Her platform includes incentives designed to affect job creation and fighting poverty, she said. "I am pleased that today's budget will provide us with the flexibility to move forward in these priority areas."
Liberal members will vote on Feb. 26 for a new leader to replace Premier Gordon Campbell.
Low bar not met: NDP
"The finance minister set himself a very, very low bar, but even by that low standard he didn't really jump over it," said NDP finance critic Bruce Ralston.
"They piled up a pretty big pile of cash for the incoming leader to spend as he or she sees fit," he said.
In the deficit budget presented before the 2009 election, the Liberals included no forecast allowance, he noted, while this one includes $300 million to allow for volatility in the economy. "When it was politically convenient in 2009 they cut those forecast allowances to zero, they said they didn't need them, in order to create a false impression of a low deficit. Now they want some money for the new leader to spend, they ramp that up."
He called it a "cynical game," but added that the public has come to expect that from the government's budgets.
As in past years the budget gives subsidies to corporations to exploit natural resources, while offering little to anyone else, said Green Party leader Jane Sterk.
"They continue to subsidize the very industries that are preventing us from becoming a low carbon economy," she said. "It's the course they've been on. It's a very ideologically driven party. They don't believe in a public good. They believe the only people who can provide good value for a dollar is the private sector."
The health ministry needs "a complete reorganization" to control costs, she said. "The health authority model has put all sorts of money into administration," she said. "It's all top heavy."
HST revenue up, gas royalties down
Budget documents show a major shift in the source of the government's revenues. Revenues from natural resources have fallen while the amount collected with the Harmonized Sales Tax has increased.
Natural gas revenues for the 2010-2011 fiscal year dropped from a budgeted $698 million to $365 million, according to the updated forecast, and forest revenue was off by $69 million.
The province also received less money than expected from Crown Corporations. While revenue from ICBC was up 19 per cent from last year's budget, BC Hydro (7.5 per cent), the liquor distribution branch (7.9 per cent) and the BC Lottery Corporation (3.2 per cent) were all below expectations.
At the same time, corporate income taxes were 93 per cent higher than expected and HST revenue was 10.2 per cent higher than expected. Income from the carbon tax was also up slightly.
Stakeholders at the budget lock up in Victoria tended to criticize what they felt was missing in the budget.
"We're seeing cuts to seniors' services, we're seeing cuts to mental health, we're seeing patients waiting in emergency departments," said Deb Ducharme, provincial executive councillor for the B.C. Nurses' Union. "That's going to continue with this budget."
The province could save money on health care by focussing on prevention and by using nurses better in primary health care, she said. "Those programs are all also being cut in this budget."
Opportunities missed
The representative for children and youth, Mary Ellen Turpel-Lafond, said bond ratings aren't the only way to measure success. "So is child poverty and we've been failing on that front," she said. "I would have liked to see more analysis of the budget on the impact on families."
The financial downturn has deepened poverty for many people, she said. "What about the lives of families who are struggling today? How are we going to respond to that? Does the government have a duty of care to those families, or is the duty of care simply to the business community? I think we have to broaden that out."
"A status quo budget translates into cuts for school districts," said Glen Hansman, second vice president with the B.C. Teachers' Federation. Costs keep going up and the budget will mean school districts will have to make cuts, he said.
Nor does there appear to be enough money for full-day kindergarten, he said. "They're funding it just for the staffing component," he said. "You need the resources, the sandbox and the carpet and all that stuff, access to washrooms and changerooms that are appropriate for those little people, the additional supervision that's needed."
Chamber of Commerce President John Winter said the growth of the debt was understandable. "I'd be concerned if we weren't coming out of a period of serious recession where we didn't take part with the federal government to invest in stimulus packages and something that was considered to be responsible debt growth," he said.
Cancelling the HST would be "catastrophic" for the government's budget and the province's economy, he warned. "People who think they are going back to the status quo have another thing coming," he said. "Consumption taxes are the way to go."