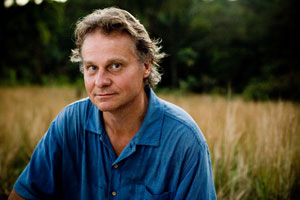 The famous anthropologist speaks with Tyee reporter Chris Pollon on how the Red Chris Mine project is part of a potential transformation of a B.C. natural treasure, the Upper Stikine River watershed.
Subscribe: iTunes | More Tyee podcasts
Over three weeks in August, a crack team of elite nature photographers descended on north-western B.C.'s Stikine River watershed at the request of seasonal resident Wade Davis, on a mission to capture images of a natural treasure few of us will otherwise see.
The photographers were participants in what is called a RAVE (Rapid Assessment Visual Expedition), a process conceived by the International League of Conservation Photographers, with a mission to bring back a comprehensive portrait of the upper and lower Stikine region in advance of a rising tide of big open pit mines and resource plays across the region.
Planned and executed with military efficiency, the goal was to get the photographers in and out of the most spectacular locations -- by float plane, helicopter, raft and car -- as quickly as possible. The imagery captured (as well as film and written text) will now be packaged across multiple media to maximum public effect, highlighting the region's globally-significant natural and cultural values.
The Sacred Headwaters RAVE was initiated by author, anthropologist, and National Geographic explorer-in-residence Davis, who has lived seasonally for almost 30 years in the upper Stikine near Spatsizi Plateau and Wilderness Park, where he worked as a park ranger early in his career. Davis's vision is to create a one-of-a-kind, nationally-distributed book (to be published in 2011) focused on what the local Tahltan First Nation have dubbed the "Sacred Headwaters" -- an ecologically at-risk region encompassing the collective headwaters of B.C.'s three great northern rivers: the Stikine, Nass and Skeena.
"We're pulling together the most beautiful images we can, to draw people's attention to a place that nobody knows," said Davis during an interview in early October (which you can listen to as an audio file accompanying this story).
Davis says the book's text will come directly from the local people.
"The decisions that affect these remote landscapes are made so far away by individuals... with no history or connection with the place," he says. "We want the text of the book... to be the voices of the people who live in the region and give a voice to what is important to this country that is so important to them."
There is an urgency to this work for Davis, who has raised his family over summers on Ealue Lake, not far from the proposed site of at least three advanced resource developments touching the Sacred Headwaters: the Red Chris copper/gold open pit mine on Todagin Mountain, Shell's coal-bed methane project and the Mount Klappan mountain-top coal mine.
Davis himself is lending his photographic talents to the project, in addition to Vancouver's Paul Colangelo, a 29-year-old wildlife and nature photographer with a keen eye for landscape and a talent for springing "camera traps" on unsuspecting Stikine mega-fauna like grizzly bears, stone's sheep, caribou and moose.
Colangelo's hereimages, which will be included in the book, serve as a reminder that the predator-prey systems that once existed across North America still thrive here, and can continue to thrive depending on what we do.
It is hoped that the images generated by the Sacred Headwaters effort will have the same impact as previous RAVEs -- which have contributed to successful conservation efforts all over the world, including locally in B.C.'s Flathead Valley and The Great Bear Rainforest.
A Grand Canyon and a long Yosemite
Davis notes that the wonders of this region are not limited to the region known as the Sacred Headwaters. There is the Grand Canyon of the Stikine -- a narrow, 80-kilometre-long canyon of sedimentary rock that squeezes the lower Stikine into a crushing torrent of white water. The ultimate kamikaze kayaking experience, fewer than 20 people have managed to descend this virtually unknown wonder often compared to the Grand Canyon. (Much of the canyon is now protected after a fierce conservation battle sparked by a 1980 BC Hydro plan to build at least five dams.)
The canyon is just one piece of the Lower Stikine River watershed, a largely un-roaded tract of wilderness larger than many European countries, which despite its unspoiled grandeur remains an as-yet undiscovered global tourism destination. (Sierra Club founder John Muir once referred to the Lower Stikine river as "a Yosemite 150 miles long.")
"One of the things we're trying to do is present the wonder and beauty of this country to the Canadian people," says Davis. "My biggest fear is that [the destruction of the area] will all occur before Canadians even realize what they are losing."
[A two-part story on how mining already transforming the region begins here.]