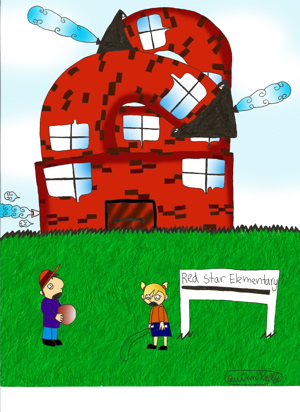 Educators have been bemused by the new carbon-offset requirement that the provincial government has imposed on them. The basic idea is fine with them: paying for the schools' carbon footprint makes sense unless you're in total denial about global warming.
But the process seems to baffle almost everyone. First, school districts had to purchase a particular software item called SMARTTool that would enable them to calculate their carbon emissions. That will cost Vancouver alone some $45,000.
Boards are reimbursed yearly for what they spend on the provincial carbon tax. But they have to pay the Pacific Carbon Trust $25 per tonne of carbon emissions. Vancouver has budgeted $290,000. Coquitlam expects to pay about $300,000. A spokesperson for Surrey schools told The Tyee the district will pay about $500,000.
Small northern districts aren't paying that much, but heating and fuel expenses are hard to reduce. And the offset system isn't clear to them. One interior teachers' association recently proposed a resolution to the BCTF, asking it to denounce the "$11 per student" offset -- but the teachers didn't realize that the $11 was not province-wide, but simply how the offset cost worked out in that particular district.
The same applies to post-secondary (Capilano University, for example, expects to pay about $62,500 in offsets), but let's focus on the K-12 system.
Follow the money
The money contributed by the schools doesn't necessarily come back to help them reduce emissions. The Pacific Carbon Trust, in association with BC Hydro etc. will fund all kinds of carbon-reduction efforts, including those proposed by private corporations. The Ministry of Environment, however, insists that "Carbon neutrality is not about taking from school budgets to benefit private companies."
The Trust invests its revenues into "a host of projects that produce clean, low-carbon energy; that conserve energy or increase energy efficiency; and that capture or store carbon from the atmosphere."
This all happens under the Public Sector Energy Conservation Agreement fund, which assesses proposals from school boards, universities and colleges, Crown corporations, and health authorities. Established in 2007 with $75 million over three years, PSECA then disburses funds for projects like solar thermal projects and retrofitting old buildings' heating, ventilation, and air conditioning (HVAC).
The Ministry of Environment says that in the first two years of this program, "We have invested $50 million in public sector energy conservation projects. This has resulted in $7.4 million in energy cost savings annually, 18,700 tonnes of reduced greenhouse gas emissions annually, and 38.6 GWh of reduced electricity use annually."
Pitching PSECA
School boards could apply until August for the third round of PSECA funding for solar projects, HVAC retrofits, or other "open call" projects that "demonstrate a GHG [greenhouse gas] reduction, have a net energy savings, and a Net Present Value per tonne of GHGs of $10 or more." They could also apply for "District Energy System" projects that would reduce GHGs and energy costs.
Most boards that applied have now been told whether their proposals succeeded or not; as PSECA said about open-call proposals, "As anticipated, applications exceeded the available funding by a considerable margin."
On balance, carbon offsets are a good idea but the method has been underfunded, say school system sources. PSECA grants dry up at the end of the 2010-11 school year. Unless the program is re-funded, boards will have to cut their emissions by spending more from their regular budgets. That will mean cutting something else.
Even assuming that the post-Campbell Liberal government puts new money into PSECA, not all schools districts will see their proposals approved. For them, the only alternative will be to reduce their carbon footprint by cutting down energy expenses -- perhaps by turning down thermostats in classrooms and running fewer school buses. Or closing still more schools. Otherwise, SMARTTool will oblige them to pay $25 per tonne, indefinitely. In other words, the beatings will continue until morale improves.
In addition, carbon offsets have not even been explained, let alone marketed, to stressed school boards and teachers. Offsets are not a major component of school budgets, but to school administrators trying to manage tight budgets, they seem like just another slice in the death of a thousand cuts.
Revisit offsets?
Should the next Liberal premier revisit the carbon offsets issue, some educators hope that Victoria will at least subsidize the offset-estimate process, and then put more money into PSECA. They say that would give boards more incentive to find new ways to reduce their carbon emissions.
And while helping to reduce emissions in the private sector will also benefit teachers and students, it's equally true that green schools and universities benefit the private sector. Pumping schools' offset payments back into the schools would make carbon neutrality easier to market (and explain) to educators.