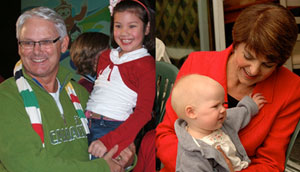 Premier Gordon Campbell's ill-received address on Oct. 27 dedicated just over three minutes to education, with only a fleeting reference to early childhood education: a promise of 100 new StrongStart centres in the province. But he was noticeably quiet about the long-awaited pre-kindergarten program for three and four-year-olds he promised two years ago.
Though popular with the Human Early Learning Partnership program at UBC, StrongStart programs are not full-day and require a parent or guardian to be present -- not an easy feat for working parents. In comparison, the three and four-year-old program seemed like a victory to childcare advocates who were pushing for wrap-around services with both full-time care and education for infants to 12-year-olds, taking pressure off parents who need to hold down a nine to five job just to keep afloat.
But since the government announced the program during the 2008 throne speech, they've remained mum on their plans, process, and funding for the project, which they hoped to have up and running by 2013.
In an emailed statement to The Tyee, a representative for the Ministry of Education said the ministry was looking at their options for implementing a play-based pre-kindergarten program, including an extended day program, age appropriate and high quality early childhood education and care, and offering parents the option not to enroll their children. There was no mention of a timeline.
'Fastest growth period for human brain'
Charles Campbell has been reporting on early childhood education in B.C. for The Tyee and the Georgia Straight since 2008. He welcomes the new program, even if its unveiling is steeped in government hypocrisy.
"I'm glad that the provincial government is finally taking some steps, but they've been slow to take them. They seem to have forgotten that they killed a comparable initiative when they were first elected. And it's frustrating," he says, referring to the Liberals cancellation of a proposed NDP childcare initiative in 2001.
Not everyone agrees with Campbell's stance on the need for childcare, including some members of the federal government. The federal Liberals had been promising a national childcare program since the 1990s, but it was cancelled by the Conservative government in 2006 -- a move Campbell says is indicative of the government's bias against childcare.
"I was talking to someone the other day, who shall remain nameless because they're a former cabinet minister in the federal government, and they referred to childcare as 'warehousing,'" he told The Tyee.
"Conservatives have a bias towards kids being in the home, parents should raise their children, which is a bit out of sync with the two-income families that are the necessary norm these days... So they think, 'We'll just give them a couple of hundred bucks and they can do whatever they want with it,' and that doesn't create the infrastructure."
Adrienne Montani, provincial coordinator for First Call: BC Child and Youth Advocacy Coalition, says she has nothing against parents spending more time with their children. But as a mother herself, she wasn't able to provide the stimulating developmental activities her children would receive in good childcare and still do the laundry and get supper on the table.
"From zero to age five is the fastest growth period for the human brain, and it's the environment that children are in, in that period, both in the home and out in the community, that matters tremendously, it's shaping the brain. So it's actually sculpting the brain and has lifelong consequences," she told The Tyee.
Current state of childcare
Childcare advocates describe the current state of B.C. childcare as a system in crisis. There are programs available for infants to 12-year-olds, but their spaces are limited and the quality varies. Some programs, like preschools, are only a few times a week for a couple of hours at a time.
Childcare is expensive, too. According to the West Coast Child Care Resource Centre, the cost of infant and toddler childcare in Vancouver ranges from $750 to $1,600 per month, while three to five-year-old childcare ranges from $500 to $1,400 per month. Erin Mlieczko, executive director of ECEBC, believes the pay-for-service model is not only hard on families, but on the early childhood educators (ECEs) who make their living from these fees.
"How we feel is that a user fee system is just never going to work for our sector, because all of our fees come from parents paying us, and childcare is the second-highest thing that a family has to pay for besides their housing," she told The Tyee. "In return, many of our own people within the sector don't get paid all that well and usually don't have benefits."
A 2008 report on ECEs by the Ministry of Children and Family Development estimates their average hourly wage at $17.43 -- significantly less than the provincial average hourly wage of $22.66 that year.
What's the plan?
There are signs the government is working on a strategy for their public program, however. Vancouver School Board Trustee Mike Lombardi told The Tyee that the ministry is telling the board to prepare to take on the influx of three to five-year-olds, but is scant on details.
"We asked the minister to again clarify, what are the government's intentions around three and four-year-olds, so that we can plan for our schools. We've been basically told to plan for full-day kindergarten, so we've done some planning, they said you should all start to factor in early learning for three and four-year-olds into your planning, and we're trying to figure out, what does that mean?" says Lombardi.
"If it goes ahead, like district full-day kindergarten, our staff analysis is that we will have a shortage of space in Vancouver for the number of students we'll have with our projected enrollment, and three, four-year-old programming."
A government feasibility study on early childhood education for three and four-year-olds backs up Lombardi's claim, stating: "Although British Columbia has lost 50,000 students, introducing full day kindergarten and pre-kindergarten for four and three-year-olds would result in an increase far exceeding that loss."
The Early Years Centre option
The Vancouver School Board is not the only organization worried about the lack of government plan for early childhood education. The ECEBC and its sister organization, the Coalition of Childcare Advocates of BC, is so concerned they developed their own proposal called the Emerging Plan for an Integrated System of Early Care and Learning in BC.
The plan outlines a strategy for creating infant-toddler and three and four-year-old Early Years Centres under the jurisdiction of the Ministry of Education, staffed by trained ECEs, offering both part-time and full-time programs. Children in kindergarten and Grade 1 would see ECEs working with teachers in the classroom, with the option of full-day and full-year care for working parents at an "affordable fee." The plan emphasizes a low-cost to parents with caps on fees, as well as establishing set wage and training levels for ECEs, including recommending the creation of a bachelor of early childhood education degree, as well as a post-basic early childhood education specialty for teachers working with small children.
The new Early Years Centres would not put existing private pre-school and childcare centres out of business, but would "grandmother" them into the program. The government's own feasibility study looks at this option and estimates the cost, including full-day kindergarten for five-year-olds, to be $600 million per year -- $15 million less than the cost of implementing the programs solely in public schools.
Bringing in the private sector is not popular with everyone, however. CUPE, which represents the province's over 10,000 education assistants, almost 2,000 of which have ECE training, are not comfortable with the idea of leaving the care of children to the private sector.
"We don't think that quality service or the public interest is the priority when early learning and care is driven by corporate profit needs, rather than the needs of kids, families and communities," Barry O'Neill, president of the B.C. division of CUPE, said in an emailed statement to The Tyee.
"We believe that creative partnerships within the public sector can and must be pursued to realize high quality and integrated early learning opportunities."
The government has expressed some interest in the plan, however. Mlieczko says bureaucrats from the Ministry of Education and Ministry for Children and Family Development have met with ECEBC and that they have seen the plan, although they have yet to have a formal briefing with either ministry. If adopted by the government, she believes Early Years Centres could be open and operational by 2012-13.
Despite the long wait, childcare advocates like Montani are just pleased that the government is finally taking early childhood education seriously.
"I think we can get really excited about doing a new universal entitlement program for three and four-year-olds, but we really need to do it right, and that's focusing on what we do know about early childhood development and making sure that we take into account the needs of working families, because that's the reality of real families," she says.