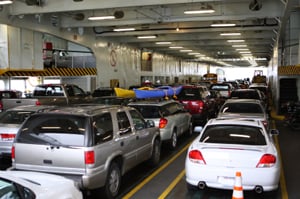 British Columbians racked up the largest year-to-year spike in gasoline sales in over three decades, according to a new report by the Seattle-based Sightline Institute. 
The province's per capita consumption leapt from 1,022 litres in 2008 to 1,117 litres in 2009, a near 10 per cent increase. It's an abnormally high jump, given that the average increase of per capita consumption from year to year is three per cent.
Sightline researchers say declining gas prices and Olympics preparations are to blame for the spike, and that without the province's "groundbreaking carbon tax," consumption rates would be even higher. 
Today, that tax again increases, and gas prices rise just over a cent to a carbon tax total of 4.45 cents per litre.
B.C. Finance Minister Colin Hansen insists that the carbon tax is working, and that it will take time for the effects of the tax to materialize. 
Whenever that happens, it would mark a sharp turn in the current trend which, according to Sightline, shows B.C.'s gas consumption steeply rising at a moment when gas prices are flatlining.
Carbon tax didn't do much if anything
The report suggests that low gas prices -- down sharply from the peaks of 2008 -- hindered the effectiveness of B.C.'s carbon tax. The cost to fill up in Vancouver decreased by 33 cents per litre of gasoline between the summer of 2008 and summer of 2009.
"In the short term, volatility in global fossil fuel prices overwhelmed the province's modest carbon tax," said Eric de Place, co-author of the Sightline report. "But over the long term, putting a meaningful price on pollution is a key step toward reducing our dependence on unstable, dirty sources of energy."
De Place and co-author Clark Williams-Derry also attribute the heightened gas guzzling to preparations for the Winter Olympics.
"Preliminary gasoline sales for the first quarter of 2010 suggest yet another surge, likely related to Olympics tourism and festivities," they report. "All told, the economic boost from the Olympics may have been responsible for tens of millions of gallons of additional highway fuel sales throughout the province in the first quarter of 2010 alone."
The spike in consumption added to what was already a bad year for B.C.'s greenhouse gas emissions. At the end of 2009, the CBC reported that B.C. was the only province to experience an increase in greenhouse gas emissions. 
According to Environment Canada, the province's failure to turn the tide was largely the result of oil and gas extraction.
Bumpy road
The first incarnation of the carbon tax -- which added 2.41 cents per litre of gasoline during the first half of 2009 -- was not enough to stifle gas-giddy consumers.
"Year-over-year declines in fuel prices overwhelmed the province's modest tax," say the Sightline researchers. "In other words, the one-year decline in fuel prices was roughly an order of magnitude greater than B.C.'s carbon tax."
John Yap, B.C.'s minister of state for climate action, was unavailable for comment, but B.C. Finance Minister Colin Hansen insists the carbon tax is working, and that it takes time for individuals and businesses to "adapt and innovate in order to reduce emissions and offset the impact of the tax." 
Today, the province raised the carbon tax added to gasoline prices to 4.45 cents per litre, an increase of just over a cent.
"The revenue from the carbon tax is being returned to British Columbians through tax cuts and income credits ensuring more is returned to taxpayers than government collects," said Hansen, in a statement released on the ministry of finance website yesterday.
"In fact," a spokesperson for Minister Yap wrote to The Tyee, "as the 2010 budget shows, B.C. has collected less in [carbon tax] revenue than it has given out in tax cuts."
For the 2010/11 fiscal year, the B.C. government forecasts carbon tax revenues of $727 million.
Beware 'big ticket highway projects': institute
None of the $542 million in carbon tax revenue collected to date has been allocated to general revenue funds or initiatives which help reduce carbon emissions, such as improving public transit options.
Yet the province continues to develop pricey highway expansions like the Port Mann Bridge, which will take an estimated $3.1 billion bite out of general revenue funds.
In the Sightline report, de Place and Williams-Derry warn that policy-makers "should scrutinize the massive, big-ticket highway projects that are likely to deepen the region's dependence on petroleum for years to come." 
"Since we produce only a tiny amount of petroleum here, every year billions of dollars leave the Northwest as we buy fuel for our cars," said de Place.
"The best way to keep those dollars in the local economy is to reduce the amount of gasoline we need to use."