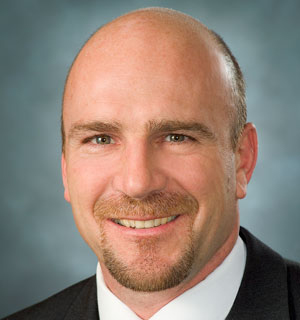 Peace River South MLA Blair Lekstrom has quit his cabinet post as energy, mines and petroleum resources minister and resigned from the British Columbia Liberal Party caucus. He cited public opposition to the HST and said he can better serve his constituents sitting as an independent.
Independence may be where he stays for awhile -- an official with the party most likely to be a fit for Lekstrom says he's a "rat" and they wouldn't want him.
"I believe that my first priority as an elected official is to the people that elect me and then to the political party I represent," Lekstrom said in a prepared statement released Friday morning. "It is clear to me that the residents of Peace River South are opposed to the Harmonized Sales Tax (HST) and are unhappy with the way in which our government moved forward with this policy."
While he believes the government firmly believes it is doing what's best for the province, he said, with such widespread opposition it's necessary to slow down and spend more time engaging the public on tax policy. "I believe it would be prudent to bring the move toward the HST to a halt," he said. "My decision to resign from cabinet and the B.C. Liberal Caucus was very difficult, but I fundamentally disagree with the direction our government is headed on the HST."
He stood by his past comments in favour of the HST, but said the government needs to better reflect the public's wishes.
Surprise to Campbell
Lekstrom's announcement came the morning after Premier Gordon Campbell defended the HST in front of a Vancouver audience at the Liberal's major political fundraising event of the year.
"I respect his position. I understand it but... we clearly disagree," Campbell told reporters in Victoria a few hours after Lekstrom released his statement. Campbell said Lekstrom notified him Wednesday that he was considering resigning. Campbell urged him to think about it but Lekstrom tendered his resignation Friday morning.
When Campbell was asked if he thought there would be more resignations, he said, "I wasn't expecting this one." He added he's "confident in the strength of caucus and the strength of cabinet."
The premier pointed out that cabinet and caucus were consulted before the government brought in the HST and there was agreement to take the measure, which combines the provincial sales tax with the federal GST. "We had to do what was right, not what was popular," he said.
New Democratic Party finance critic Bruce Ralston called Lekstrom's resignation "explosive" and a "rocket" for Campbell's government. "We've been calling on individual MLAs to listen to their constituents," he said. "Good to see someone having the wherewithal to do that and take the necessary steps."
Liberal MLAs like Pat Pimm, who represents neighbouring Peace River North, should be looking closely at Lekstrom's example, Ralston said. "If you're Pat Pimm, you've got to be asking youself, 'what's my next step?'"
In the 2009 election, 4,801 people voted for Lekstrom to be the MLA for Peace River South, while figures released this week say 4,985 people in the riding signed a "Fight HST" petition, according to a report in the Fort St. John news site, Energetic City. Several MLAs are in similar situations and petition organizers are already planning recall campaigns.
Libs need to listen: NDP
It will also be interesting to watch Campbell's response in the days to come, Ralston said. "An objective person would say he has to start listening to what's likely a lot of dissent within the caucus... This is a policy they lied about before the last election."
He added, "It takes seven for them to lose their majority. They're down one. Will there be others is the question."
Asked if Lekstrom would be welcome to join the NDP, he said, "I haven't even turned my mind to it. I just heard about it two hours ago."
B.C. Conservative Party spokesperson and former candidate Dean Skoreyko said there's been talk in his party of approaching Lekstrom to join them, but Skoreyko said he doesn't think it would be a good fit.
"This isn't a principled move, this is an ass saving move," said Skoreyko. Lekstrom has supported the HST and voted for it, he said. "He's had lots of opportunities to stand up and say 'no' to the HST... He's not admitting he was wrong. He's basically saying, 'I want to get re-elected.'"
And failing to oppose the HST is going to be the downfall of several Liberal MLAs and a gift to both Conservative and NDP candidates in several ridings, he said.
"The polling numbers we're seeing from up north in that area are devastating for the Liberals," he said. "The writing's on the wall for a lot of those guys. If they want to save their careers, they better get off that Liberal ship right away."
'A rat is a rat is a rat': Conservative spokesperson
It's too late for Lekstrom to reverse his HST position, Skoreyko said. "You can't stand up in the house when 85 per cent of B.C. is against it according to the polls and support it, then stand up a few weeks later and say you're against it," he said. "A rat is a rat is a rat."
It's tough to predict what Lekstrom will do, he said. "I don't know how politically astute Blair is."
Perhaps he's angling for the Liberal leadership when Campbell goes and wants to distance himself from an unpopular policy, Skoreyko speculated. Maybe he's planning to support a leadership bid by former finance minister Carole Taylor. Maybe he does want to join the Conservatives, though he's likely a better fit with the NDP, he said. "He knows where our phone number is if he's interested."
Adopting an independent would, however, be a boost to the Conservatives, he said. Vicki Huntington has been sitting as an independent since unseating former attorney general Wally Oppal in Delta South in last year's election.
"We're hoping she'll come over," said Skoreyko. "If we're going to talk about someone coming into the party, I'd rather talk to Vicki than talk to Blair."
The Conservatives have been gaining in the polls despite having no leader, he said. They are solidifying ties with the federal party and have donation money coming in. It would be a good time for Huntington, who has conservative roots, to join, he said. "That conversation, I think, is not too far away."
"It's very complimentary to hear they would like to talk to me, but we haven't as yet," said Huntington. Time will tell if a viable third option will come together in the province, she said. "They have to sort themselves out and decide what they want their organizations to look like and decide the sort of leadership they want."
Being an independent has allowed her to represent the interests of her constituents, she said, and any third party would have to allow MLAs to serve with integrity. "You can operate with integrity even within a political environment. To me too many people have forgotten that."
By stepping down, Lekstrom has taken the strongest stand an MLA or cabinet minister can take, she said. "I admire Lekstrom for taking the position he has," she said. "What he has done is extremely significant."*
As energy minister, Lekstrom oversaw the announcement that the government would proceed with the Site C dam on the Peace River and the passing of the controversial Clean Energy Act.
Kootenay East MLA Bill Bennett replaces Lekstrom as the minister of energy, mines and petroleum resources. Westside-Kelowna MLA Ben Stewart takes over community and rural development and Vancouver-False Creek MLA Mary McNeil moves into the citizens' services ministry.
McNeil's responsibilities as minister of state for the Olympics and ActNow BC will shift to the Ministry of Healthy Living and Sport.
With files from the Canadian Press and Monte Paulsen.
*New information added at 12:10 p.m., June 12, 2010.