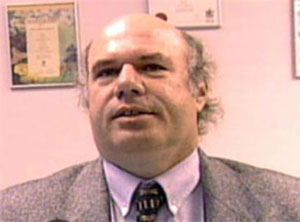 Fraud and breach of trust charges were laid today in a case that involves a former senior British Columbia health ministry official and a doctor who did business with the government.
Special prosecutor John Waddell recommended four charges against former assistant deputy minister of health Ron Danderfer, four against former Fraser Health Authority network services manager James Taylor and eight against doctor and business owner Jonathan Burns.
The charges include allegations that Burns offered benefits to Danderfer including accomodation at a Kelowna condominium, employment income for Danderfer's spouse and post-retirement income for Danderfer himself.
These were "as consideration for cooperation, assistance, exercise of influence or an act or omission in connection with matters of business relating to the government."
Similarly, they allege that Burns offered Taylor employment income for Taylor's spouse as well as accomodation at a Kelowna condominium. Danderfer and Taylor are also each charged because they each "directly or indirectly demanded, accepted or offered or agreed to accept for himself rewards, advantages or benefits."
The New Democratic Party's health critic Adrian Dix said the case is illustrative of the government's mismanagement of the electronic health records project. Health Minister Kevin Falcon insists that after a rocky start the program is achieving its goals.
Details from the warrant
Falcon said today the Attorney General has advised him not to talk about the case while it is before the courts. He did, however, note that he commented on it in October when the search warrant became public.
At that time Falcon said, "In this case it would appear that there were a handful of people that the allegations suggest were involved in some very nefarious behaviour that is totally unacceptable."
Burns directed a company called WebMed Technology Inc. which made a product called Pixalere, "a computerized system to assist home care nurses in assessing wounds."
According to the warrant, "During the time that WebMed was doing business with Fraser health, WebMed fraudulently submitted 30 invoices totalling $251,348.40 that Jim Taylor fraudulently authorized." At the same time, it said, Burns found a job for Taylor's wife Janice and gave Taylor and his family use of his Kelowna condo.
Burns was also a paid consultant to the provincial health ministry, where Danderfer was responsible for authorizing health ministry payments to Burns, the warrant said. At the same time, Burns hired Danderfer's wife Joan Danderfer and his daughter Kim Danderfer, it said. Burns also gave Danderfer two four-night stays at Burns' Kelowna condominium and offered to pay for a side trip to Egypt while he and Danderfer were on government business in Europe, and Danderfer declined.
Later, Burns offered and paid for a trip to Paris while he and Danderfer were on government business to Europe, it said.
Burns, in turn, benefitted from his relationship with Danderfer, according to the warrant. "Danderfer arbitrarily increased the hourly rate paid to Burns, first from $100 per hour to $150 per hour, then from $150 per hour to $195 per hour."
Danderfer also "counselled" Burns to increase his invoices, it said. "Danderfer participated in allowing exceptionally large invoices from Burns by removing the contract administrator and authorizing Burns' invoices himself."
It also said, "Burns double-billed for his services with the Provincial Health Services Authority at the same time as he was billing the Ministry of Health, and he did this with the knowledge of Ron Danderfer."
The allegations have not been proven in court.
'Systemic issues': NDP's Dix
NDP health critic Adrian Dix called it a sad day for Danderfer, Burns and Taylor. "They're very serious charges."
He was quick to point out, however, that the concerns around the eHealth project go far beyond the criminal investigation. "The failings at the beginning continue to undermine the project. This was a disaster," he said. "Many of the issues raised here are systemic issues."
Whenever computers are involved, the government seems to give up its willingess to hold people accountable, Dix said. "This indicates, I think, a lack of seriousness and control by successive ministers of health in this government."
The comptroller general is investigating how eHealth contracts have been awarded. Dix said that report should be released as soon as possible. "This project started badly and it continues to go badly," he said. "It is a massive failure and we need more accountability than this."
Minister Falcon said the events that led to the charges were from three years ago and the eHealth project is now on track.
"It is a very large and complex project that is having challenges right across the country and no doubt here in British Columbia too in the past," he said.
He cited a February Auditor General's report on the eHealth initiative. "After a very poor start three years ago there's been significant progress made. He congratulated the ministry on the hard work they've been doing."
The first scheduled court appearance for Burns, Danderfer and Taylor is anticipated to be April 7 in Victoria.