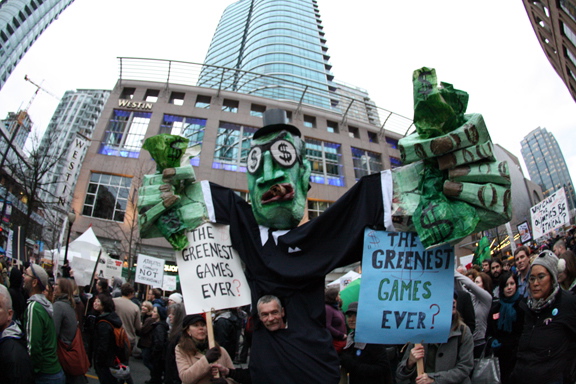 There was one apparent arrest at an otherwise peaceful anti-Olympic protest in downtown Vancouver today.
A man was dragged away in handcuffs at the corner of Robson and Beatty Streets. Police couldn't confirm the arrest, saying that officers were still gathering details. While some protesters threw objects, including a pylon, a prominent civil rights observer congratulated both police and protesters as a thousands-strong Olympics demonstration pushed towards BC Place.
"I'm not surprised that there was a small amount of violence, but overall everyone behaved very well," said Michael Byers, a UBC professor and member of the 2010 Olympics Civil Liberties Advisory Committee.
"It's a pretty positive vibe out here."
Today's protest is the first major demonstration against the 2010 Games. It climaxes years of speculation about the potential for confrontation between protesters and a $900 million Olympics security force. Police in bright yellow jackets watched the proceedings from the sidelines, but did not appear intent on an intervention.
Earlier Friday afternoon, an estimated 1,500 people gathered on the front lawn of the Vancouver Art Gallery. Everyone from Olympics boosters to ardent anti-capitalists squeezed their way through the crowd, which had the density of a stadium rock concert. Dozens of homemade signs sprouted above the throngs. They ranged from the angry -- "Homes not Games" -- to the esoteric -- "Bring back Crystal Pepsi."
Olympics Resistance Network members and their supporters crowded the art gallery steps. Photographers balanced precariously on top of giant stone lions, trying to line up shots. "Hello everybody, let's hear it for the resistance," shouted the ORN's Harjap Grewal through mounted loudspeakers.
One young man in a gray suit and tie shouted back: "Get a job you commie!" Chanting, cheering, tubas, cymbals and drums provided a raucous backing soundtrack. Sean Orr watched the proceedings with a wry smile on his face. "I'm pro ambivalence," he said. "I'm not for or against the Games."
It appeared that a sizeable contingent was there just to take in the spectacle. Former MuchMusic personality Nardwuar the Human Serviette came downtown to interview Arnold Schwarzenegger, then stumbled onto the demonstration, mistaking it for some sort of party.
"I just turned the corner, and I saw all these signs," he deadpanned. Foreign television crews swung their cameras at protesters on stilts and activists clad in black from head to toe. The Tyee asked a Russian journalist who would only identify herself as Anna whether people in Moscow would find this afternoon's event interesting. "Absolutely," she said.
Others took a slightly critical view of the proceedings.
"I do support the Games and I'm not afraid to admit it," said Andrew Ryder, who decided to check out the demonstration while waiting for his girlfriend. "I find a lot of this movement isn't really about the Olympics, it's about other stuff."
Protesters have long used the Games as a platform to criticize everything from corporate sponsors' involvement in the Tar Sands to restrictive measures taken by police.
"I thank you very much for coming out and exercising your free speech rights," B.C. Civil Liberties Association executive directive David Eby told the crowd. About 40 minutes later, thousands of people started to slowly make their way down Georgia Street towards BC Place, where the opening ceremonies begin at 6 p.m.
When the march began, even more diversity showed. One sign read "Athletes + Community, not corporations" on one side, and called for eco-socialism on the other. Before the walk started, some activists doused fabric-wrapped tips of plywood boards with lighter fluid.
As the march spilt onto Georgia Street, flaming torches were visible. Some attendees wore red scarves and maple leaf accessories. One came today to check out "all [the] anti-mainstream objectives."
A mask-wearing man said his intent wasn't to be criminal. Police often state worries about activists with bandanas over their faces.
"I'm not into doing any illegal actions," said the man, who covered his face to avoid being targeted for his political affiliations. He was happy to see the large turnout.
Lea Perez, a woman from Mexico, watched from a downtown street corner as the march streamed by.
"I was expecting Vancouver to be more peaceful," said Perez in Spanish. She empathized with the protesters. "I'd be doing the same if the Games were in my country."
When the protest hit Beatty and Robson street -- right near revellers at Alberta House -- observers competed for elevation points. They lined up on ledges, teetered on newspaper boxes and climbed trees.
There was no distinct line between media and interested onlookers, who snapped photos and recorded video of the event from every possible angle. At several times, police pushed against protesters. The mood became a little tense. One activist was put in handcuffs and dragged away on his knees.
Overall, Byers was happy. "It was a good night for democracy," he said.