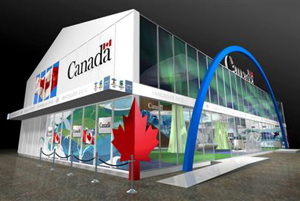 Critics call the Canada Pavilion for the 2010 Games rushed, ugly and badly managed. They might be able to add "illegal" to their list.
A vital piece of provincial legislation that helps ensure building safety could have been overlooked in the construction process. And the Architectural Institute of British Columbia isn't ruling out penalties for the transgressors.
"You've got three levels of government that ignored a law of the land as far as we can tell," the AIBC's director of professional conduct and illegal practice Thomas Lutes told the Tyee Tuesday.
The AIBC was established under the 1920 Architects Act, a provincial statute that remains in force to this day. Under the act, construction projects must hire an architect registered in B.C. for buildings of a certain size and occupancy, Lutes said.
The provision ensures someone competent watches over building safety, aesthetics and compliance to city bylaws, among other duties. As far as the AIBC can tell, no architect oversaw the $9.2 million Canada Pavilion.
"You must have an architect involved in designing and supervising the construction of that building -- no if's, and's or but's," Lutes said. "It appears from what we've been able to gather that this was simply ignored in the Canada Pavilion situation."
There's no indication the building is unsafe, Lutes added. But legislation exists so projects -- and the public -- benefit from architectural expertise. The AIBC doesn't know who's responsible for the oversight, or why. Regulations can be easily misunderstood, Lutes acknowledged.
Still, he said the AIBC may be able to seek penalties under provincial law.
"We're not sure at this point exactly what steps were going to take," Lutes said. "Obviously a high profile building with three levels of government was involved. It looks like one of the laws of British Columbia may have been broken here and we need to address it."
The AIBC's concerns are only the latest in a long line. Last fall, the federal government awarded the pavilion project to Chicago-based Giltspur Exhibits, leaving only 81 days of construction time. Freedom of Information documents showed the feds signed a $378,000 rental contract with Vancouver more than a year earlier.
Critics wondered how come the federal government waited so long to get going. And why a showcase of Canadian culture was being built by a U.S. firm. Just recently, Canadian Architect magazine editor Ian Chodikoff derided the structure's tent-like design as "shameful" and "an embarrassment". World renowned Vancouver architect Bing Thom gave a similarly scathing review.
Heritage Minister James Moore told media last month the project is ahead of schedule and running on budget.
Attempts to contact Canadian Heritage and the City of Vancouver for comment were not successful by posting time.