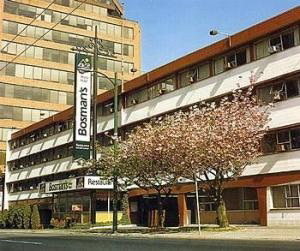 A group of B.C. business leaders hopes to raise $50 million toward ending homelessness in Vancouver, but has not yet determined how to raise or spend that money.
The Street to Home Foundation today released its long-awaited plan to address homelessness. The 10-year plan outlines three primary goals: Build new supportive housing, prevent homelessness among at-risk groups, and nurture community involvement.
"This plan is clearly aspirational," board member Don Fairbairn told The Tyee. "It helps us stay focused. And it provides the community with an opportunity to hold us to account."
The B.C. Legislature's homelessness critic, MLA Jenny Kwan, praised the initiative but warned that the well-intentioned plan could wind up letting the provincial government off the hook for funding homeless housing.
Plans for 200 units a year
Street to Home was launched in the summer of 2008 with much fanfare. It was started with $1.5 million from the City of Vancouver, the Province of British Columbia and the Vancouver Foundation. Its 25-member board of directors includes high-profile Vancouverites such as mining magnate Frank Giustra, condo marketer Bob Rennie and former premier Mike Harcourt.
The fledgling foundation committed $2.1 million to four projects in its first year-and-a-half of operation. Those included a pivotal $860,000 to provide housing for the Vancouver portion of the Health Commission of Canada's innovative At Home/Chez Soi study, which will provide housing to 300 Vancouverites who are both mentally ill and homeless -- while at the same time studying which types of mental health services are best suited for this population.
Other early grants include $500,000 to help open emergency shelters during the 2008-2009 winter, $500,000 for housing for homeless women and their children at the Aboriginal Mother Centre, and $250,000 to fund the renovation of the London Hotel into low-barrier homeless housing.
The idea of such a foundation was proposed in a 2007 report co-authored by Fairbairn and former city manager Ken Dobell.
The 58-page plan released on Tuesday describes the foundation as "a collaborative approach to breaking the cycle of homelessness." The plan states that it was developed with input from more than 60 representatives from government and non-profit agencies.
By combining estimates from previous studies -- some of which are several years old -- Street to Home concluded that Vancouver needs 2,000 more units of supportive housing than are currently under construction. And so the foundation committed to "facilitate development" of 200 units a year for the next three years, with new targets to be set after the next regional homeless count in 2011.
Doable vs. additional
The 10-year plan provides no detail about when, where or how that housing will be "facilitated." Neither board member Fairbairn nor acting president Barbara Grantham were able to elaborate.
"This is the road map," Grantham told The Tyee. "The next step is to put the trip plan together." She said there is no shortage of housing projects in search of funding.
Fairbairn said Street to Home will consider funding the construction of housing projects previously announced by the provincial government.
"Practically speaking, something is only doable if it's on the same playing field as the city and the province," he said.
"There are eight sites that the city has contributed, and for which the province has funded development, but are not yet funded for construction or operation," Fairbairn added.
Housing Minister Rich Coleman, who has previously promised to fund those projects once the city approved them, was not available for comment.
Homelessness critic Kwan, a New Democrat, expressed concern about the prospect of using private money to fund public housing.
"I think it's a very good thing that the private sector is coming forward with financial support for affordable housing. But this additional money coming from the private sector should be, well, additional. It should be added to the money the province has already committed," the MLA for Vancouver-Mt. Pleasant said.
Kwan said the provincial government should not be let off the hook.
"Minister Coleman has said on a number of occasions that the province will fund these sites. I've heard him say that," Kwan said. "Now is Coleman trying to play some cute little game? Was he announcing sites, taking the credit, then planning on using someone else's money to build them? If so, that's dishonest, at best."
'That's not a hard number'
"That's a hypothetical," Fairbairn replied. "Are we letting government off the hook? Or not? Do we know whether or not they will fund those projects now?" he asked.
"We don't know what this government or the next government is going to do," he answered. "Our view is that there is no certainty in today's economy that government will fund anything that's new." Fairbairn likewise described the $50 million goal in Street to Home's plan as uncertain.
"That $50 million is a number that is not precise," he said. "That's not a hard number. That will change over time. It's a goal."
Street to Home figured the cost of building and staffing 2,000 units of supportive housing for ten years at about $500 million. Fairbairn said the $50 million goal merely represents the board's notion that the private sector should pitch in about 10 per cent of that cost.
"This city has a group of leaders that, at an individual level, understand that they can contribute to resolving this issue," Fairbairn said. "And they've committing not just their own chequebooks but their ability to work with their colleagues across business sectors to encourage them to write cheques that they otherwise wouldn't."
Grantham said the foundation has not yet raised any money from the public. All four of Street to Home's early grants were funded by board members, she said.
Grantham declined to identify those donors. "We're not at this point in time going to give full attribution," Fairbairn said. "We will be very transparent," he added, "as soon as we can."
Prevention and outreach
Street to Home's second and third goals involve preventing homelessness and engaging the community.
Homelessness prevention is a strategy that's worked well in the U.S. and Britain, but one that has yet to be seriously embraced in British Columbia. It involves identifying individuals who are at high risk of becoming homeless, and offering them housing and/or health services before they do become homeless. Among those at high risk are mothers with children at risk of being placed into the foster care system, youth aging out of foster care, women fleeing abusive homes, and poor people being discharged from hospitals and correctional institutions.
High among the foundation's community involvement aims is a plan to encourage the federal government to get involved. "I don't think its a realistic proposition that this current government is going to move back to the situation we had 15 years ago, with this active investment on the part of the federal government into housing," Grantham said. "There are still incremental things that the federal government to do." Fairbairn said the foundation will push governments to provide more health care services for the mentally ill and addicted, but said such effort would not constitute lobbying. "Lobbying is a word that we're not using here. We have representatives of the health authority on committees, we have them on the board. It's about leadership understanding that this is something that is critical in the eyes of the community," he said.
'We're here for a long time'
If Street to Home succeeds in raising $50 million, then the downtown foundation's projected operating expenses will work out to just a little more than 10 per cent of the money it delivers to the province or other developers.
The foundation spent more than $900,000 on staff and operating expenses in 2008 and 2009, according to a spokesperson. That's more than 40 per cent of the $2.1 million it granted during that period.
Street to Home plans to spend an average of $765,000 a year in overhead for each of the next three years, according to its plan.
Grantham said that none of the money donated thus far by the group's anonymous board members has gone to fund operations. "The expenses of the organization have been paid for by the three founding funders," she said. Those are the city, the province and the Vancouver Foundation.
Fairbairn acknowledged that the city and province have made remarkable contributions to Street to Home in particular, and toward ending homelessness in general. He said the foundation will carry that effort forward.
"Governments change," he said. "We want an organization that sits at the intersection of politics, the civil service and community . . . and continues for the passage of time to speak in the interest of homeless individuals."
"We're here for a long time," Grantham added. "Governments come and go. Priorities come and go. We won't."