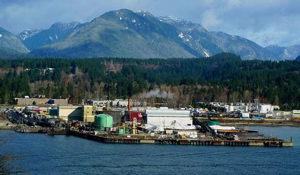 Thomas and Holly Bieker moved to a big farmhouse 150 feet from a railroad track in Belmont, Washington ten years ago, because they loved the beauty and solitude of the pristine landscape. They were even willing to drive more than 35 miles to their university jobs five days a week to live in the midst of nature. The green fields around them looked like a park and the little house fit them perfectly. "We truly felt blessed in the choice of our dear little home," Holly Biecker said.
But this week, their peace of mind was shattered by news that the North Vancouver-based Canexus Chemicals Canada had won permission from the State of Washington to store 50 rail cars full of chlorine at the edge of their property line, just over the tracks.
Biecker told the Vancouver Observer that a Canexus official told him those cars were considered to be a security threat and a potential terrorist target during the 2010 Olympic Games. "He said their plan was to just bring it down during the Winter Olympics, but because they need a place to store their chemicals anyway, there's a 98 per cent chance that they'll store cars here forever."
"I feel as if I have been blindsided," Biecker wrote Marty Cove, logistics manager for Canexus, after learning of Canexus's proposal on the six o'clock news. It was Cove's job to visit the Bieckers and the ten other families that live in Belmont and inform them of the company's proposal.
The company plans on building a $250,000 barbed wire fence around the cars and has said it will provide round the clock armed guards to protect it.
Biecker referred to a document he said the company sent to homeowners around the community that asked, "Are there any benefits for the community?" and then answered: "Yes, there will be additional employment in the area. Washington Railroad will be hiring six local people to provide security services for the storage facility and the rail cars."
"The weird thing was we didn't have a clue about any of this. They went and got their permits before anyone knew. The county waived their rights. They just said we don't want anything to do with it. They went to the state of Washington. The feds, whatever they had to do. That's who they went through and got all their permits from them and it was all approved," Biecker said.
According to Biecker, county commissioner Greg Partch told him the county had waived its rights to stop the plant. "Everybody's broke," Biecker said. "All the states and the counties." 
He said Partch told him he had a right to file a lawsuit against Canexus for parking the chemicals so close to his home. "I called an attorney but the attorney said, 'I'm sure they have a lot more money than you do.' He said it'd just go back and forth so far that it'd just be hard to win the case."
'We never imagined'
Beicker said he harbours no animosity towards the Olympics or Canada. Still, he said he feels violated by Canexus' plans. "He [Marty Cove] told me you could take a 50-caliber rifle and you couldn't put a dent in the thing [chlorine rail cars.] He said, 'I could almost betcha' that even a hand grenade couldn't put a dent in the thing.'"
But, Biecker added, "These are old tracks. Every tie is rotten. You get 50 railcars that are full of chlorine gas. If they tip over, what happens? If there's a fire in the fields right here and it catches the ties on fire and the tanks. . . it's not going to do us any good."
"He said they've been in business 50 years and never had a spill. But when you've got any kind of business, there's gotta be problems. He was saying, 'hell, we have these tanks in downtown Seattle, Portland, Vancouver, Houston. . . they're all over the world and nothing's ever happened and it's no big deal.'"
But chlorine is a deadly chemical and spills happen. On September 16, 2009, in the small town of Clarines, Venezuela a chlorine tanker overturned and leaked, killing eight and injuring over 100 people. Apparently, the eight people died after the chlorine reacted with the mucus in their lungs and formed hydrochloric acid. The entire population was evacuated from the town. 
On January 6, 2005 a train carrying chlorine derailed in Graniteville, South Carolina. The leaking chlorine killed eight and injured 250. Over five thousand people had to be evacuated. On March 29, 2005 in Huai'an, China a truck carrying 30 tons of chlorine was in an accident and the leak that resulted left 28 dead, 350 hospitalized and 10,000 evacuated. And in Bexar County, Texas, on June 28, 2004 residents awoke to see a "strange cloud" engulfing their homes caused by a chlorine leak in a breached train car that left three dead and 43 injured.
Biecker is a hazardous waste technician at University of Idaho and no stranger to chemicals. "You gotta have chlorine to make water clean," he said. "But to park it in someone's front yard, it's just not something we would ever have imagined."
'Chemical a big part of our security prep'
The 52-year-old Canexus industrial chemical plant on the North Shore will close for at least four weeks this winter, likely during the time when Vancouver's population swells with visitors for the Olympic Games. Stopping production will reduce the chlorine and caustic soda shipped off-site.
"Chemical warfare is one of the elements that we prepare for and plan for," said corporal Bert Paquet, a spokesperson for the Integrated Security Unit (ISU), the policing branch of the Vancouver Olympic Committee (VANOC).
"It would be irresponsible for us not to consider all the possibilities and risks involved and obviously chemical is a big part of our security preparation."
Canexus management will not specify when the facility will close or if it will even shut down for one day during the Games. Management also denies the 30- to 40-day closure is deliberately timed to coincide with the largest security risk ever seen in Vancouver. However, meeting minutes from the North Shore Community Advisory Panel show that VANOC representatives have met with Canexus management and to discuss Olympic safety concerns.
While the chlorine facility presents one concern, transportation experts argue the risks of shipping liquidized chlorine through densely populated urban areas by rail supersede the dangers of the plant itself.
"Because of the nature of the chemicals and the accessibility of the chemicals, 90-ton tank cars are like elephants tip-toeing through the tulips," said Fred Millar from his office near Washington D.C., where he works as a hazardous materials transportation security consultant.
Millar, also a former staffer at the environmental lobby group, Friends of the Earth, believes chlorine would make a formidable terrorism target.
Single biggest terrorist threat?
The Canexus plant is located in a neighbourhood of 2,500 residents in North Vancouver called Maplewood. The Maplewood Advisory Committee, a body that includes regional planners, local business owners, conservation groups and area residents, criticized the Vancouver Port Authority in 2007 for extending their lease with Canexus until 2032. The extension hinges on the upgrades now underway and permits Canexus to manufacture enough chlorine to fill one additional rail car each day, bringing the average to six.
"The idea of having a chlorine plant in the middle of a dense residential community is ridiculous enough, and is further enhanced by the fact that the plant is in a high risk earthquake zone," wrote co-chairs Tom Young and John Walkley.
"This is of particular concern to the railcar shipment of chlorine. The probability of a terrorist action against a railcar is also far greater than one against the plant itself. The U.S. Transport Security Administration says that unguarded railcars filled with toxic chemicals such as chlorine are the single biggest terrorist threat related to the nation's railroads."
Canexus ranks among North America's largest chlor-alkali producers and is one of the country's 500 largest companies. It manufactures chlorine and other products essential to the pulp and paper industry as well as the household cleaners and plastics we use every day.
Previously part of the chemical division of Alberta oil giant Nexen, Canexus produces an average annual 154,000 tonnes of chlorine. Following the upgrades and plant expansion, the North Shore facility could pump out nearly 200,000 tonnes of chlorine each year, equivalent to an estimated 2,400 rail cars.
Just how lethal?
Information from the U.S. Naval Research Laboratory shows that the worst-case release from a 90-ton railcar could injure or kill 100,000 people. Classified as a TIH, or toxic by inhalation, chlorine gas is lethal at high concentrations and hazardous even as it disperses. The 90-ton rail cars that leave Canexus carry 82 metric tonnes (82,000 kilograms) of pressurized liquid chlorine, which evaporates into the highly hazardous gas.
Downtown Vancouver is less than 15 kilometers from Canexus, which is located on the waterfront to the east of the Second Narrows Crossing in North Vancouver. Rail lines leaving the facility travel across the Burrard Inlet and through residential neighbourhoods. The tracks pass through Vancouver near Gastown at the north end of Main Street and through East Vancouver, Burnaby and New Westminster. Rail lines continue to Surrey, past a rail yard between the Pattullo and Port Mann bridges and finally travel through White Rock before entering the U.S. at the Peace Arch border crossing.
Arthur Dungan, the president of the Virginia-based Chlorine Institute, an industry advocate and lobby group that includes Canexus as a member, said the worst-case scenarios from his institution err on the side of caution. The institute provides emergency responders with resources in the event of a catastrophic accident involving chlorine. Pamphlet 74 shows how chlorine gas from a ruptured 90-ton railcar would travel downwind as far as 64 km in a few minutes, with low-lying gas concentrating in lethal amounts closest to the leak.
Twenty-four km downwind, The institute's pamphlet predicts a chlorine gas concentration of 20 parts per million, a strength described as "the maximum airborne concentration" people can tolerate for up to one hour "without experiencing or developing life-threatening health effects."
"At 20 parts per million for an hour, you're going to be seriously impaired," said Dungan. "Maybe not killed, but seriously impaired." Dungan, however, said he doubts the chemical would be of any interest to would-be criminals. "You can determine, with not a lot of imagination, a terrorist attack putting a hole in a tank. That could happen. But there are plenty of things terrorists can do -- why would they go to a rail car with chlorine?"
Shipping details shrouded in secrecy
Chlorine is one of the most hazardous gases found in nature and was used to poison thousands during the First World War. It travels out of North Vancouver at the average rate of five rail cars a day.
"A tank full of chlorine, if you're going to blow something up, that's going to be the sort of thing you're going to go for," said John Walkley, former co-chair of the Maplewood Advisory Committee.
Walkley wishes the plant would be permanently closed on the North Shore and moved to an unpopulated area. He welcomed the temporary closure for the Olympics.
"I think it's a sensible thing to do. The danger of the plant lies more in the transportation than in the manufacturing," he said.
When a Canadian Pacific freight train derailed in suburban Toronto 30 years ago, 11 propane tanks rumbled off the tracks followed by 13 other cars carrying a combustible and toxic load that, once erupted, sent flames and gas flares more than 1,000 meters in to the air. A leaking chlorine car was identified as an extreme hazard and the gas was contained. The accident forced 218,000 residents out of their homes for five days and a newspaper declared the catastrophe "the Mississauga miracle" because there were no immediate deaths.
The derailment sparked amendments to the Transportation of Dangerous Goods Act. Added in 1992, Part 7 of the act requires all shippers to prepare and submit an Emergency Response Assistance Plan to Transport Canada, giving first responders and authorities the information they need to mitigate destruction and death.
Friends of the Earth and transportation security expert Millar petitioned Canexus for these details in October 2007 and also advocated that the chemical facility move closer to the majority of their buyers in Texas. Canexus responded in March 2008, saying the company embraces the principles of responsible care from Canada's Chemical Producers Association and is a member of the American Chemistry Council as well as the Chlorine Institute.
"Nevertheless, I don't think I need to explain to you the integral role chlorine plays in ensuring that healthy lifestyles we enjoy in North America," Marty Cove, a Canexus logistics manager responded. "As a chlorine producer, we must move our products to customers if we are to help to ensure the continuing health and safety of our communities.
"We regret that we are unable to provide you with any details pertaining to the routes, destinations, our dwell times of our chlorine shipments. We trust you understand that revealing any of this information would compromise the safety and security of our shipments."
SmartRail, a Lower Mainland group that advocates for safe and efficient rail transportation, has made the same request.
Canexus will not make this information public.
This disturbs Phil Le Good, who sits on the White Rock municipal committee for transportation and infrastructure and is a past president of SmartRail.
"The community has a right to know what would occur if just one 90-ton rail car loaded with chlorine was to catastrophically rupture either from an accident or from a deliberate attack," states a SmartRail letter to the Vancouver Port Authority (now the Port Metro Authority) dated to 2007 when Canexus was renegotiating the terms of its long-term lease with the port.
Le Good has the experience to make him particularly informed of the risks of chlorine production and transportation in urban areas. An appointed transportation committee member, Le Good is also a federally certified technician and supervises the inspection of industrial sites. For six years, until 1998, he inspected the chlor-alkali facilities at Canexus.
Le Good stresses the vulnerability of Metro Vancouver during the Olympics. Like Millar of Friends of the Earth, he believes a gas as dangerous as chlorine could prove a verifiable and effective target for anyone wanting to create mass chaos.
More dangerous to ship than a nuclear bomb?
Safety precautions at Canexus are taken extremely seriously, according to multiple members of the North Shore Community Advisory Panel, a group of municipal, environmental, residential and port representatives who hear from three industrial manufacturers, including Canexus.
Canexus has also received recognition from railway companies employed to ship its products. Canadian National (CN) granted Canexus its safe handling award for preventing a non-accidental releases (NAR) eight years out of the past decade. The spokesperson for CN said companies do not receive the safe handling award if they have been responsible for the accidental release of their cargo.
"As a shipper. . . you've allowed something to escape. Even if it's minor, a release is a release," said Bryan Tucker, who would not give specifics regarding any NARs related to Canexus.
Rick Denton, the plant manager of the Canexus facility in North Vancouver, said human error can never be factored out. But he expressed confidence in extensive safety precautions and emergency planning, including the additional fleet of specialized railcars that feature thicker insulation to lessen the risk of a release should the car leave the rails.
"You can ship nuclear weapons safely," Denton said, making the point that even the most dangerous human-made cargo is transported with little incident.
SmartRail's Phil Le Good considers the comparison disingenuous, reasoning that nuclear weapons are not transported by rail and are shipped under heightened security with the detonator and firing mechanisms removed, "like having a bullet without a gun."
"This is something that brings instant fear to anyone. However, in a dishonest way [Denton] failed to mention that without their firing mechanisms they are far safer than chlorine," Le Good wrote in an email. He said shipping pressurized chlorine in fact poses a greater potential risk than transporting nuclear material.
"Shipping nuclear weapons would be no different in terms of safety than shipping radioactive sources for medical or industrial radiography purposes.
"Yes, the weapons do have nuclear materials in them, but like any nuclear material, it is only hazardous when released but in this case there would be no mushroom cloud, but raw material spilled. Not much different than chlorine, only that chlorine is more dangerous in that it can spread much further than radiation from a nuclear weapon that has not been fired or exploded."
Ultimately, Le Good said the comparison underscores the danger of shipping chlorine through urban areas. Even if shipments slow or stop during the Olympics, the risks will not disappear after the Games are over. One of the most dangerous chemicals in the world will continue to make its way across Vancouver and onward to points across the continent.
"How do you protect people?" asked Le Good.
His particular fears focus on the lack of security and ease of access to rail yards throughout the Lower Mainland. At the Thorton rail yard on the Fraser River in Surrey, Le Good watches propane tanks roll by. The graffiti on their exteriors suggest rail cars can be an easy target for tampering.
"I don't think you'll ever prevent someone who is determined on a high level of destruction," he said.
Gary Kubera, President and CEO of Canexus, said the idea that the chemical manufacturer could be a target of sabotage is "wildly speculating."
The upgrades require the North Shore facility to close for 30 to 40 days, and while Kubera said exact closure dates have yet to be finalized, he rebuffed the suggestion the timing is deliberate or his company was influenced by risks associated with the Olympics.
Asked if VANOC or the ISU had any influence in the timing of the closure, Kubera answered last month from Houston: "It's possible but I wouldn't venture to comment on that."
Minutes from an April 2008 North Shore CAP meeting, however, confirm Canexus met with VANOC to discuss security concerns associated with facility upgrades and the Olympics. According to the minutes, Rick Denton said, "We have met with VANOC to start preliminary discussions with respect to plant operations [and] construction activities during the Games period."
Now it is becoming clearer how such plans will affect some people just south of the Canada-U.S. border. Tom Beiker sent The Vancouver Observer an email last week that read: "I live in Belmont, Washington. Canexus plans on storing 50 railcars in my front yard during the Olympics and possibly longer. There are 10 people who live in our little community. We were not informed by Canexus until after the channel 4 news got hold of the story. The cars will be 150 feet from my house. We do not want this to happen. What can we do?"