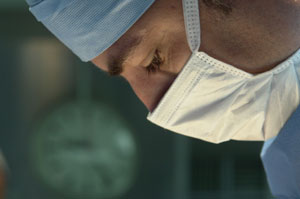 People from Saskatchewan may soon be coming to British Columbia for surgery, if negotiations between the two provincial governments are successful.
B.C.'s health minister, Kevin Falcon, said selling surgeries will bring money into B.C.'s system and help British Columbians get care sooner. But New Democratic Party health critic, Adrian Dix, said the plan makes no sense when health authorities are already cancelling surgeries for British Columbians.
"We'd obviously have to do the homework on how we would do it," said Falcon. "The principle would be that we'd charge a premium for the service that would allow us to not only cover our costs but use the additional revenues to then allow British Columbians to get their procedures done sooner and quicker." The Tyee reported Monday on the plan, after the Canadian Press reported that Saskatchewan Premier Brad Wall mentioned it. "If people have been waiting for 15 months, do they care if [their surgery] happens in Saskatoon, Regina or Surrey? I'm not sure they do," the story quoted Wall saying.
Close to an agreement
Discussions are in "early stages," Falcon said, but added the two provinces are close to signing a memorandum of understanding that would have 400 orthopaedic surgeries done for people from Saskatchewan in British Columbia's public hospitals over two years.
He identified the UBC Centre for Surgical Innovation and St. Paul's Hospital as places which could likely be used for the plan.
During question period Wednesday Falcon said Saskatchewan is just one of the provinces that have turned to B.C. for help reducing surgery wait lists.
Asked in the legislature hallway about the comment, Falcon said, "I don't want to speculate on other jurisdictions except to know we've had lots of interest in what we've been doing on the surgical innovation side in British Columbia."
Waiting for surgery in BC
The move comes while health authorities are cutting the number of surgeries they provide, said NDP critic Dix.
The Fraser Health Authority has said it will cut as many as 9,900 surgeries because of budget constraints and the Interior Health Authority has cut 428 orthopaedic surgeries before the end of the fiscal year, he said.
Across the province, there are 15,000 people waiting for orthopaedic surgery, Dix said. The figure is confirmed on the province's waitlist website.
"They cancel 10,000 surgeries for us and they offer up those surgeries to people in Saskatchewan," said Dix. "When you offer up spaces to people from other provinces, then those are spaces that could and should be taken by the people who paid for those hospitals, paid for those operating rooms, paid for that capacity, and that's the people of British Columbia."
Dix disagreed with Falcon's assertion that people from B.C. will still be given priority in B.C. hospitals. "He's clearly wrong," he said. "They're not taking precedence. How do we know they're not taking precedence? Because he's cancelling surgeries for British Columbians and offering them to people in Saskatchewan."
Record levels of surgery: Falcon
Falcon said it is "nonsense" to say offering surgeries to people from other provinces is only possible because of the cancellations. "We will still be undertaking record levels of surgical procedures in British Columbia," he said.
Falcon said the B.C. government has reduced surgical wait times since 2001. The median wait for a knee replacement in 2001-2002 was 25.4 weeks, according to a chart provided by a ministry official. By 2008-2009 that was down to 13 weeks. The wait time for hip replacements decreased over the same period from 18.7 weeks to 10 weeks.
Similarly, Falcon said, the number of hip and knee replacements done in the province has doubled over the same period.
Bringing in people from Saskatchewan won't slow access to surgery for British Columbian's, he said. "Obviously I wouldn't do it if it was going to slow down the wait list."
Offering surgical spaces for sale while British Columbians are waiting is a bad precedent for public health care, said Dix. "The order of surgery in our public hospitals should be based on medical need. That has always been the abiding principle in British Columbia, until perhaps the Falcon era."
As the NDP's John Horgan, MLA for Juan de Fuca, put it in question period, "Only in Liberal bizarro world would cancelled surgeries be good news for British Columbians. George Orwell would be proud of the minister for that remark."