Health Minister Aglukkaq's Road Show
She hit BC to reassure about swine flu. But there was an outbreak of confusion.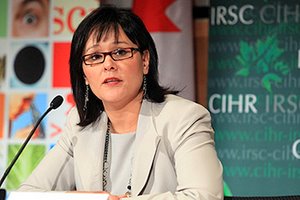 Health Minister Leona Aglukkaq spent Friday morning at the B.C. Centre for Disease Control, as part of a nationwide tour she's been doing with Dr. David Butler-Jones of the Public Health Agency of Canada and francophone Dr. Danielle Grondin. It was a tightly scripted event, with limited time for questions. Even so, the press conference revealed some confusion between the Ottawa visitors and the local health authorities.
The event began with a tour of a B.C. Centre for lab, with the media crowd taping shots of technicians stoically trying to do their jobs. The minister meanwhile was shown charts of the growing productivity of the lab in testing samples.
At the press conference itself, B.C. Centre for Disease Control's Chief Medical Officer of Health, Dr. Perry Kendall, joined the visitors. Aglukkaq led off with a statement much like the ones she made at earlier stops on the tour, saying her purpose was to advise Canadians about H1N1 and to share information on new developments.
But she seemed a little unclear on what those developments might be. B.C. was now experiencing more H1N1 than it had in the spring, she said, but it's still spreading at a low to moderate rate. "This is not the second wave yet," she assured the media.
Aglukkaq promoted the government's new preparation guide, saying it will soon go out to 13.7 million Canadian households and that it's also available for downloading at FightFlu.ca. Ads, she said, will soon appear in newspapers, on radio and on TV.
Butler-Jones then took over, saying the government is "using a pandemic plan developed over years and adapted to present circumstances" -- that is, developed for bird flu and adapted to a completely unexpected strain. He said the federal government is working to improve B.C. hospitals' surge capacity, including purchasing 370 new ventilators.
Not entirely on message
Perry Kendall was not entirely following the script. Contradicting Aglukkaq, he said B.C. is now well into the second wave of the pandemic: "We are seeing singularly higher numbers." Labs are testing 700 samples a day, and almost half are H1N1. Kendall said that B.C. is seeing mostly mild to moderate cases, and that the mortality rate may well be lower than in a regular flu season. But H1N1, he warned, tends to attack younger persons than seasonal flu does.
"What's most important," Kendall said, "is that we are prepared. We have launched our own marketing campaign, referring people to the national program or to dial 811. Everything has been done to ensure we're prepared for the second wave."
Confusion broke out almost at once during the question period. Asked if pregnant women should receive the vaccine as soon as it's available, Aglukkaq stuck to her script -- the vaccine will be available early in November, and every person who wants it will get it.
Adjuvanted? Unadjuvanted? Whatever
Butler-Jones, however, said pregnant women would get "unadjuvanted" vaccine --lacking additives that enhance the vaccine's effectiveness. The unadjuvanted version would be available two weeks after the adjuvanted vaccine came out.
Why the delay? Aglukkaq returned to her script. "We're on track to get the vaccine out -- both kinds. We're not going to rush this." Butler-Jones, recovering, said it was too early to speculate on which vaccine will be available when. And in any case, he said in answer to another question, "It's a killed vaccine. Either version can protect you. We haven't seen a problem with the adjuvanted vaccine." In fact, he said, it's better. The problem, he explained, is the lack of reliable evidence on the safety of such a vaccine for pregnant women.
Grondin chimed in, saying that if she were pregnant she would get an immunization regardless. "The adjuvant is safe."
With the issue not much clearer, the questions moved on to whether the vaccine will be mandatory for healthcare workers (Aglukkaq: It will be optional), and just how high the infection rate in B.C. is (Kendall: Not untypical).
Unasked questions
The press conference wrapped up with Kendall saying healthcare workers (including retirees brought back into service) would be moved where needed most, and Aglukkaq promising mutual aid between provinces.
While the minister's stated purpose was to spread information and dispel "myths" about the vaccine, the conference brought out very little new information, and probably confused more people than it enlightened about vaccines for pregnant women.
Still, Aglukkaq stuck to her script and avoided any obvious errors. She touted Canadian self-sufficiency in vaccines, but no one asked her why Canada hasn't donated any of its stock to poor countries, as the U.S. and nine other countries are doing. Nor did anyone ask her if allowing healthcare workers to decline the vaccination was a medically wise policy.
An open-ended format might have permitted such questions, and the very interesting answers they might have provoked. After a few more flu deaths, Leona Aglukkaq's press conferences may grow longer, and more acrimonious.