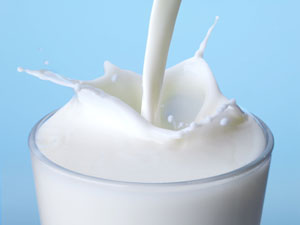 Milking the cows is so important that it isn't even on her huge list of things to do. Lisa Graham-Knight is 22 years-old and running a cow-share co-op on Haida Gwaii. An unlikely revolutionary, she is tanned, smiling and up every morning around 6:30 am to relieve Ebony and April, a Jersey Holstein and a pure Jersey, two cows who now find themselves living on a small island across the inlet from the tiny village of Queen Charlotte.
Between tending the garden and the pasture that feeds them; milking and bottling; and making plans for a winter barn, Graham-Knight doesn't have much time to worry about the laws that say selling and distributing raw milk is a federal offence. Under the Food and Drug Act, no one can sell the "secretion obtained from the mammary gland of a cow" unless it has been pasteurized (heated to a high temperature to kill bacteria that might cause disease). Raw milk is, by definition, unpasteurized -- straight from the cow's udders, and Graham-Knight is right in there pulling teats every morning in order to provide.
She has a clear conscience about the law, she tells me the day I visit her farm, because she's not selling the milk of her labours. Instead she's part of what some might consider a revolutionary act. She sells shares in her small herd and buyers become part of a cooperative, paying her a maintenance fee each week. The milk produced by the collective cows is divvied up between owners.
Graham-Knight doesn't dwell on the legal issues, but she is aware of the political choice she's making and the movement she's joined. Last year she cut her chops (no offence to the cows!) at Home on the Range, a Chilliwack-based farm. Activist Gordon Watson, who has been trying to get raw milk legalized for the last decade, says the cow share program at Home on the Range (he helped get it underway) has grown from one cow to 23 in just two years and now 300 people across the Lower Mainland have shares in the herd.
Shareholder approach contentious
While it is illegal to sell raw milk in Canada, he and many others involved in cow share programs across the country argue that it is not illegal for those who own cows to consume the milk from their own animals. Near Durham, Ontario, Michael Schmidt, a 53 year-old farmer who has been providing raw milk to people through a similar shareholder system, had milk, equipment and animals seized from his farm by armed police officers in November 2006. He was charged with contempt of court for refusing to obey an order to stop selling raw milk and he is now putting forward a constitutional challenge, which should be heard in court in August 2009. Schmidt says forbidding people from selling and receiving raw milk violates the Charter of Rights and Freedoms.
Whether to buy and consume raw milk or not should be a choice all Canadians can make, say activists and some feel that Schmidt's challenge may eventually turn the law around.
Still, in the summer of 2008, provincial health officials visited farmer Alice Jongerden who owns Home on the Range and gave her an order to quit distributing raw milk. Watson appealed the order, on her behalf, and the appeal is still pending. Shareholders are still getting milk, but Jongerden is not distributing. She leaves the milk on her farm and shareholders pick it up.
"And they have not stopped us. That proves they know it's safe," Watson told me.
'Only pasteurized milk is safe': BC Dairy Foundation
But according to the BC Dairy Foundation fact sheet on raw milk, "only pasteurized milk is safe milk." Health Canada has issued regular warnings over the last several years reminding Canadians that bacteria like Salmonella, E. coli and Listeria can be found in raw milk and these can lead to food borne illnesses involving fever, vomiting, diarrhea, and, more seriously, kidney failure, miscarriage and death. Children, pregnant women, the elderly and those with compromised immune systems are particularly at risk.
Watson says the argument about public health safety may be why Canadian regulators banned the sale of raw milk in the first place, but he and others believe that concern is outdated. Selling raw milk is legal in all G-8 countries except Canada and in 28 states, he says.
Pasteurization, he explained, began at a time during the late 1800s when industrialization was ramping up, but health standards were not. Factory-like farms were producing milk for large cities and distributing over large networks. Disease and bacteria were easily introduced at any step along the way. For example, some argue that cases of tuberculosis-infected milk, were likely caused by TB-infected farm workers, not from anything inherent in the milk itself.
'Healthy cows create healthy milk': dairy farmer
But consumer concern about the safety of raw milk persists. Even my mother, a registered nurse, chastised me for imbibing. "They started pasteurizing milk for a reason, you know," she said by telephone from Alberta. "Have they tested it?"
When I queried Graham-Knight about this, she replied honestly."I haven't tested the milk." But, she said, the cows were tested for various diseases before she brought them from Chilliwack and they were given a clean record.
"Healthy cows create healthy milk," she said. To create a good product, animals have to be very well cared-for, and with only two to look after on a small farm, she feels able to do that.
Having grown up in the city with milk that came straight from tidy cartons off store shelves, far from the dung, bugs and dirt of a typical farm, I admitted to having a few fears around drinking raw milk myself.
Graham Knight was sympathetic. It's not for everyone, she admitted, but in her opinion pasteurized milk offers more potential for people to become sick. "Raw milk has its own immunity," she says. "It wants to protect itself from pathogens."
Too clean causes health problems?
In fact, those who believe in the superiority of raw milk say pasteurization and other processes aimed at keeping consumers healthy are actually making people unhealthy on a whole different level.
Autoimmune disorders, like Crohn's Disease and Multiple sclerosis have become more and more prevalent in developed countries over the last half-century and some scientists wonder whether society has become too clean. A recent European study has even linked exposure to farms and farm animals with lower asthma and allergies rates in children.
Many people say their eczema, arthritis and other chronic diseases cleared up after turning to raw milk. Enthusiasts like these contend that pasteurization destroys vitamins A, B12 and C, along with helpful bacterial like lactobacillus, which aids in the digestion of lactose. A Salon.com article carried a number of such testimonials.
Watson says pasteurization also destroys the enzymes already found in milk that allow our bodies to digest the calcium we need from it.
Illnesses linked to milk, raw and pasteurized
But public health officials maintain that each year people become ill from drinking raw milk contaminated with disease-causing germs. In 2006, California officials announced that raw milk tainted with E. coli was responsible for a rash of illnesses. Several children were affected in the outbreak, but two got progressively worse and they may have been left with permanent kidney damage.
"It is possible to get sick," admits Watson, but he says the risk is much lower for raw milk from a small dairy like Home on the Range than from buying milk off the grocery store shelf.
He says more than 16,000 people got sick from salmonella after drinking pasteurized milk originating from a commercial dairy in Illinois in 1985 and three people in Massachusetts died after drinking pasteurized milk contaminated with listeriosis in 2008.
"When things go wrong in a commercial dairy," he says, "thousands can get sick."
Between the warnings from public health agencies in Canada and the United States, and refutations from raw milk supporters like the Wisconsin-based Weston A. Price Foundation, a nonprofit, tax-exempt charity that campaigns for "Real milk," ie. Raw, I admit to finding it difficult to know which arguments to believe.
Life at a raw milk farm
Meanwhile, back on the farm, Graham-Knight wanders the pasture, making sure no harmful weeds, like fox glove and buttercups, are making their way into the cows' diets. She spreads manure on the garden and she checks their feet for cracks, then she brushes their lovely backs.
This morning, like every morning after she carefully cleans their udders before she milks, she runs the liquid through a filter and fills old-style returnable glass bottles she brought up from the city. The milk must be cooled quickly so she runs it under cold water and refrigerates it right away. The cows produce two gallons of milk every morning, (that's just under eight litres), which is far more than one household can consume.
Graham-Knight brought the cows to Haida Gwaii because she wanted to give something back. "It's my home and I wanted to somehow contribute to the community," she says. "It's honest, wholesome work. And it's the best food I could think of to bring."
For Graham-Knight, two cows and a cow share co-op mean she can live on her friends' farm and earn a small income, something that is impossible to do in the industrial milk system.
She says the community has been very supportive, with people stopping her on the street to talk about their fond memories of drinking milk direct from the family cow.
"People remember receiving it as a child and they've been longing to have it again," she says.
Delicious served raw
Twenty-one families now own shares in these cows and my partner and I are part of that crowd. Our first bottles came rich with yellow cream on top and my first sip revealed a cool, sweet flavour. Unlike others, the longing for raw milk was never there, but I'm a huge supporter of local products.
As for the health concerns, I'm still a little squeamish, especially after researching this article, but I figure there are a lot more dangerous products out there than raw milk. Take packaged meats, and the infamous Maple Leaf foods outbreak in 2008, for example. If something like bagged organic spinach can make people sick across 20 States, then I'm all for sticking with the local producer. At least I can visit my cows. Maybe the revolution involves learning how to milk them too.
As for the law, I leave it to Watson to offer the final word in that respect. "If providing basic food stuff is an illegal offence, then what's next?"