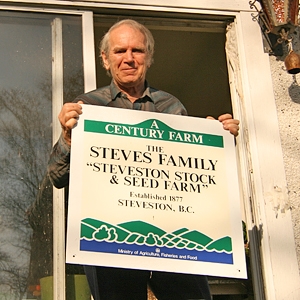 David Catzel should be the poster boy for urban agriculture.
He's handsome, smart, well-educated in organic growing techniques and dedicated to providing healthy food for city people in an environmentally-friendly way, which he does full time.
If you believe our future as a civilization depends on the success of people like Catzel to turn our cities into clean and productive food centres, he has one of the most important jobs in the region. So how much money does he earn?
He makes $12 an hour.
Average farmer is over 50
Actually Catzel is the poster boy for urban agriculture. That's him on the Farmers' Market advertisements over the caption, "Tell your kids my beets have racing stripes."
He's one of the new wave of urban farmers transforming the look of agriculture in British Columbia. And none too soon, with the average age of farmers at 53 and few with children who say they want to carry on the family business.
This new breed, many of whom come out of cities educated in agro-ecology or other ways to simply farm sensibly, are the hope for a profession that looked to be going the way of the elevator operator or horse and buggy driver. They tend to be ecologically-dedicated, hard-working and willing to be part of a vanguard taking us out of an environmental tailspin.
Catzel is probably doing better than the average. He belongs to the Fraser Common Farm Cooperative, a successful local organic enterprise on four hectares in Aldergrove. Together with its affiliated Glorious Organics Cooperative, it sells produce at farmers markets, restaurants and to CSA (community supported agriculture) customers who pay an annual sum for a weekly share of the harvest.
The produce they grow is fresh, nutritious, delicious and high quality. It isn't cheap.
So why is Catzel making just $12 an hour? And does that wage expose the weak point in urban agriculture, the fact that people at the forefront of sustainable local food-growing ventures may find it impossible to sustain themselves in the job?
Catzel says there's more to work than the wage. And in his explanation is a glimpse of what could be a brighter future for urban farming.
"It's more than a job, it's a great lifestyle. I get to watch my kids eat kale off the plant, and I can't put a price on that. It's a nice environment. There are good people around. We work from home so my commute is a walk out the door. The work is really rewarding and very diversified so there's not much chance of getting bored."
Put all that together with the reduced rent he pays to live on the collective farm and he says the hourly wage he makes is not a problem. Nor is the fact that the farm pays its seasonal workers about the same.
"We don't hire $8 an hour workers. The differential between the top-paying salary and a first-year worker is $2. So we pay ourselves $12 and any new people get $10 and if they stick around it goes up fairly quickly."
Farmers in the classroom
Catzel says that when he first started selling food, he worried about charging too much. He now realizes how much it actually costs to grow, even given the fact that salaries aren't lucrative.
"If you look at the prices at the farmers market, that's the type of salary you're supporting. I've always wondered about putting it on a sliding scale. Maybe a sign at the farmers' market that said: 'This is what you pay if you want us to earn $12 an hour, here's what you pay if you want us to earn $20 an hour.' You think it would work?"
An aspiring farmer today has a variety of ways to learn. The bigger cities are chock-full of workshops, lectures, seminars and salespeople offering anyone an intro to organic growing. For the career-minded, there are certificate and degree programs at local colleges and universities.
Kwantlen Polytechnic University's Kent Mullinix is planning to launch what has been called the first urban agriculture school in North America.
He believes it's needed so society can reclaim its hold on the true meaning of food. "I'm reminded of what one of my mentors said, that the reason why agriculture was the last segment of our society to be industrialized is that it's the least suited for it. We have tried this 70-year experiment and it hasn't proven to be environmentally, ecologically or socially acceptable. It hasn't gotten us to where we want to be."
What is to be done?
"We've got to wrestle the agri-food system out of the hands of the corporations," Mullinex says. "We need to restructure the whole thing. What will it look like? I'm not sure, but it will have as many facets as people engaged in it. We won't put all our agri-food system eggs in one basket. It will also be human scale. We spent a century trying to get people off the farm. We need to spend a century trying to get them back on the farm."
'The time is right for us'
The Richmond farm school Mullinex is plotting has a big advantage: city land. The program itself would take two years or less depending on the entrant's experience. It wouldn't be linked to an academic degree, but aimed at people who just want to farm. Once through, participants could lease one to five-acre plots from the city of Richmond, overcoming the deal-breaker for many of not having the millions it would otherwise take to buy land for an urban farm.
"We have the program, we have the curriculum, we've identified the teachers, we're simply looking for funding," said Mullinix, who is also developing a formal degree program in sustainable agri-food systems to begin next year at Kwantlen's Langley campus.
"The time is right for this. Many of us sense in our gut that we've gone down some wrong path and we need to straighten things out.
"Agriculture is not just a way to make a living, although it's a good way to make a living. It's one of those lovely things where you get to make a living and express yourself fully. It's authentic. So much of what we're engaged in lacks authenticity. People know food has meaning. They want to create meaningful activity. Building a better food system is a good way to do that."
Besides the enthusiasm of potential growers and the willingness of local experts to teach them, we're also fortunate in having a solid base of small farms from which to build.
This is thanks to the Agricultural Land Reserve, one of the most enlightened pieces of legislation ever passed in British Columbia.
Small farms fostered by the ALR
Developers and their politician-enablers like to pick at the ALR, but 95 percent of the public supports it, according to an Ipsos Reid poll. Even people who don't really get it still support the idea of saving farmland for future generations.
ALR co-creator, Richmond farmer and City Councilor Harold Steves, explains how it happened, thanks to a blacksmith.
"The idea strangely enough came from the blacksmith in Walley. His name was Earl Mattenly. He was the village blacksmith who did all the repairs for farm machines in Walley. Nobody will even know who he is, but he's the one who gave us the idea. We never checked it out but he said it came from the prairies.
"He said a city in Saskatchewan had set up a land bank around the city to prevent it from sprawling. We knew that wouldn't work here because we've got Richmond and Surrey, and we knew you couldn't put a land bank around anything. So we thought, what if you made the farmland into the land bank?
"That's where the idea began."
The notion of creating provincial zoning to protect agriculture was proposed to the New Democratic Party, which took it on as a campaign issue in 1972. After the NDP won the election, they followed through on the promise by setting up the ALR in 1973. Today it is touted as one of North America's most progressive acts to preserve farming and, indirectly, help urban areas save themselves from self-abuse. It's also a big reason why Vancouver keeps winning those livable city contests.
I asked Steves if he was ever surprised it came off.
"Actually I look back now and I think, good grief, how did we get away with it?" he answered with a laugh.
"It's because of the ALR that we have the most small farms surviving -- I'm not sure if it's the most of anywhere on the continent, but we have a lot of small farms. It's because we protected them. You can amalgamate but the cost is greater because a small farm is worth more than a big farm. You're allowed to have a house and barn, so to go and buy and knock down the house and barn costs too much. The cost per acre for a small farm is higher if you want to buy it.
"The argument against it is, well, farmers can't afford to go farming anymore. That's because they have this vision that you have to have these huge industrial farms. Well in BC you can't find land or don't have enough money to put together to do that, because we've protected the small farm. In my opinion we're better off with small farms than huge industrial farms."
Which is good news for the new ranks of urban farmers, many of whom are more interested in small farms than perpetuating an industrial farm system that's in decline.
Veteran of land wars eyes the future
Of course that doesn't mean they can afford even a small farm, given the wacky real estate prices in this province. But they may still be able to pursue their vocation in places where cities support them, such as Richmond.
Steves is a solid booster of the urban farm school plan.
"The basic idea is that that if we're able to provide some of our land, one or two or three or five acre plots, it's a start. Because when we're looking at putting urban lands back into urban agriculture, there's a tremendous cost. Land zoned residential is worth a couple million dollars an acre. Only government can afford that.
"However, if you look at a couple million dollars an acre -- if we're paying that now to plant trees and flower beds that people can enjoy, then why not apply that to buying land where people can grow food in their own garden plots?"
I asked Steves, a veteran of land wars here for four decades, if he thought the future was bright for urban agriculture.
"I think it is. In the last three or four years I've had as many people contact me as I did in the last 20. The idea is growing very rapidly. I think the world is in for a surprise. People are resilient and we'll find ways to make it happen."
'We have to be optimistic'
I had a chance to put a similar question to Steves together with some of his colleagues on the Metro Vancouver Agricultural Advisory Committee. The group, made up mainly of local farmers and given to heated agreements on things like bad market conditions and poor weather and worse policies, was discussing the results of a poll which said 42 percent of the British Columbia population believed agriculture in the province to be in good shape.
I thought that sounded high, given all we read about the crisis of the family farm and dire scenarios of corporate encroachment, but then that was the public. These were the farmers. So what did they think? I asked if they agreed that B.C. agriculture was doing well, and got ready to hear more complaints.
Instead, hands went up around the table. Their outlook was even more positive than that of the general public. This conversation and many others convince me that professional growers, both seasoned and new, are keen and capable and ready to grow more food in and around cities.
As one member of the Agricultural Advisory Committee told me. "Well, we have to be optimistic. We're farmers."