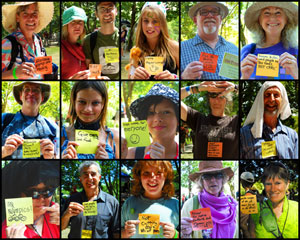 This past weekend, a team of hardened Tyee staff members and volunteers arrived at Vancouver's Folk Festival, armed to the tooth with neon Post-Its and markers. Our mission: to continue getting a sense of the "word on the street" and promote public participation. Our findings: Tyee fans are opinionated, intelligent and full of innovative (and sometimes humorous) ideas for Vancouver's future.
A Big Question on Neon Post-Its
Similarly to our last Post-It project at Car-Free Day, where we asked passersby to tell us how they'd improve transportation in Vancouver, we kept our Folk Fest question broad. "If you had a magic wand," we asked, "how would you improve Vancouver's culture?"
We were quite interested to hear what our fans had to say, especially considering that Folk Fest was an event specifically created to celebrate local and international culture in all its mediums. Drenched with sun and with ears still ringing from days of crowd-rousing music, Folk Fest participants had quite a few suggestions for us.
Throughout the weekend, we received more than 100 Post-It answers to our questions. And a brave few even agreed to hold up their Post-Its while we took their pictures. You can find those pictures here.
From Ethnic Food to Multicultural Events
On the whole, there was a wide range of answers, with many participants taking the question to new levels. Some opted for direct commentary on Vancouver's culture versus cultural initiatives featured in other cities. Others chose to focus on specific solutions-based ideas for improved public cohesiveness. Then, of course, there were the answers focused on the "magic" aspect of the question itself, like a request for "free smoothie days everyday."
A prominent number of Post-Its gave us specific solutions. Several participants said that Vancouver should promote the implementation of "permanent car-free areas such as Commercial Drive" where pedestrians and bikers ruled the streets. Many also asked that Vancouver implements more "sustainable, fun events," that we "honour our Native culture," and that we actually "promote multiculturalism in schools." "Support our arts more" was another popular idea, with participants saying Vancouver should do more to promote cultural dance-based activities. Some participants preferred to focus on cultural consumption, asking for "free ethnic food days" and "cultural food fairs every weekend."
The Young and the Sustainable
From the youngest (and most excited) participants of our Post-It project came a hopeful outlook. Two enthusiastic friends adorned with Oxfam buttons ("We are collecting buttons today!") chose to focus on Vancouver's environment, asking that we promote "not cutting down lots of trees." Other young ideas ranged from having "more aquariums" to "more biking trails" to giving everyone "free cake."
Transportation and was a popular theme yet again, with the vast majority of participants asking that Vancouver promote sustainable culture by improving and promoting public and bike-based transportation. A variety of green-centered ideas, including "improved bike lanes," having "cheaper and better public transit" and "making Vancouver a leader in sustainability" appeared to be at the forefront of many participants' minds.
Overall, it appeared that Folk Festival goers were highly aware of sustainability and multiculturalism issues facing Vancouver, and were not afraid to come up with some daring answers to our "culture question." We deeply thank all of you who came by and shared your thoughts on culture with us throughout the festival. Your ideas and passion continue to inspire us in our work here at The Tyee.