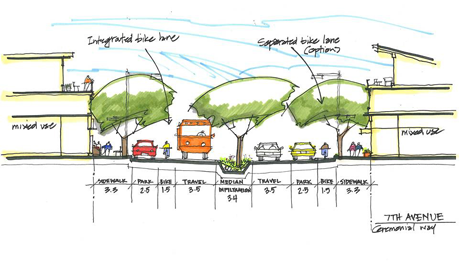 On George Street, a hub of the city, it's lunch time but the café is closed. So is the bakery. And a nearby restaurant. No wonder, given there is no one on the street to go inside. A car glides past. A woman gets out, unlocks the door to an unmarked office space, and goes inside, locking the door behind her. On her way in, she glances behind her... for what? A sign of life? Forget it. This is downtown Prince George on a Sunday afternoon.
"I honestly can't imagine Prince George ever being a place that people would want to go," says Katherine McKnight, a recently graduated student who moved there to attend university and moved away to Revelstoke as soon as she was done. It's a feeling that echoes through the empty streets. For her, she says, Prince George is a city of outdoor recreation, of house parties with passing tree planters, but without a vibrant centre to foster community.
But if Prince George City planners have their way, Prince George's downtown could be teeming with life as it joins a trend sweeping midsized cities across British Columbia. They want to wake up their downtowns.
Prince George's project began in 2008 when the city teamed up with Smart Growth on the Ground (SGOG), an offshoot program of Smart Growth BC that seeks to help B.C. communities prepare more sustainable neighborhood plans. It looks at land use, transportation, urban design, and building design plans in small to mid-sized B.C. communities and develops new concept plans that encourage smarter development socially, environmentally, and economically.
Having already successfully completed projects in Maple Ridge, Squamish, and Oliver, Smart Growth was looking for a fourth candidate. Prince George was an excellent candidate.
Malled, but healing
A typical resource town, like many in B.C., Prince George grew rapidly in the 1960s and 1970s with the opening of several pulp mills. The city doubled in size each decade, and responded to the growth by spreading out rather than up. It was a decision that Dan Milburn, Manager of Long Range Planning for the City of Prince George says shaped the face of the downtown core from there on in.
"A large suburban type land use pattern developed, and hence the desire for the creation of suburban malls, which initially tried to almost mirror the downtown in look and function," Milburn explains. "Since that time, we've seen more growth in commercial space outside the downtown than in the downtown."
Not only that, but while the housing market exploded through the rest of the province, land in Prince George remained cheap and plentiful, making single family homes financially obtainable for most residents. With little demand for cheaper apartments or townhouses, almost zero housing exists in the downtown core today.
"If you walk downtown during most days, it's a busy hustle and bustle of pedestrian and traffic as a normal routine," says Milburn. "But what happens generally is that it gets very quiet on Saturdays and Sundays, or in the evenings, because there aren't a lot of residents downtown. So we want to try and change that."
Prince George in 25 years
So the community's own residents and organizations created a new 25 year plan for Prince George's downtown, with the help of designers, researchers, and planners, all facilitated by the Smart Growth team. It addresses a number of issues with the city's core, including alternative transportation modes, residential density, and environmental impact.
The plan envisions connecting the downtown core to the river to provide the citizens access to the city's waterfront; walkways and streets favoring pedestrians and cyclists; a year round public market similar to Granville Island in Vancouver; more commercial development in the downtown core. But most importantly, the plan sees hundreds of residential units of varying size and price range erected in the downtown.
The model takes the big city idea of eco-density that has dominated the development of cities like Vancouver, and applied it to a smaller environment. This spring, the city of Prince George built a community garden on a lot that will eventually be a credit union. It has constructed over 100 kilometers of bike lanes, and created incentives for downtown businesses.
The goal, says Milburn, is a vibrant, walkable city. "People are starting to enjoy that lifestyle more and more."
And Prince George isn't alone in wanting to catch onto the trend.
The ice cream effect in Squamish
The brilliant green of Gelato Carina's storefront banner pierces through Squamish's subtle downtown core. Beneath it, customers peruse the selection of organic produce the shop has just started offering. Others group around patio tables in sunglasses and short sleeves licking gelato cones. It's a simple example that Squamish Director of Planning Cameron Chalmers sees as the city's biggest success story.
Where the gelato shop is now was once a washed up mens- and boys-wear store. Useful to some, but not exactly full of life. But Gelato Carina took over and opened up around the time that Squamish was beginning to implement their own Smart Growth plan to revitalize the city's downtown.
The city started by putting 1500 residential units, with more to come, into a downtown that previously had less than 500. The people living in those units then started walking to get their ice cream, and staying a little while on the patio. The gelato shop owner started bringing in performers to entertain those people, which made more people want to come. Now, it is a bustling hub of activity that is slowly waking the downtown core from a long slumber.
"People will go where they see other people doing something, whether that be sitting eating ice cream or doing anything else. That was lacking in our downtown," says Chalmers. "Once we started seeing people on the streets and more people in and around downtown, other vacant storefronts became trendy little cafes," he says, pointing to another patio where customers laugh and sip coffee. He says that the patio they are sitting on is actually illegal. Instead of enforcing the bylaw though, the city is just going to change it to allow more patios.
Like Prince George, Squamish has a 25-year plan, a long term timeframe Chalmers sees as essential for doing the job right. "Downtown Squamish was built all at one time. It was built, it was fresh, it was new and then it all aged at the same time. And it bottomed out all at the same time, and if it were to all rebuild at the same time, that cycle would happen again in 20 to 30 years."
Squamish reclaims its waterfront
Planners hope to wean residents from their vehicles by taking Squamish from a city that is experienced from a car, to a city that is experienced by a pedestrian. Just off the main strip, three-story residential units line the street, with parking garages on the main floor. They can't be built underground because Squamish sits at sea level and is too close to the water table. But instead of a grey cement wall facing the street, designers have built the parking garage with a windowed art gallery around it so pedestrians don't even know it's there.
Squamish residents have previously never had access to their waterfront, either. With the new revitalization plan, they will see waterfront boardwalks lined with storefronts open the shoreline. Open squares will cap each end. Across the little inlet, 1500 residential units will look over the short distance to downtown, connected by bridge and aqua bus.
Other cities are doing it, too. Maple Ridge is redesigning its priorities, putting community based businesses and residential housing first in the downtown core. The city of Oliver is so small that not only the downtown got a revamp through Smart Growth, but the whole city. Salmon Arm businesses and city councilors have committed to living up to the city's new slogan: "Friendly faces, funky spaces, unique places."
Not all towns have been receptive to the changes, though. The small Okanagan town of Summerland was sharply divided by the idea of a seven-story high-density residential tower leaning over the sleepy downtown. The planned tower was backed by a hill to be less noticeable, and the goal was not only to bring more life to downtown, but also to preserve the area's valuable orchard land from ongoing suburban sprawl.
"But an apartment block is more noticeable than 20 houses," says former Summerland City Councilor David Finnis. "It makes change and growth more noticeable," so the community loudly opposed it.
The plan dominated the town's election, and was eventually squashed by the failing economy.
'Thrown together communities'
But density is not the only answer to a freshened downtown. John Curry is a professor in the Department of Community Development and Planning at the University of Northern B.C., with expertise in downtown revitalization. He says the key to success is keeping a balance between the needs of the public, and the needs of the private sector.
Lucky for Prince George, the downtown has a strong backbone of commercial infrastructure. It just needs a community built around it.
And while Prince George has had its own failed revitalization efforts in the past, this time it's ready says Curry. He says many B.C. communities are.
"I've lived in B.C. since 1990 and now call it home. I've travelled the world, and I keep coming back to B.C. and saying that it's one of the most wonderful, and beautiful landscapes in the world -- except for our communities. We seem to have, in our history, merely thrown our communities together without a lot of planning or without ensuring a high quality of urban life," says Curry.
"I think that's starting to change now in medium sized communities and the smaller communities. We have this beautiful natural landscape surrounding us, and people have loved to interact with that landscape, and now they're saying, 'Well, why can't we also have beautiful urban landscapes where we can enjoy a high quality of life?'"
Related Tyee stories: