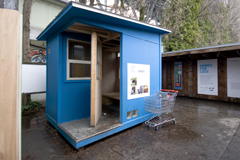 After months of uncertainty, Vancouver's smallest housing development has finally found a home. A series of 64-square-foot homes built last year by Emily Carr students have been adopted by the Bowen Community Housing Association on Bowen Island.
Despite the city's pressing need for more short and long-term housing developments, no Lower Mainland municipality would take them. It was almost too ironic: a housing project for the homeless that was homeless itself. Happily though, the project will now be put to some use.
"I'm excited that our project won't just be something we can include in our portfolio," says David Cha, 22, a third-year industrial design student at Emily Carr who, along with four of his classmates, helped to design and build one of the project's houses. "Seeing it actually being used and being part of making a change in our community means so much to me as an individual and as a student."
Small and cheap
Painted a vibrant orange, Cha's design is a staggered structure featuring multifunctional furniture, two small patios and is meant to be equipped with a green wall, which would provide added insulation and could be used to grow fruits and vegetables by its occupant.
It's one of four brightly painted mini-homes built by third-year Emily Carr students working alongside wood-manufacturing students from UBC's Centre for Advanced Wood Processing. These 64 square-foot structures cost just $1,500 a piece and are meant to address the continuing crisis of homelessness in Vancouver.
"I wanted to come up with a project that was relevant to our city," says Christian Blyt, an associate professor at Emily Carr who proposed the homegrown project to his industrial design class last spring. "We wanted to tackle a local problem using design, so I created a project with a concept that we could implement to a full-scale."
With just 15 weeks to complete the task, the goal of the Homesforless project was to design affordable, short-term housing using pine beetle-killed wood and 30 per cent recycled building materials. According to Cha, the real challenge of the project was building on a one-to-one scale, something uncommon in design classes, which usually only require students to build a scaled model.
"It was tough and there were a lot of challenges," says Cha. "I have a design background, not a construction background, so parts of it were definitely difficult...I had to ask a lot of questions."
Talking to potential residents
Blyt says his students were hesitant of the project at first but, after convincing them of its importance, they took it on passionately and consulted people living in shelters, on the streets and in abandoned buildings. This, says Blyt, allowed his students to get a first-hand perspective from their clientele and adapt the homes to their unique needs.
For Cha, the chance to speak directly with homeless people was the most rewarding part of the project. "The research that went into this project was pretty serious and speaking with homeless citizens was really a precious moment for us," he explains. "They told us how hard it is to do anything without an address...most of them told us they needed a place to rest, a place to sleep and an address so they could apply for a job and keep their things safe."
The homes are a direct reflection of these needs, offering multifunctional shelving and storage space that doubles as furniture. "To be able to use our strength in design to help in some way, to be part of something bigger, was really great," says Cha.
But Blyt wasn't only hoping to inspire his students. More than just a community housing development, the Homesforless project is also meant to promote wider dialogue among the public regarding housing rights and homelessness.
Communication as art form
"The main objective of the project was a form of three-dimensional communication," says Blyt. "We wanted to show that with very limited resources, you can create homes for these citizens, and I keep stressing citizens because they are citizens with rights just like the rest of us."
Although the public's reaction to the Homesforless project has been overwhelmingly positive, until recently, it looked like they may have ended up as garden sheds or children's playhouses, something that Cha says would have been a total waste.
After initial talks with the cities of Vancouver, Burnaby and New Westminster, it seemed that no municipality was seriously considering using the shelters to house their homeless populations, making the housing development essentially homeless itself. "We worked extremely hard and talked to a lot of people but we were hitting walls all over the place," says Blyt.
Island living?
It looked like the Vancouver Aboriginal Transformative Justice Society was going to adopt the units, but negotiations fell through this spring and the homes were at risk of being demolished.
That is until the Bowen Community Housing Association (BCHA) heard the news and its board members acted quickly to have the homes relocated to Bowen Island, where approximately one per cent of the Island's 3,000 permanent residents lack reliable housing.
While the houses were originally slated to house a few of the Island's twenty-plus homeless people, their arrival was met with scepticism, as many residents worried the mini houses would attract homeless people to the Island.
According to Richard Best of the BCHA the houses will remain empty for the foreseeable future, though they will serve to educate islanders about the need for more affordable housing.
Related Tyee stories: