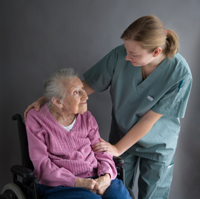 Seniors' care has taken a front seat in the election campaign this week and is aptly illustrating a key message emerging from the parties: who can you trust most to keep their promises?
In a classic she said/he said (the "she" being B.C. New Democratic Party leader Carole James while the "he" refers to Health Minister George Abbott), the parties are at odds over whether the government has met its commitments to create institutional seniors' beds.
James says the B.C. Liberals have fallen far short of their promises, while Abbott counters the government has not only met the target, but exceeded it.
In dispute is the following 2001 platform campaign commitment by the Liberals:
Work with non-profit societies to build and operate an additional 5,000 new intermediate and long-term care beds.
The government has created approximately 5,900 new spaces since 2001, Abbott told The Tyee Tuesday.
So do these beds meet the commitment?
'Substantially the same thing': Libs' Abbott
Abbott definitely thinks so. He acknowledged that only 800 of these beds are long-term care, but the remaining spaces are assisted-living units -- "parallel," he said, to the intermediate-care beds made in the promise.
"I think it is substantially the same thing," he told The Tyee, citing a 2001 Ministry of Health document from before the Liberals came to power, which said assisted living was expected to provide an alternative for clients assessed at an immediate care level.
But James strongly disagrees. She spent most of Monday targeting shortfalls in seniors' care by visiting a private home of a senior in Surrey and touring the New Vista Care Home in Burnaby.
And Tuesday morning she held a hastily-organized press conference to jump on Abbott's recent statement that only 800 long-term care beds were created by the Liberals.
"We finally got an admission from the health minister that yes, they did break their promise," she told reporters.
Libs fell short: CCPA report
Part of the problem in determining who is right is that terminology in the medical field has evolved since the Liberals took power. "Intermediate and long-term care" definitions are not used much anymore and the government's own policies reflect this.
Still, seniors' care between 2001 and 2008 has been widely studied and James received support for her position from a report released last week by the Canadian Centre for Policy Alternatives.
The study concluded that based on freedom of information requests to the province's health authorities, only 3,589 net-new beds were created by 2008 and there were actually 804 fewer residential care beds that year than in 2001.
It also made the following distinctions between assisted living and intermediate care:
Funding for assisted living is only about half of what was given to intermediate care and staffing levels are also lower
Assisted-living clients direct their own care while intermediate-care facilities were responsible for total care of patients
Assisted-living institutions do not have 24/7 licensed nursing services as intermediate-care facilities once did
Assisted-living only accommodates low to moderate dementia clients, whereas intermediate care routinely provided for people with all levels of dementia
"Assisted living is not equivalent to intermediate care," Marcy Cohen, one of the study's authors told The Tyee, disagreeing with the health minister's comparison of the two.
Abbott said he read the report with interest but dismissed both the findings of the study and its definitions of assisted living and intermediate care.
"The CCPA has long been allied with... the New Democratic Party," he said, adding he found the release of the report in the middle of an election campaign suspicious.
Differences are real: SFU prof
But it's not just the CCPA that appears to be contradicting Abbott.
According to a 2008 British Columbia Medical Association report, there is a clear distinction between residential care (which it says includes intermediate and long-term care) and assisted living.
The report says residential care "is for individuals who require 24-hour nursing supervision."
On the other hand, assisted living is defined as "a form of housing for largely independent seniors who require daily personal support."
These definitions are backed by Gloria Gutman, a professor emerita at Simon Fraser University who specializes in seniors' care policy.
"It's a different animal," she said when asked about comparing assisted living with intermediate care.
The major difference is in licensing, she said, and there are not as many safeguards put in place for assisted living.
"It's not built to the same requirements as licensed-care facilities and there are differences in terms of staffing," she said.
The province should offer a wide range of care for seniors, Gutman said, but more residential care is required.
"There is a need in the province for assisted-living but it is not nursing home replacement," she said.
It is on this point that James and the NDP are trying to cast the Liberals as promise-breakers while at the same time rolling out their own campaign commitments.
NDP's promises
This week, James promised to re-open 300 long-term care beds in the first six months of a mandate and 3,000 beds over the term.
She acknowledged this falls short of the 5,000 beds promised by the Liberals if only 800 beds have already been created, but said it's a good start.
"It's not going to fix all the challenges or the mess that Gordon Campbell has left but it certainly will go to addressing the priority that seniors are for me and my party," she said Tuesday.
If the NDP win May 12, add this promise to the list to be checked out four years from now.
Related Tyee stories: