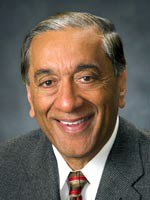 Whenever Premier Gordon Campbell and his Attorney General Wally Oppal are asked to shed light on the controversial BC Rail sale, their answer is the same. No can do. The matter is before the courts.
In fact, Oppal said he'd "love to comment" on the BC Rail deal, but doesn't want to influence the eventual verdict.
A top Canadian lawyer, a former B.C. attorney-general and House of Commons protocol suggest he needn't worry -- the legal convention Oppal cites is a voluntary measure not intended to block public debate.
Verdict no time soon
During this election, the New Democratic Party has tried hard to put the contentious 2003 sale of BC Rail on the public's radar. Just recently, the party released pointed attack ads and Nanaimo candidate Leonard Krog appealed to the RCMP to open a criminal investigation on the deal.
At issue are allegations that key government insiders oversaw a rigged bidding process that helped CN take over the crown corporation. The corruption case is in pre-trial hearings and a verdict might not be reached for months, or even years.
Oppal is the point man for BC Rail-related questions, but refuses to comment on the issue. He's repeatedly cited the sub judice rule to justify his silence.
"I don't know why people don't understand," Oppal told The Tyee last week. "I, as the attorney-general and the chief law officer of the province, should never ever comment on any matter that's before the Supreme Court."
That doesn't mean he wouldn't like to weigh in.
"You know what? I'd like to comment on that case -- I would love to comment on it. But it would be wrong for me to do it," he said.
House of Commons protocol appears to contradict Oppal's steadfast position. Sub judice does restrict the free speech of legislators when open discussion could influence an ongoing trial. Even so, the legal convention has never been codified and remains a voluntary measure.
And far from limiting public discussion on important matters, "a presumption should exist in favour of allowing debate and against the application of the convention," protocol states.
'Most judges would be insulted': Addario
Prominent Canadian lawyer and legal expert Frank Addario agrees. Government officials shouldn't talk about facts that could bear on a defendant's guilt or innocence.
But if they stick to the political implications of a trial, there's little chance their comment could bias a verdict, he said.
"Most Canadian judges would be insulted by the suggestion that a comment about an ongoing case relating to its political aspects would influence them," Addario told The Tyee.
He argued sub judice is often invoked by politicians to dodge contentious issues.
"In general it's used all the time to avoid political accountability," Addario said.
'They're ducking it': Gabelmann
Colin Gabelmann was NDP attorney-general from 1991 to 1995. Over the past few weeks, he's been following news reports about BC Rail closely. He thinks Campbell's Liberals are hiding behind sub judice to avoid embarrassing questions.
"It's a clear and obvious strategy by the government to duck any public discussion about what is potentially one of the bigger scandals we've had happen in this province in some time," Gabelmann told The Tyee. "They're ducking it because it would hurt their election chances."
Gabelmann thinks British Columbians deserve to know whether their government is concerned about potential conflicts of interest related to the sale of BC Rail.
"That's not going to influence the court on the issues at trial," he said.
The Tyee contacted former Social Credit party attorney-general Brian Smith, but he declined to speak to the issue.
"I'm not a public figure," he said. "I don't get my kicks commenting on things during election campaigns."
Calls to Oppal's election campaign were not returned by press time. Read more about sub judice here and here.
Related Tyee stories: