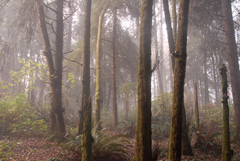 *This article was changed on Feb. 27, 2009, for accuracy.
If NASA's James Hansen is right, the task ahead isn't simply to stop adding greenhouse gasses to the atmosphere. It's to take them out. Hansen and nine other prominent scientists warned recently that the concentration of carbon dioxide and other greenhouse gasses in the atmosphere, now 385 parts per million and rising by ~2.5 ppm a year, is already over the tipping point of ~350 ppm that implies a degree of warming greater than our civilization can tolerate.
There's only one way to take carbon dioxide out of the atmosphere. It's called photosynthesis and only plants do it, building wood, flowers and leaves from solar energy and minerals.
For that reason, and because a fifth of human greenhouse gas emissions globally come from felling trees, few climate wonks doubt that forests are critical to forestalling climageddon.
And few places in the world have more room to grow forest than British Columbia.
So it's odd to hear a forest restoration ecologist accuse the province and its leading environmental group of holding back the capture of carbon in growing trees.
"What's the asset of British Columbia in climate change mitigation?" asks North Vancouver's Robert Falls. "It's not technology. It's our ecology. Yet between Suzuki [Foundation] and the provincial government, ecosystems have taken it on the chin, because they will not accommodate the reality that ecological systems take time."
'Not friendly to what we do'
Falls has spent half a career studying how plants take carbon out of the air. In the other half he's helped industry get to grips with what's now an $100 billion a year trade in GHG emission permits, reduction credits and offsets, a global market to reach $3 trillion forecast by 2020.
"I was in David Suzuki's kitchen [to offer advice on potential board members] when we founded the Suzuki Foundation," says Falls, who had an "amicable" parting with the project soon thereafter and played no further role in the new organization. Among the public at that time, he adds, "Climate change wasn't even on the horizon."*
The big issue was the loss of ecosystems that support both wildlife and people. So when Falls hit on a way to tap the new flood of emission-reduction funds to restore lost coastal forests on public land in British Columbia, he envisaged a win-win-win for taxpayers, the climate and his consulting firm Ecosystem Restoration Associates.
He doesn't say he expected a medal; but neither did he expect what he got from the province and the environmental think-tank he helped found. "These guys have really not been friendly to what we do," Falls gripes.
ERA's business
Here's what Falls' company does -- so far with the district of Maple Ridge, the Township and City of Langley and Metro Vancouver. (It's the same arrangement the province, the way Falls tells it, blew off):
The deals target parcels of land, cleared in the last century with no thought to reforestation, that are now in public hands as a result of municipal purchases or as green space given up to pave the way for development.
Many of these parcels in the congested Lower Mainland and southern Vancouver Island are in critical riparian zones. Others form essential corridors for wildlife movement. Most are overgrown with invasive gorse, English Ivy, knotweed or Himalayan blackberry vines, at best with native alders approaching the end of their life.
What they also have in common is that they are too far from surviving fragments of coastal forest for native successors to the alder -- hemlock, spruce, cedar, cottonwood or fir -- to reseed naturally.
Since 2006, ERA has planted more than 75,000 of those tree species on more than 200 hectares of degraded land in Maple Ridge parks and greenbelts alone, at no cost to the municipality. The tree mix is tuned to the location of each parcel, and to include more drought-resistant strains in anticipation of climate change.
ERA is contractually committed to hand-clear invasive competitors for sunlight and senescent alder until the seedlings reach 'free-to-grow' stature of a few feet, (an operation that attracted controversy last fall when a contractor removed more trees than ERA had intended to cut from one location). The new trees and the land remain public property.
"In return for that, we get the right to sell what we call a carbon offset," explains Falls, based on the carbon the growing forest will lock in for a century or more. "The landowner, in this case the district of Maple Ridge, gets its degraded riparian green belts and park lands restored for free. So no tax burden. We take the risk, because we undertake the work, we have it validated, we have it verified, then it's our challenge to sell it into the voluntary offset market."
Suzuki's complaints
ERA has sold its offsets (so-called because they are designed to neutralize the impact of releasing GHGs to the atmosphere somewhere else) to clients like the B.C. Lung Association, the Pemberton Music Festival and Vancouver Film Studios, that wish to promote their 'carbon-neutral' ethic.
"It would have been very difficult for us," to find municipal funds for the same work, says Mike Murray, general manager of Maple Ridge Parks and Recreation. "Tree planting is one of those things we always want to do and never have enough money to do as much as we'd like."
So what's not to like? A lot, the David Suzuki Foundation managed to find in a paper the influential organization released last year that seemed to shred the very idea of capturing carbon in forests as inherently unreliable, ineffective and impermanent.
"Tree-planting... cannot be considered as effective as projects that reduce fossil-fuel use in reducing the net buildup of greenhouse gases in the global atmosphere," it concluded. "If individuals or companies are unable to reduce their own fossil-fuel-related emissions, the best alternative is... [e]nergy efficiency and renewable energy offsets."
Forests take too long?
Lee Thiessen, director of the provincial Climate Change Branch, insisted in an e-mail that "biosequestration" credits are eligible for sale to the Pacific Carbon Trust, the agency created to buy carbon offsets the government says will make it carbon-neutral within two years.
But Falls disputes the practical effect of that claim. Criteria released last month require the carbon in question to be removed from the atmosphere by 2012, not over the century of a forest's life. "I don't see any potential for [carbon] removal under the PCT," Falls says. "Because they will not accommodate the reality that the biological takes time."
In an interview, Suzuki Foundation director of science Faisal Moola backed away from its categorical thumbs-down on forest carbon offsets.
He acknowledged a fact glossed over in the earlier study: that the efficiency and renewable energy projects that the Foundation favours also suffer from the same "common set of limitations" as forests. A wind plant, for example, may simply free up fossil fuel for another use rather than keep it in the ground.
"I am not opposed to forest-derived offsets," Moola insisted. "Trees are the only way we have to remove CO2 from the atmosphere. It can be done right." Carbon captured in trees can be accurately calculated; care taken that forests growing in one place aren't offset themselves by logging elsewhere; a portion of new forest set aside as insurance against future losses to fire or insects.
Reliable standards debate
The trouble, Moola argued, is an absence of reliable standards to assure purchasers that a particular offset is legitimate. "I'm just waiting for some retailer to step up and develop a standard but right now they're not on the market."
The only offset standard the foundation recognizes is one it established itself with the World Wildlife Fund and Greenpeace. The modestly named Gold Standard snubs carbon captured in forests.
But Moola is mistaken to assert an absence of other standards. A variety of these address the Suzuki laundry-list of reservations. The "Voluntary Carbon Standard," for example, requires projects to set aside half their acreage or more as a buffer against future loss. Another popular standard, the "Climate, Community and Biodiversity Standard," (CCBS) obliges projects to show that wildlife will gain. A standard developed by California's Climate Action Registry (CCAR), and likely to prove influential in the horse-trading to create a North American carbon market, last year approved credits for a project in the state's Garcia Forest.
ERA (like the government's PCT) uses an ISO (International Organization for Standardization) standard http://www.iso.org/iso/catalogue_detail?csnumber=38382 to validate the carbon part of its claimed offset. It's in the process of adopting the CCBS standard for community and biodiversity cred. And Falls says the company will be able to meet the tougher requirements anticipated by a new North America cap-and-trade carbon market.
'Bean counting' won't work
Falls doesn't like to diss the foundation he helped start, but he fears that a fixation with "accounting procedures" is distracting from its ultimate environmental objectives. "It isn't a matter of whether on Dec. 31st a ton, or a million tons, of carbon have been removed from the atmosphere," he contends. "This problem is going to last a century, maybe two. The bean-counting approach ain't gonna work."
"It's more like: are we taking meaningful measures that are going to have a long term, large net impact on atmospheric concentrations of CO2? I'm looking at a landscape that's been ravaged by decades of agricultural use and then abandonment, and could be a huge sink for carbon."
Jeff Calvert leads Borealis Carbon Ltd., a consortium of employee-owned independent service businesses to the forest industry in the northern Interior that sells credits similar to ERA's based on returning low-quality pasture to forest. "What's different about what Rob [Falls] and we do," he said, in contrast to environmentalists who focus on reducing energy use, "is that what we're doing is actually good for the environment, it's not just less bad. Even if we got our doing bad down to zero -- and I doubt that will happen -- we'll need some doing good too."*
And when it comes to pulling CO2 back out of the air, there's still only one way to do that good, or do it well: grow more trees.
Related Tyee stories: