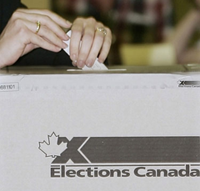 Close to half a million Canadians who wanted to vote in fall's federal election did not cast ballots because of new identification requirements, and that may have changed the outcome of several close races, concludes The Tyee based on government figures now available.
ID problems stymieing voters were widespread and worst for senior citizens and the homeless, finds Marc Mayrand, chief electoral officer, in an election report, released last week.
"There were. . . difficulties at the polls in the 40th general election," Mayrand's report said. "We received anecdotal reports that some electors were unable to present pieces of identification and official documents that could prove their residence."
Bill C-31 made changes to the Canada Elections Act in 2007, requiring voters to prove their identity and where they live before they may cast a ballot. British Columbia adopted similar rules last year.
There are three ways voters can prove who they are and where they live for federal elections: by providing one piece of photo ID that includes their name and address; by showing two pieces of identification authorized by the chief electoral officer that include their name, with one of them also showing their address; or by swearing an oath and being vouched for by another voter who has the correct identification.
Despite efforts to let people know about the change in identification rules, said Mayrand's report, there were problems across the nation on election day.
Small percentages
Mayrand's report doesn't say how many people had problems during the general election, but it refers back to surveys taken after seven byelections held between the passing of the identification laws and the federal vote.
While byelections often have lower turn-out than general elections, only one change was made to the voter identification rules before October's country-wide vote: hospital bracelets for residents of long-term care facilities were added to the list of acceptable identification. Otherwise, the list of accepted documents remained the same.
"Survey results indicated that the implementation of the new voter identification requirements went smoothly overall," said Mayrand's report. But while 94 per cent found the identification rules easy to meet, four per cent "said they did not vote because they lacked proper documentation."
Another four per cent got to the polls without the proper identification, it said. While most of them went home and got what they needed, or swore an oath and were vouched for, half a per cent "finally did not vote."
Expressed in percentages, the numbers might sound miniscule, but when multiplied over Canada's population of potential voters, they approach half a million frustrated voters.
Large numbers
There were 23.7 million people registered to vote in the federal election, and roughly 13.7 million of them actually did cast a ballot. That means 10 million did not.
If 4.5 per cent of those who did not vote were discouraged or prevented by the identification laws, it comes out to a whopping 450,000 people.
Here's another way to look at it. In the last election, in 2006, 14.6 million people voted. If 4.5 per cent of those likely voters were kept from voting by the new rules, as the survey results suggest, that would mean as many as 650,000 people were affected.
That might sound outlandish, but remember that some 990,000 fewer Canadians voted in 2008 than did in 2006. The theoretical drop caused by the identification rules would account for about two-thirds of that actual fall in voter turn out.
Surveys underestimate numbers
"We're dealing with huge numbers of people," said Jim Quail, the executive director of the B.C. Public Interest Advocacy Centre and a lawyer who has been challenging the identification laws in court. Filed in B.C. Supreme Court, the trial is scheduled to be heard in June.
"One has mixed feelings," he said. "It's appalling, but it shows there's an urgent problem the court needs to address. It shows there's a foundation for our case."
Telephone surveys likely underestimate the problem, he said. They tend to miss people who have no phones, such as people who are homeless, poor or living in remote places such as First Nation reserves. In short, they miss exactly the same people who are most likely to be affected by the change in voting rules.
"Affluent people living in prosperous urban neighbourhoods are unlikely to have had a problem," said Quail. "It's predictable that that number isn't evenly distributed."
This lines up with what the surveyors found, by the way. The identification laws had a greater effect in some ridings than others. In northern Saskatchewan's Desnethé–Missinippi–Churchill River riding, for example, as many as 10 per cent were missing the required documents.
Asked who likely benefitted from the new rule, one of the case's plaintiffs, Victoria activist Rose Henry, said, "The people who have their identification. The people who would have been voting in favour of the current government in power." People who are housed and in well paying jobs, she added.
People who are struggling in the current system, the people with the most to gain from a change in government, were likely left out, she said, if not scared off by the new rules. "I think a lot of people just didn't bother voting," she said. "It disenfranchised a lot of people who normally would go out and vote. . . Was this the government's way of ensuring the party they wanted to get in got in?"
Disenfranchisement wins close races?
When the changes were made -- recommended by a parliamentary committee then passed by the House of Commons -- every party but the NDP supported them, Quail said.
The obvious question is what difference the rules made on election day, he said. "You wonder how many seats would have been decided differently."
Assuming a conservative number of 450,000 were prevented or discouraged from voting, and dividing by 308 ridings, one comes up with about 1,400 votes per riding that were never cast.
As Mayrand's report notes, there were five ridings decided by fewer than 70 votes. At least another 20, according to the official results, were within 1,000.
Elections Canada is looking at the identification requirements, the report said, and will look at "administrative improvements" the agency can make or propose to the parliamentarians who make the laws.
The problems, and the solutions if they are brought forward, should be closely noted by British Columbians. The province adopted similar voter identification laws last year, which will be used for the first time in a B.C. general election in May. In both B.C. and Canada, politicians justified the laws as a way to avoid voter fraud, despite the fact no evidence of widespread fraud was ever presented in either jurisdiction.
Related Tyee stories: