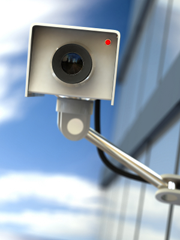 Last spring, close to 200 citizens from Vancouver's Commercial Drive area packed a high school auditorium to voice concerns about plans to turn Britannia's ice rink into a training facility for the 2010 Games.
How would security perimeters impact use of the grounds? Would CSIS step up its monitoring of social justice groups in the area? What about security cameras? Would those stay after the Games were over?
Michael Vonn, policy director for the British Columbia Civil Liberties Association, sat among them. Though the board of directors for the Britannia community centre voted in a secret ballot to give VANOC use of the rink last fall, she said the outpouring of opposition raised an important question: How do issues of personal privacy fit into the goal of hosting a secure Olympics?
Vonn shared her story at an Olympics-themed privacy and security workshop in Victoria yesterday afternoon. With a ballooning security budget that some reports have pegged at $1 billion and the Games less than a year away, she said issues of privacy weigh heavier than ever.
"People are concerned about what that billion dollars in security is actually going to mean to them and their children and their neighbourhoods," Vonn said.
What's at stake?
David Loukidelis, B.C.'s privacy commissioner, told the workshop that mega-events such as the Olympics bring special security needs and concerns. One need only think, he said, of the Israeli athletes held hostage and murdered during the 1972 Munich Games or the fatal bombings at the 1996 Atlanta Olympics.
But he said that security preparations cannot take precedence over provincial and federal laws that protect the privacy of Canadian citizens.
"There is no free pass," Loukidelis said. "Regardless of what the risks are, we have to make sure that the laws are obeyed."
Speaking after the privacy commissioner, Vonn flagged several areas where the RCMP-led Integrated Security Unit for the 2010 Games and Vancouver police were at risk of violating civil liberties.
Over the coming weeks, the ISU plans to set up "voluntary" pedestrian and vehicle screening stations at the Four Continents Figure Skating Championships in Vancouver and the Bobsleigh and Skeleton World Cup in Whistler.
"They are optional," assistant RCMP commissioner Bud Mercer told reporters during a Q & A session on Monday. "We do encourage spectators to participate."
Random vehicle searches?
Vonn pointed out that people who submit themselves to such searches likely don't know that if they're caught with an illegal substance or weapons, they could be arrested or charged.
But she said the bigger issue is whether the searches remain voluntary during the actual Winter Games.
"What is not obvious to me is on what authority the police could use to conduct mandatory vehicle searches of this kind without any individualized suspicion," she said.
Vonn noted that many citizens accept a loss of civil rights during mega-events with the assumption that such a sacrifice is needed to ensure public safety. But she said she's not aware of any Canadian laws that give police authority to conduct random vehicle searches.
"It's possible that in the future the courts may clarify that not only is this privacy invasive but it may be declared illegal in certain contexts," she said.
Downtown crack down
Vonn also voiced concerns about the effects police security plans might have on residents of the Downtown Eastside in the run-up to the Games. The Vancouver Police Department concluded in its recently unveiled draft 2009 Business Plan that it intends to crack down on street disorder -- which could include minor offenses such as panhandling and loitering -- over the next year. To achieve the goal, the VPD's plan sets a target of four street checks per beat enforcement officer per block.
Vonn said the procedure involves running a person's name through a police database and is usually accompanied by a physical search. According to her "ballpark" calculations, four officers per team working about 20 blocks of the Downtown Eastside -- where she says most police activity is likely to be concentrated -- would result in street checks of 300 people there a day.
In addition to violating privacy rights, she suggested that the VPD's targets could discourage people from using safe injection sites because they'll be worried about getting caught with drugs purchased on the streets.
"This will have a disproportionate impact on populations that are extremely vulnerable," she said.
Cameras may stay on after 2010
Echoing concerns he raised during last Monday's security and privacy workshop in Victoria, Loukidelis said he was worried that any closed circuit cameras set up around downtown Vancouver or around Games venues could be retained indefinitely.
"Just because the surveillance infrastructure is there doesn't mean that it should stay there," he said.
Today, representatives from B.C.'s Office of the Information and Privacy Commissioner and its federal counterpart are meeting with the ISU to discuss the issue, among several others. Loukidelis said he wants to know where and how cameras will be set up, how images are stored and what they're used for.
Colin Bennett, a professor of political science at the University of Victoria, told yesterday's workshop that it's unlikely any cameras utilized for Games-time purposes will be taken down once the event wraps up. After the 2004 Olympics in Athens, the city converted cameras into a permanent surveillance network. He said examples such as Athens highlight a growing trend.
Security keeps ratcheting up
Over the years, mega events have seen ballooning security budgets and the increased use of advanced technologies such as biometrics and x-rays, along with cameras, Bennett said.
The reason for the pattern is that organizers typically take cues from past events, which leads to a cycle of escalating security demands.
"These exceptional events can become the trends for what we consider normal," he said.
For the 2010 Games, the chance to present a positive face for Canada to a post 9-11 world means that no chances are being taken, which helps explain the massive security budget, Bennett said. But he added that it's essential the rights of private citizens aren't waylaid in the process.
"I hope that we can run an Olympic games in this province which shows the rest of the world that Vancouver and British Columbia and Canada are places where civil liberties privacy is truly respected."
Related Tyee stories: