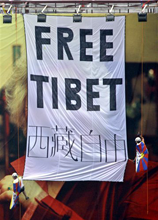 Vancouver activist Nicole Rycroft was deported from China late last week, after helping hang a large "Free Tibet" banner across an Olympic billboard near the Beijing headquarters of China Central Television.
Rycroft, who is also executive director of Markets Initiative, became the ninth Canadian affiliated with Students for a Free Tibet to be arrested during the games. On a rainy morning in East Vancouver, the former championship rower and one-time Olympic hopeful told The Tyee how she spent her summer vacation --- and why.
What drew you to the Tibetan issue?
"Back in '95, I cycled up into Tibet, where I fell in love with both the Tibetan landscape and the people... I also spent three months in Nepal, where I had quite a bit of contact with Tibetans living in exile.
"I began to feel connected to Tibet, where six million people struggle for access to natural resources, as well as cultural and religions freedom. It became personal for me.
"So when China was awarded the games in 2001, it was something that rankled me. As a former athlete, I felt it was a bad decision to have the games of peace in a country that had such an appalling human-rights record... And about a year ago, I made a decision within myself to actually do something."
How did you hook up with your fellow protestors?
"We met through Students for a Free Tibet. We're all people who have been engaged in the Tibetan cause for a number of years. We went over with an idea of what we wanted to achieve. We wanted to use the Olympic platform -- the fact that there are millions of people watching the Olympics every day -- to shine a spotlight on the military crackdown that has been in effect in Tibet since March.
"We also wanted to send a very clear message to Chinese leadership. We wanted to say that it takes more than economic might to be a world leader. Justice and moral responsibility also come as part of that package."
Did you have it all worked out before you arrived?
"We had some ideas... But our plans were flexible. Because security is so tight over there, it really paid to have a couple of options.
"There were five of us: three Americans, a Brit and myself. We flew to China separately, and met up in Beijing.
"We were very careful to stay away from anyone who might have known us, or had any association with us. We even stayed away from Tibetan restaurants or cafes.
"It wasn't a relaxing holiday. Even when we were sightseeing, we were sightseeing with an eye toward, 'Is this a possible venue for us?'"
How did you choose the Olympic billboard?
"It's really big. It fronted on to one of the really busy freeways in downtown Beijing. And behind it was the China Central Television building.
"The CCTV building is a stunning piece of architecture that has become an icon for modern China. Of course for us it is also a symbol for how the Chinese government uses propaganda to spread misinformation and lies about the situation in Tibet.
"There were three of us that climbed up the scaffolding. It took less than five minutes to get up and hang the banner. Then I rappelled down the front, as did Phil Kirk. Kelly Osbourne stayed at the top to protect our anchors, to make sure we were not cut down like what happened in San Francisco.
"And we basically just hung out for 20 minutes or so. It was a great view."
What happened next?
"There were probably 50 police on the scene fairly quickly... There were also a couple of international film crews. The police tried to stop them from filming the protest.
"As soon as the police reached the top of the billboard... we all climbed down. Once we reached the ground, we had to hand over our passports, and we were put in the back of a military van.
"We sat in the back of the van for probably five or 10 minutes. It was long enough for me to make a call on a cell phone and do a media interview."
"We were taken to a police station, where we were split up and questioned. They wanted to know logistics: how long have you been in Beijing? Did you bring equipment in with you? Did you get it here? Are there any others? All those sorts of bits and pieces.
"We went into this expecting that we would probably be kept for at least three days. But apparently the Chinese government has been working with a U.S.-based crisis management advisor, and now they are moving people out very quickly.
"After questioning, I was taken to another police station. I sat there and watched the Olympics on TV with my six guards. Then I was taken to the airport and handed over to immigration police, who escorted me onto a plane home.
"I was arrested at seven in the morning and I was on a 4:20 p.m. flight to Vancouver."
When did you feel you were safe?
"When the plane took off, I had this wave of emotion wash over me. This sense of relief, and a sense of appreciation for the four people with whom I'd spent the past week.
"And then I began to reflect on how sharply my own treatment contrasted with what is happening in Tibet. I know from friends whose families are still in Tibet that things are terrible right now. People are being tortured to death. People are being abducted. There are thousands and thousands of people missing. Basically, there's a reign of terror in Tibet.
"Yet I was never handcuffed or shackled. I was not harmed or threatened in any way... It felt very, very unfair what the colour of one's skin and a passport will do."
Is it appropriate for Americans, Brits and Canadians to be wrapping themselves (literally) in the Tibetan flag?
"People of Tibetan descent from all over the world were denied visas to attend these games. Much of the Tibetan community that until recently lived in Beijing has been moved out. And Tibet itself is under military law.
"So my act as a foreigner was to stand in solidarity with people who were not physically able to speak for themselves at this time.
"Also, I think if someone from inside China had done this, they probably would have been treated very differently... The lone Chinese activist who did actually apply for a permit to protest in the so-called 'protest zone' is under house arrest."
Are the Olympic Games really the most appropriate venue for foreigners to raise concerns about Tibet?
"I think it's a venue. I don't think it's the only venue.
"As a former athlete, I'm strongly supportive of the Olympic competitors, and I'm sympathetic to their need to stay focused on their performance. But we have to recognize that the Olympics have become much more than just a sporting event. There are reasons that all these companies pay billions of dollars for broadcasting rights and sponsorship."
So would you expect activists from around the world to converge on Vancouver in 2010?
"Do I feel like there are legitimate social issues surrounding First Nations in British Columbia? Absolutely. You only have to look at their standard of living to see the disparity between indigenous and non-native Canadians.
"Would it be fair for someone from China to come and stand in solidarity with First Nations? Absolutely. I don't see that there's really a difference."
Related Tyee stories: