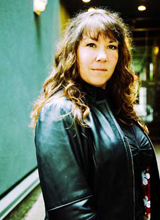 Flip through the back pages of the Westender, the Georgia Straight or Xtra West, and you will see several solid pages of ads that offer a wide variety of sexual services in Vancouver: everything from "lingerie haircut" to sadomasochistic domination to "personal shaving services for men" from "Mr. Baldnutz."
As Vancouver readies itself for the eyes of the world for the 2010 Olympics, the city tries to recover from the stigma of association with the Pickton murders and the Downtown Eastside. Both tragedies are connected to prostitution, but while some groups want to decriminalize sex work to make it safer, others are vehemently opposed to changing the laws, saying it would increase the exploitation of vulnerable women and children.
Incorporated in February of this year, the West Coast Co-operative of Sex Industry Professionals is a project to organize sex workers both locally and nationally. Apart from plans to run a co-op brothel, the group also plans to provide a variety of other services to sex workers, such as helping them find alternate employment in exiting the sex trade and serving as an industry association, with occupational health and safety training and minimum labour standards.
A plea for amnesty
One of the co-op's founders is Susan Davis, a veteran of 22 years as a sex worker and a member of the B.C. Coalition of Experiential Communities. She says that criminalization and increased enforcement of sex work laws has actually made it less safe for the people involved. "They've closed 20 strip clubs in three years. I've got exotic dancers who are now asking me how they can work safely as escorts when they never wanted to have full contact. Now they're being forced to choose sex work that's beyond their physical boundaries. What will be the emotional impact of that?
"And the escort job market is so tight that as they enter, generally they're younger, more beautiful, more marketable, and inevitably someone else will lose their job, and be pushed out onto the street. This elimination of the safe work environment and the undermining of the stability of our industry is creating the environment that's allowing workers to go missing and be killed at levels that are just ridiculous," says Davis.
However, the co-op brothel could violate the Canadian Criminal Code's regulations regarding sex work. Davis asks for an amnesty from the authorities. "All we were asking for was that the amnesty be limited to within the walls of the physical site, limited for a certain amount of time, let's say two years, subject to review, all those kinds of things. But it's our intention to go out on a series of community engagements across the city of Vancouver, to try to negotiate the terms and limitations with all stakeholders, including business owners and residents."
Suit filed in BC to overturn sex work laws
In a typically Canadian compromise, the exchange of money for sex is legal under the Criminal Code, but many activities associated with it are not. Section 210 prohibits keeping a bawdy house, such as a brothel; Section 212 criminalizes living off the avails of prostitution; and Section 213 prohibits communicating for the purposes of prostitution.
These laws, argue the reformers, actually make sex work less safe.
Section 210 forces sex workers to work on streets instead of indoors with greater comfort and security. Section 212 is intended to control exploitative pimping, but it also prevents sex workers from supporting children or partners, or hiring drivers or other support workers. Section 213 prevents sex workers from sharing information about bad dates or recommending clients to each other, and makes it difficult for sex workers to negotiate with clients beforehand.
Two different legal challenges set aside the issue of the morality of sex work and instead approach from the perspective of harm reduction.
Vancouver's Pivot Legal Society has launched a challenge to those sections in the B.C. Supreme Court. Based on interviews with 91 sex workers in the Voices for Dignity project, PIVOT found all but one who addressed the issue demanded the bawdy house law be repealed.
"We overwhelmingly heard women say, 'Build a house, build a house, build a house,'" says Karen Mirsky, a lawyer for Pivot Legal Society. They cited reasons of, "Safety, dignity, the ability to have a shower after meeting with a client. To use a bathroom. To know that there's somebody there, that if they ring a bell, they can get assistance if they need it. The ability to negotiate with somebody semi-privately, not on a street corner, so that everything's clear and everybody agrees to the details of the contract."
Challenge in Ontario Supreme Court, as well
Pivot's challenge is based on the Charter of Rights and Freedoms, claiming that the prostitution law violates freedom of expression, the right to life, liberty and security of the person and the right to equality.
Meanwhile in Ontario, a partnership of madams and lawyers leads another challenge in the Ontario Supreme Court.
Alan Young, an associate professor at York University's Osgoode Hall Law School, has made many challenges to laws that criminalize consensual acts, including obscenity and marijuana possession. His current challenge to the prostitution laws comes after the Supreme Court of Canada upheld the communications and bawdy house laws in a separate challenge in 1990.
Young says, "Under Section 7 of the Charter, you can argue what's called gross disproportionality, which is the harms created by the law grossly outweigh the benefits of the law. You could not find a phrase that's better tailored to the prostitution argument, because the idea of this prostitution case is simple. The law puts prostitutes into situations that jeopardize their physical and psychological safety. That's the harm of the law. What's the benefit of the law? This is where people just look at you dumbfounded."
Freedom from pimps?
One of the plaintiffs in Young's case is Terri-Jean Bedford, a 22-year-veteran of the sex trade who used to operate a bondage bed and breakfast under the name Madame de Sade. She says current prostitution laws disadvantage sex workers. "They just can't communicate, which again leaves them vulnerable. They have to get in the car, and go around to a dark alley. They don't have any sheets to question the client: what do you like, what don't you like? And then afterwards, where's the cleanup? You can't wash up, you can't sanitize.
"In a house, that's all available to you. There's dignity, there's self-respect. They can have a coffee and talk. In my house, we had a three-page questionnaire, so I could weed out the people I didn't want to deal with, or refer them to people who do like to deal with that type of person."
Bedford says that legitimate houses of prostitution would help get sex workers off the street and away from exploitation. "I think when you give women their freedom, dignity and respect, things change, attitudes change, and their opinions of themselves might change. Before they decide that they're going to work for a pimp, someone that's going to abuse them, I think they might choose working independently in a house."
Wide range of sex work
Though the stereotypical image of the sex worker is the woman in skyscraper heels on a street corner at night, street-level prostitution comprises only a minority of Vancouver's sex trade, anywhere from 8 to 20 per cent, depending on who is asked. The majority is made up of escorts and massage parlour workers, as well as exotic dancers, dominatrices, webcam performers and others who don't do direct sexual contact. These sex workers skirt the edge of the laws regarding bawdy houses and living off avails.
Kate Gibson, executive director of the WISH drop-in centre for women working the sex trade in the Downtown Eastside, says "The [Vancouver] police don't use those laws a lot. They use them some, but they're always a threat, so they can be used. I think that many of the arrests are usually complaint driven."
Inspector John Dehaas of the VPD's Diversity & Aboriginal Policing Section says that the enforcement is mostly about location and asking sex workers to move elsewhere in response to complaints. He wouldn't give any position on decriminalization, but he did say that, "Making things illegal sometimes has unintended consequences."
Advocates of decriminalization also allow that it might not provide much help to survival sex workers. "The law really has very little bearing on their daily activities, except for the fact that they are out there, and they can be charged, and they can be arrested for communication, and they can get a criminal record for it. But the law probably isn't front-of-mind in whatever they do. Women who work in the survival sex trade need all kinds of other supports like housing, some financial security, all the social determinants of health that they probably don't have, and some nutrition," says Gibson. Survival-level workers may be unable to find work in legitimate brothels because of mental health or addiction issues.
'Criminalize the men'
Despite the widespread support for decriminalization among sex workers, activists and agencies such as the Canadian HIV/AIDS Legal Network, some women's groups are strongly opposed to any decriminalization.
Daisy Kler, a spokesperson for Vancouver Rape Relief and Women's Shelter, says, "[For] the person with the drug addiction, the harm is the drugs being used. In this case, the harm is being done by a john, or a pimp. So really, if we were to reduce the harm, it would be by what we say, proposing to criminalize the men who are buying and selling the women."
"I think anything that legitimates prostitution as either work or a free choice among women entrenches the harm that's done to women and affects all women's equality."
The Aboriginal Women's Action Network released an e-mail statement that said, "Prostitution is inherently violent," and rejected the harm reduction approach. "Contrary to current media coverage of the issue, the available evidence suggests that it [decriminalization] would in fact be harmful, would expand prostitution and would promote trafficking, and would only serve to make prostitution safer and more profitable for the men who exploit and harm prostituted women and children."
Irene Tsepnopoulos-Elhaimer, executive director of Women Against Violence Against Women, says, "The laws, as they now stand, don't protect women in the mainstream, so we don't believe that the laws for prostitution being changed will protect women in that industry."
"There is no doubt that the winners here are the pimps, the organized crime and, frankly, the state. If we're really looking at ending violence against women, why do we cut funding to women's centres, why do we marginalize women's organizations, rape crisis centres, and why does the federal government put out a budget that mentions women six times and organizations 120 times?"
To license or not?
Decriminalization advocates also stress the importance of social services, of helping women with exit strategies and of preventing violence and exploitation. Alan Young wants the law prohibiting living on the avails of prostitution struck down, so sex workers can hire drivers and bouncers legally, "but that leaves nine other subsections of [Section] 212 to deal with exploitive pimping. I'm sick of people accusing me of bringing a case to create a pimp's paradise."
If the laws are changed to allow brothels, what regulations will apply to them? Bedford and Davis both say that the state should take a hands-off approach, leaving sex workers to build solutions on their own, instead of the kind licensing regime in parts of Nevada. Young says, "A lot of sex trade workers are deathly afraid of regulation, [and] are willing to be criminalized to keep away from what they consider to be the horrible regime in Nevada.... It's a little off-putting that you do three-day shifts and you're not allowed to leave during the three days unless you're chaperoned. The medical testing is overbearing."
In August 2007, Nicole Parisien, a 33-year-old woman, was found murdered near a Kitsilano apartment which she had been using as a massage parlour. The police arrested a suspect less than a week later.
The Parisien murder demonstrates that even indoor sex workers are targets of violence, and it shows that prostitution is not confined to downtown or the Downtown Eastside or the industrial areas of Strathcona. Sex work happens in bourgeois Kitsilano and everywhere else in Vancouver, defying any attempt to confine it or stamp it out. To say "not in my back yard" to a brothel ignores the fact that there probably is an outpost of the sex industry closer to your home than you know.
Talking to people about prostitution is like asking the blind sages about the elephant. One group tells of a business that is unfairly stigmatized and persecuted by archaic, moralistic laws that do more harm than good. Another tells of a meat grinder that acquires and consumes the most vulnerable and powerless women and children for profit, and existing laws are the only thing preventing it from being worse. It's pointless to use the same term, "prostitute," to describe both an independent escort who earns over $10,000 per month and a 13-year-old First Nations girl on the "kiddie stroll." The questions are, does the existing regime harm both of them, and what can be changed to help both of them?
Related Tyee stories