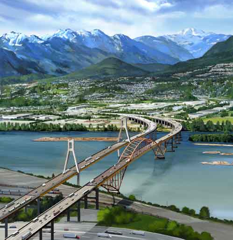 The Gateway Program is at odds with the B.C. government's new Climate Action Plan -- and one or the other will have to give, transportation planner Eric Doherty says.
Doherty, an official with the Society Promoting Environmental Conservation, noted that the Climate Action Plan released last week, calls for reducing the number of kilometres travelled in vehicles as a way of reducing greenhouse gas emissions.
But Gateway, which will widen Highway 1 in Metro Vancouver and twin the Port Mann Bridge, will inevitably increase vehicle kilometres travelled, Doherty told The Tyee.
That contradiction "must reflect what's going on within the government," Doherty said. "I think they've just thrown it all together without acknowledging the stark conflicts."
Government officials must realize you can't reduce climate change-causing emissions without reducing vehicle traffic, said Doherty, who is the chair of SPEC's transportation committee and a spokesperson for the Livable Region Coalition.
"Something's going to give and I think it's pretty obvious that people within the government are probably saying that to each other," Doherty said. "Something's got to give. Either the climate change goal has to go, or the Gateway Program."
Tale of tailpipe emissions
Doherty said the government could "green" Gateway by shifting its emphasis from building more freeways and bridges to building transit.
Such a shift would be popular, he said.
"I think that people understand that when you build Los Angeles-style freeways you get Los Angeles-style traffic congestion. That means more cars idling for longer periods of time."
The Climate Action Plan notes that "transportation is the leading contributor to B.C.'s greenhouse gas emissions, accounting for approximately 36 per cent of the total in 2006.
"Transportation is also the single largest source of personal GHG emissions, accounting for about 58 per cent of average household emissions," it says.
"Clearly, we cannot just give up our cars and the other transportation systems we rely on. But there are three basic types of action we can take to reduce emissions from transportation:
"Improve the efficiency of the vehicles we drive;
"Reduce the carbon content in the fuels we use;
"Decrease the number of kilometres driven.
"This Climate Action Plan uses all three of these approaches to set us on the road to cleaner transportation."
Green claims for Gateway
A few pages farther on, the Climate Action Plan devotes half a page to Gateway.
"In addition to helping reduce congestion and associated GHGs from idling vehicles, the program includes $50 million for cycling and pedestrian paths in the Lower Mainland. This infrastructure will provide low-carbon transportation alternatives for many commuters and encourage active living.
"The goals for the Gateway Program are to:
"Reduce congestion;
"Improve the movement of people and goods in and through the region;
"Improve access to key economic gateways through improved links between ports, industrial areas, railways, the airport and border crossings;
"Improve safety and reliability;
"Improve the region's road network;
"Improve quality of life in communities by keeping regional traffic on regional roads instead of local streets;
"Reduce vehicle emissions by reducing congestion-related idling;
"Facilitate better connections to buses and SkyTrain, cycling and pedestrian networks; and
"Reduce travel times along and across the Fraser River during peak periods."
Nothing there about reducing kilometres travelled.
In fact, Doherty said, the current Gateway plans will increase the number of kilometres travelled, and with them the amount of greenhouse gases emitted.
Congestion might be reduced for a very brief time, he said, but then more vehicles will inevitably fill the new roads.
Shift away from freeways?
No city in the world has reduced emissions by building more freeways and it's a "lie" to pretend that is possible, Doherty said.
"No one has ever built their way out of congestion with freeways."
(Transportation Minister Kevin Falcon was not available to comment Wednesday.)
Doherty said he thinks the government will eventually shift the Gateway budget to greener projects but will continue to call it Gateway.
For example, the movement of goods could be shifted from trucks to rail and barge, Doherty said.
"Business would have complained about that two years ago. But with the high price of diesel fuel, I think they would be happy to see some high-efficiency goods movement in the region."
Similarly, the government could put money into building transit rather than roads, especially in the outer suburbs.
Transit is a motherhood issue, he said.
"If they were to say 'The new green Gateway program is the transit Gateway,'" I wouldn't complain and I don't think anybody would complain."
How Washington State cut vehicle miles
Doherty said B.C. should follow the lead of Washington State, which recently passed a law that calls upon the government to make substantial cuts in vehicle miles travelled.
Bill 2815 sets the following goals for per capita vehicle miles travelled:
an 18 per cent reduction by 2020;
a 30 per cent reduction by 2035; and
a 50 per cent reduction by 2050.
Some critics of the law have questioned the idea of focusing on miles travelled, rather than gases emitted.
"Vehicle miles travelled does not distinguish between a hybrid and a Hummer," Todd Myers, environmental director for the Washington Policy Center, a conservative think tank, told the Seattle Post-Intelligencer.
Washington environmentalists favour the move, however.
Figuring out the nuts and bolts of how the law will actually work is fiendishly difficult, writes Eric de Place, senior researcher with the Sightline Institute.
However, he adds, "legislating VMT reductions is an important step on the way to managing our way out of the current carbon and transportation messes."
'Essential, not optional'
Becky Kelley, campaign director for the Washington Environmental Council, called the law "a hugely useful tool."
"We need clean cars and less cars," she told The Tyee. "The ones you have out there need to be emitting less, they need to be more fuel efficient, the fuels need to be cleaner and you need to drive them less.
"Until we have zero emission vehicles, how far they go is part of the equation."
Doherty says B.C. needs to copy Washington's law.
B.C. must set firm targets for reducing the number of vehicle kilometres travelled and reassess all of its infrastructure projects to see how they fit with those targets, he said.
"I'd say it's essential. It's not optional. If we're going to meet the 33 per cent by 2020 [emissions reduction] target, it absolutely has to be part of the strategy."
Related Tyee stories: