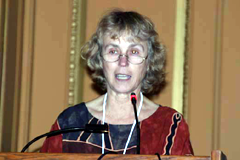 An appeal case being heard today in Vancouver will have a profound effect on how resource-based mega-projects are reviewed by the federal government, and in particular, the ability of the public to provide comment and meaningful input.
Last September, the federal court ruled that the Department of Fisheries and Oceans (DFO) and Natural Resources Canada (NRCan) acted illegally in shielding the proposed Red Chris copper and gold mine from a comprehensive environmental assessment (EA), including mandatory public consultation.
Arguments for this original case were made by Ecojustice, on behalf of MiningWatch Canada, who alleged the federal government broke its own laws when it chose to do a limited screening of selected impacts of the Red Chris project.
Justice Luc Martineau agreed with MiningWatch Canada and ordered that the necessary federal permits needed by Red Chris be denied until a more in-depth EA be completed.
With that decision now under appeal, it will probably be months before federal and provincial government agencies, industry and environmentalists know whether the fight has been lost or won.
"If we win, [the federal government] will have to do a comprehensive environmental assessment for any mine over a certain size," says MiningWatch Canada National Coordinator Joan Kuyek. "If we lose, it will revert to letting the responsible [federal] authorities determine the track of the project review, and to pursue a strategy of rushing it through at all costs."
Breaking its own laws?
A federal EA can take several forms. The most cursory and least detailed is a screening; a comprehensive study requires the federal minister of Environment to make decisions regarding the project and includes wide-ranging public consultations. The last and most stringent involves a joint review panel -- an independent body appointed by (and reporting to) the federal minister of Environment.
Under the federal Canadian Environmental Assessment Act or CEAA, metal mines that process more than 3,000 tonnes of ore per day must undergo a comprehensive study. (Red Chris will process 30,000 tonnes/day.)
In May of 2004, DFO acknowledged that the proposed Red Chris mine would require just such a comprehensive study, but failed to initiate a mandatory 30-day public consultation concerning the draft scope of the project. By December, senior DFO officials had determined that the project would instead be assessed by a screening level assessment.
Completed less than two years later without public consultation, DFO and NRCan announced the completion of their federal screening assessment, noting that the Red Chris mine would have no significant adverse environmental effects.
By June, lawyers for Ecojustice acting on behalf of an irate MiningWatch Canada, which had not been allowed to provide feedback during the federal screening, launched a lawsuit in federal court.
Fair discretion or evasion of the law?
From the outset it was clear that the Red Chris project would involve the destruction of fish habitat, meaning that authorizations would be required from DFO for the mine to move forward, and permits from NRCan, because explosives would have to be manufactured on the site.
Ecojustice lawyer Lara Tessaro, who has represented MiningWatch Canada from the beginning, says that DFO in particular has attempted to circumvent the law by refusing to consider the large mine in its entirety.
"DFO looked at the [Red Chris] mining proposal and instead of treating it like a mining proposal, it parsed it off into a bunch of separate components, a tailings pond here, some water diversion work there, and then it said that none of these little components require a comprehensive study, because none of these little pieces are giant mines."
The federal government has steadfastly maintained that it should have the discretion to decide both what technically constitutes a project under review, and what level of assessment is required to adequately weigh its environmental impacts.
Fish bearing lakes and streams as tailings ponds
The plan to develop the copper and gold at Red Chris is controversial for more than the litigation it has faced from environmentalists. Like Northgate's Kemess North project that unsuccessfully sought to turn a mountain lake into a tailings pond, the company currently seeks to employ fish bearing streams as ready-made storage ponds for mining waste.
It is only recently that mining companies have had this option. The federal government amended its Metal Mining Effluent Regulations in 2005 to allow the federal cabinet to allow fish-bearing lakes and streams as waste storage dumps. Consultations will begin this month between government and selected environmental groups regarding at least six projects across Canada, including Red Chris, which all plan to have fish-bearing waters reclassified as "tailings impoundment areas."
Beyond screenings or comprehensive studies, the developers of Red Chris will have to obtain a regulatory amendment from the federal cabinet if it wants to use the streams as dumps, adding the names of the affected water bodies to schedule two of the Metal Mining Effluent Regulations.
Duplication of effort and impatient mining executives
Brian Kynoch, president of Red Chris Development Company Ltd. (owned by parent company Imperial Metals Corporation of Vancouver), is quick to point out that a comprehensive EA has already been completed and certified by the province of British Columbia, which included a public comment period that ended in January 2005.
Both the provincial and federal governments have their own EA laws and processes, although the two processes are supposed to work in tandem, based on a March 2004 harmonization agreement signed by B.C. and the federal government. But this didn't happen in the case of Red Chris: while the B.C. EA process must adhere to very strict timelines, the federal process does not, and in this case did not.
Kynoch makes the point that Canadian law demands that the federal government must duplicate the same EA process done by the province, even though most of the issues involving the mine are of provincial jurisdiction.
"If you read the judgment [in the first case], the judge says, 'why didn't you guys [federal government] just write a report on the whole project? All the data was in the provincial one, if you had just written another report, summarizing the whole thing, you would have followed your own rules and everything would have been alright.' Even on the subject of public consultation, it wasn't that no public consultation was done, but it was done by the province."
Lara Tessaro disagrees that the provincial EA is interchangeable with the federal process. She says that federal "jurisdiction" is not, as Kynoch suggests, limited to fish habitat and explosives, but includes water contamination, air pollution, impacts on First Nations interests, biodiversity, greenhouse gas emissions and more.
And unlike the federal process, the public cannot make comments at the outset of a provincial EA, and the general level of input cannot be compared.
"Federal agencies must not only seek public feedback on the type of assessment, but they must also report the public's comments to none other than the federal minister of Environment himself, who must consider whether to bump up the project to a review panel if there are significant public concerns.
The greatest irony of this situation, says Tessaro, is that by electing to do a minimal screening of the project, DFO has actually drawn out the approval/permitting process.
"Not only did [the screening] end up taking a year longer than the entire provincial EA, but now the delay has been three years, because their decision to do the screening has resulted in successful litigation."
'Big copper mines need power lines'
Regardless of the delays with permits, Kynoch is confident that the project will move forward. In the delay between the last judgment and today's appeal, his company has even started the process of doing a more in-depth comprehensive study with the federal government, just in case the government loses the appeal.
But all of this is moot if the company cannot tap into the B.C. Hydro electrical grid to power their operations. Diesel power is not realistic, says Kynoch, because "big copper mines need power lines."
Power will come to Red Chris (which will be running in three years if it wins the appeal) by one of two ways. The B.C. government will either revive its cancelled Highway 37 electrification project, or Kynoch and his company will build a power line of their own.
The government had originally announced a plan to build the power line in August 2007, in conjunction with Teck Cominco/NovaGold, whose massive Galore Creek copper-gold-silver project desperately needed power. The government has since put that plan on hold, and the Teck/NovaGold mine in northwest B.C. has been "suspended."
"If the Teck NovaGold project is still on hold after we get all our permitting sorted out, we would look at building our own power line," he says. "That said, I'd rather the government be involved in infrastructure and build something that was good for everyone."
Related Tyee stories: