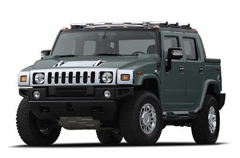 [Editor's note: Yesterday The Tyee readers learned Mark Jaccard's reasons for backing "compulsory" approaches to cutting emissions. Today he defends, as an ideal example, B.C's controversial carbon tax.]
The B.C. government's carbon tax is about as good as you're going to get in a democracy, says environmental economist Mark Jaccard.
Yet the response to the carbon tax has been a lot like Goldilocks, argues Jaccard, an adviser to a number of governments, including B.C.'s.
It's true that a lot of contradictory things have been said about the carbon tax since it was unveiled in last month's budget.
There's been a criticism to suit every taste:
It's too low to do any good.
It's too high -- and that's going to cause runaway inflation.
It's revenue neutral -- and that means people won't have any incentive to change their habits.
It's not really revenue neutral -- and that means it's a tax grab.
It punishes business at the expense of consumers.
It punishes consumers at the expense of business.
Jaccard, on the other hand, thinks the tax is pretty darn good. Maybe the best of its kind in the world, in fact -- although he won't have a definitive statement on that one until he's done a lot more analysis.
Unreliable volunteers
Jaccard is a Simon Fraser University professor and the Canadian most associated in the public mind with carbon taxes, even though he insists he's not a carbon tax advocate.
He's been an adviser to the Chinese government and he currently advises the federal and B.C. governments, although he had little input into the carbon-tax budget. He's a research fellow with the C.D. Howe Institute and lead author for the policy sections of something called the Global Energy Assessment, an international project aimed at finding ways to get to a sustainable global energy system.
His research has convinced him that only compulsory measures, such as a carbon tax, will work to lower greenhouse gas emissions. Canadian governments have tried voluntary measures -- information campaigns and subsidies -- and they didn't work.
That leaves two broad options: regulations and taxes.
There are plenty of different ways to regulate emissions, from command-and-control type limits to market-based systems such as cap-and-trade. In a cap-and-trade system, the government sets a cap on emissions and either gives or sells permits to emitters. Emitters who reduce their GHG output below the level stated on their permit can sell credits to other emitters who can't get below their permit levels. Over the years, the government reduces the total level of permitted emissions.
Jaccard says he doesn't much care which option governments use, as long as it's compulsory. Carbon taxes, however, can be designed so that the revenues raised can be given back to lower-income people through tax breaks, making them more equitable.
'If our children are dumb...'
The thing about the carbon tax, Jaccard says, is that it "really has its bite 20 years down the road."
"So if our children are dumb enough to still be buying gasoline Hummers and driving them a lot when there are all these other options that are emerging right now...they'll pay for it."
B.C.'s carbon tax starts at $10 per tonne of GHG emissions, which works out to about 2.4 cents on a litre of gas. That will increase to $30 per tonne by 2012.
Down the road, it's going to have to get a lot higher if it's going to seriously cut emissions. Jaccard's economic models show that the tax will eventually have to reach $75 to $125 per tonne to create the kind of decisions that will lead to zero emissions technologies.
"There are a lot of things that will happen between $10 and $75, a lot of really good things," Jaccard said earlier this week in a talk sponsored by Voters Taking Action on Climate Change.
The models show that changes will start to happen even in the $10 to $30 range; a tax in the $10 to $75 range will cause emissions to start to level off. However, Jaccard says, levelling off isn't good enough -- we need to get our emissions way down.
"For decisions to be consistently zero or near-zero emissions...you need to be in the $75 to $125 range," he says. "Now, you don't need to be there right away. You need people to feel that's where it's headed."
That's when "early adopters" will start to pick up on low-emissions technologies, he says.
That brings us to the first of the many criticisms that have been levelled against the carbon tax:
The tax is too low to have any effect. The cost of gas has been going up steadily in recent years, but people still keep driving; a few more cents a litre won't have any effect.
"There is no alternative to a modest but gradually rising carbon tax," Jaccard said in an e-mail. "You cannot start high. That would be very unfair. You start low and schedule it to climb."
It's the government's signal that it intends to keep increasing the tax that will affect long-lived investment decisions, he says.
"Ask those people who want a really high tax right away what they feel about the people who would be hit hard, and how they would make that work politically. I don't know of any politicians who want to commit suicide.
"In fact, this is why they have not even ventured a tax yet in North America -- or any other meaningful policies. Now we have a government that is brave enough to start the real policies we need and people who could never win an election in their life are bitching about them.
"I find it quite astounding. Some people seem to need to criticize no matter what. I think this is a time to compliment people and recognize that they did something that they did not need to do from a political self-interest perspective.
"As for the cost of gas and people still driving, this is a complete misunderstanding. The goal is not to make people drive less. It is to make them pollute less.
"They might travel less. They might switch to transit sometimes. They might car pool. They might get a lower or zero-emission vehicle. Social science research indicates that the most likely outcome is people switching to lower-emission vehicles.
"This is just a reality of what we know about people. It does not mean I want this outcome."
Because the tax is revenue neutral, people won't have an incentive to change their carbon-emitting habits. If the government uses tax breaks to give them back the extra money they'll spend on fuel, why should they drive less or turn down the thermostat?
If you really cut your emissions, Jaccard says, you will pay less carbon tax but you will still receive the government's offsetting tax credits.
"Those who cut emissions more will be better off than those who cut less.
"There is your incentive. First year economics."
The tax punishes business, because business pays two-thirds of the tax, but gets only one third of the tax breaks. As one Globe and Mail columnist said, "For every dollar business as a whole pays in the carbon tax, it gets back 50 cents. The carbon tax is only revenue neutral from the government's point of view."
"We are not yet totally sure how it will play out," Jaccard says. "I think it will end up pretty equal. Business will be able to pass on some of the costs, which is as it should be. Consumers have no one to pass costs on to. But things are still being refined."
It's unfair to rural people.
Jaccard told the Voters Taking Action on Climate Change meeting that this may not be the problem that some commentators are making it out to be. People outside urban centres may not be able to ride transit, but they don't have to sit in traffic jams, either. And they tend to insulate their homes better than folks in the Lower Mainland and southern Vancouver Island.
It's going to cause runaway inflation.
"Nope," Jaccard said via e-mail. "That is why it's a gradual tax. Which is the answer to your earlier question. You can't have it both ways. How can a 7.5 cent per litre increase over five years cause runaway inflation when a 30 cent per litre jump in three years did not?
It's social engineering.
"Nope. That is why it does not have an objective of people driving less.
"What we all care about is less emissions. So the policy focuses on emissions -- not on behaviour -- and lets people decide how to get the emissions down....
"The policy is not intended to change behaviour, and anyone who wanted a policy to do that would not be in power -- not here in Canada, not even in Europe, where there are Green parties that share power in some cases."
As William Rees has argued on The Tyee: "As matters stand, B.C.'s seemingly 'aggressive' move is politically designed to have minimal impacts. The province is still dedicated to outmoded notions of economic growth at any cost -- and if the costs exceed the benefits (as many suspect is the case at the global level), we are actually encouraging uneconomic growth that will ultimately impoverish us all."
"My goodness. Bill, please tell me what better policy you could have achieved in a democracy -- as opposed to an eco-dictatorship.
"This looks to be one of the best climate policies in the world thus far. I would like Bill to point out a better one.
"Let's remember that all policies are flawed. There are social engineering policies that will not make it in a democracy. There are let's-crash-the-economy-today policies that will not make it in a democracy.
"There are let's-regulate-and-create-a-big-bureaucracy policies, that will eventually be discredited and dismantled in a democracy. There are let's-appear-to-be-doing-something-by-giving-away-subsidies-and-information-programs, which decades have shown to be completely ineffective.
"The policy package that B.C. is putting together -- which soon will include some regulations on vehicle emissions, building efficiency, equipment efficiency, and which already includes a requirement for clean electricity -- is definitely the best in North America and perhaps in the world.
"I am in the process of comparing it to policies in the U.K. and Scandinavia, and it looks like it is superior to all of these in terms of (1) environmental effectiveness, (2) equity for low income groups, and (3) economic efficiency.
"This is what matters to most people, except for a few who think that all economic activity must stop to save the planet -- which is definitely not true, and will never gain political acceptance anyway.
"I am interested in saving the planet. Not bitching about how good policies are not perfect."
Related Tyee stories: