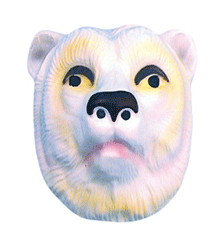 Raising an army of polar bears turns out to be more difficult than Kevin Grandia thought.
Technically, Grandia's army of polar bears is not an army of polar bears. It's an army of people in polar bear suits. Which is the problem -- try finding enough polar bear suits to outfit an army.
After digging around a bit, though, Grandia thinks he has enough suits to launch his army -- and they're going after Canada's politicians.
"The organization's called the Arctic Front," says Grandia. "It's an army of polar bears."
Being polar bears, Grandia's troops are concerned about climate change and, specifically, the environmental impacts of developing the Alberta oil sands.
And they're not prepared to go with the floe.
Fur may fly
For tactical reasons, some details about the army are classified information. Like how many bears he's got and exactly when they plan to take on the politicians.
"An undisclosed number may show up to ask candidates during the Alberta election and the federal election questions about their stances on the tar sands," is all Grandia is saying.
Grandia is manager of DeSmogBlog, a Vancouver-based group that "exists to clear the PR pollution that is clouding the science on climate change."
DeSmogBlog wants to make sure that environmental issues around the oil sands are debated during the March 3 Alberta election and in the next federal election, whenever it's called.
An army of polar bears seemed to be a good way to do that -- "a fun way that also gets the message across," says Grandia.
Because issues like climate change are so serious, he says, simply presenting a bunch of "in-your-face facts" can cause people to turn off.
"They're busy driving their kids to school and going to work, worrying about their mortgage, maybe worrying about their next paycheque and they just don't have time to deal with things of such a magnitude. People are already saturated with anxiety about so many things.
"So by coming at it in a fun way that also gets the message across, we're hoping to engage Canadians and make them aware of the issues around the tar sands and the environmental effects it's having."
Oil sands: 'dirtiest' or 'myth'?
And the issue, he says, is a serious one. As the Globe and Mail recently said, the oil sands are "one of the dirtiest fuels in the world.
"Under current conditions, extracting one barrel of synthetic crude from a mine requires roughly two to four barrels of fresh water from the nearby Athabasca River (an amount top water scientists say the river cannot sustain), along with 750 cubic feet of non-renewable natural gas and about four tonnes of tarry sand and . . . soil," the Globe wrote.
Getting oil out of the oil sands creates five times as many greenhouse gas emissions as conventional oil wells, the article said.
Still, Alberta Premier Ed Stelmach says the idea that oil sands production carries too high an environmental cost is a "myth."
Grandia plans for the Arctic Front to challenge that claim. The polar bear army hopes to exploit social networking tools, with a Facebook group, pictures on Flickr and video on YouTube.
Goofy suits: a brief history
The history of people participating in the democratic process while wearing goofy suits goes back a long way. In 1974, artist Vincent Trasov ran for mayor of Vancouver as Mr. Peanut.
Decked out in top hat, monocle and cane, and backed by the dancing Peanettes, Mr. Peanut turned up at all-candidates meetings and responded to questions by tap dancing.
He lost, despite being formally endorsed by Naked Lunch author William Burroughs, who visited Vancouver during the election and declared: "There can be only one illogical candidate -- Mr. Peanut."
More recently, Victoria's Mr. Floatie made raw sewage a top-of-mind issue before taking on a new identity as CO2 Man.
And in the U.S., presidential primary debates were enlivened last year by Billiam the Snowman –- not a guy in a suit, perhaps, but still someone with an interest in global warming.
Nice bear!
So why did Grandia choose to recruit polar bears?
"Polar bears, they're an iconic image of Canada," he says. "They're big, mean, aggressive, but they also have that soft image to them as well. It's a popular image . . . . It's an easy way to quickly communicate the issue."
The problem, it turned out, was finding bear suits in bulk.
"You've got to be kind of resourceful," he says. "I found a lady down in the U.S. who makes them, so we're getting most of them from there. And I picked up a couple on EBay here and there."
Finding "open, friendly, approachable," bear suits was a challenge, he says.
"Some of them were pretty freaky. There are some scary polar bears out there."
Related Tyee stories: