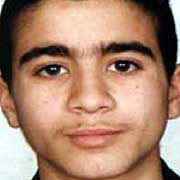 A Canadian imprisoned in Guantanamo Bay since he was 15 years old won't see justice unless Ottawa brings him home, Omar Khadr's American military lawyer said yesterday.
Lt.-Cmdr. William Kuebler urged Canadians to write to their MPs about Khadr, now 20, who is facing trial in a "rigged system" that contravenes international law.
"If the rights of this particular Canadian citizen are going to be protected, it's going to be because the Canadian public and the Canadian government do something to protect them," said Kuebler, speaking at a luncheon in Vancouver hosted by the Canadian Institute for International Affairs.
If Ottawa doesn't intervene, Khadr might never be released, he added.
What makes a soldier?
Khadr is accused of throwing a grenade that killed U.S. Special Forces Sgt. Christopher Speer during a July 2002 battle in Khost, Afghanistan. Khadr was critically shot and sent, along with others captured during and after the U.S. invasion of Afghanistan, to the American military base in Guantanamo Bay, Cuba.
The killing of one soldier by another in battle is not ordinarily considered a war crime, but the U.S. subsequently designated detainees "unlawful enemy combatants" -- a term that theoretically strips them of rights laid out in the Geneva Convention. The term "is not found in Department of Defense manuals before 2004," noted Kuebler.
He said the Military Commissions Act, which Congress approved last year, was constructed on an ad hoc basis in order to convict people using evidence derived from torture and coercion. For one thing, the commissions don't consider non-uniformed combatants soldiers -- despite the fact that U.S. Special Forces and their allies in Afghanistan weren't wearing uniforms when they overthrew the Taliban in 2001.
Another quirk of the system is that it does not apply to American citizens, hundreds of whom have been convicted of terrorism-related offences in federal courts, according to Kuebler.
"As a matter of U.S. law today, a Canadian is worth less than an American in the matter of due process," he added.
Different passport, different treatment
Khadr is now the only Westerner left at Guantanamo. In May, David Hicks returned to Australia, after spending five years at Guantanamo, to serve the remainder of his sentence. He was the first person convicted under the Military Commissions Act and is due for release next year.
Kuebler said the Australian government only went to bat for Hicks after public outcry over the fairness of the trial, as well as living conditions at Guantanamo.
The British government successfully demanded repatriation of a number of citizens, and has also requested the return of five U.K. residents. Kuwait has managed to repatriate five of its citizens.
In contrast, Prime Minister Stephen Harper and former foreign affairs minister Peter MacKay have expressed confidence in the U.S. government's ability to provide a fair trial.
Canada has not only refused to lobby for Khadr's repatriation; Canadian Security Intelligence Service (CSIS) agents have interrogated him while in American custody.
"Their first action upon learning Omar was in detention in Guantanamo was to go down and take advantage of that," said Kuebler.
In 2005, CSIS defended its tactics, explaining it had an obligation to help protect national security by questioning Khadr, whose family members have admitted to having links with al-Qaida.
Child soldier or terrorist?
Omar Khadr's father, Ahmad Khadr, was allegedly a senior al-Qaida operative who began indoctrinating his son at age 10.
While the senior Khadr was killed by Pakistani soldiers in 2003, he could have been subject to prosecution for war crimes, according to Kuebler, who pointed out that international law does not lay blame on child soldiers.
"It lies with the adult person who put that child in combat."
Canada has been a leading advocate for the rights of children, said Kuebler, calling Ottawa's policy toward Khadr "inconsistent."
As a contrast, he pointed to the case of Ishmael Beah, who recently documented his experience as a child soldier in Sierra Leone in a best-selling book.
Beah admits to killing more people than he can count and describes incidents that would constitute war crimes if committed by an adult, including shooting prisoners. At 15, Beah began his rehabilitation process and has been lauded for conquering his horrific past.
Khadr still spends 23 hours a day confined to a cell where the lights are never turned off and cardboard covers the windows, Kuebler pointed out.
Do Canadians care?
Canadians are split on the question of what to do with Omar Khadr, as polling results released in June by Angus Reid reveal:
Forty-six per cent agreed that Khadr should be treated as a child soldier, while 36 per cent disagreed.

Forty-one per cent said Canada should actively intervene to secure his release, while 40 per cent disagreed.

Fifty-one per cent said Khadr should face justice in Afghanistan.
Ambivalence to Khadr's fate may have something to do with statements of public support for terrorism made by members of his family. For example, in March 2004, Omar Khadr's mother, Maha, and his sister, Zaynab, expressed sympathy for al-Qaida and suicide bombers during a CBC interview.
Still, Kuebler has said he is surprised that the Canadian government has made no effort to repatriate one of its citizens.
The Angus Reid poll may provide a clue to Ottawa's reasoning: Conservative voters were most likely to say that Canada should not attempt to repatriate Khadr, while Liberal and NDP voters said exactly the opposite.
Related Tyee stories: