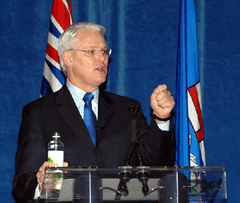 After six months of behind-the-scenes discussions on climate change, the provincial government appears ready to announce the first phase of its plans next month.
The government has held a series of meetings on global warming with environmentalists in recent weeks and at least some of the activists have come away impressed.
"There's a huge amount of stuff happening inside government," Guy Dauncey, president of the B.C. Sustainable Energy Association, told The Tyee.
Dauncey said the government appears ready to reveal the first stage of its climate change strategy at the Union of B.C. Municipalities convention in Vancouver, Sept. 24-28.
Activists consulted
Dauncey, who met recently with Graham Whitmarsh, the head of the government's Climate Action Secretariat, said he expects the announcement to have a "strong municipal thrust" -- including some sort of municipal planning charter aimed at reducing greenhouse gas emissions at the local level.
He also said he expects the government to adopt a plan to cap all the province's landfills to capture methane gas. Such a move would be one of the few "quick and easy" steps that can be taken against greenhouse gas emissions, Dauncey said.
While not all environmental groups are enthusiastic about the government's record on global warming, Whitmarsh and Premier Gordon Campbell appear to have earned considerable good will by consulting with activists and promising to involve them in the implementation of their policies.
It was six months ago, on Feb. 13, that the Campbell government embraced the fight against global warming in a dramatic Throne Speech. B.C.'s greenhouse gas emissions will be cut by at least one-third by 2020, the government pledged.
Bold promises, few details
The speech talked about encouraging alternative energy sources and requiring cars to run cleaner. The "hydrogen highway" down the west coast of North America was touted.
Since then, Campbell has held a well-publicized meeting with California Gov. Arnold Schwarzenegger, and the province has joined the Western Regional Climate Action Initiative, an organization of western U.S. states that hopes to set up market-based ways to reduce greenhouse gas emissions.
But there's been little public discussion of how and where, exactly, B.C. plans to cut emissions.
The government has been close-mouthed about its plans, refusing to speak even on background to reporters. The Tyee's call to Whitmarsh for this story was not returned.
'Lot of detailed stuff'
Behind the scenes, though, politicians and bureaucrats have produced "a lot of detailed stuff," Dauncey said.
He said Whitmarsh told him that "one of the long-term staffers said that in 35 years of working in government he'd never seen so much focused energy on one topic before.
"Certainly the cabinet committee's been meeting every single Monday morning, intensively."
The government took some time to get up to speed because Campbell's green conversion "came out of the blue," Dauncey said. "A lot of the cabinet ministers didn't know what was happening at the time."
But Dauncey has no doubt that Campbell's newfound enthusiasm is genuine.
"Without exception, everyone I've met who has met with Gordon Campbell and/or Graham Whitmarsh comes away very impressed about the sincerity and commitment involved," Dauncey said.
Big emitters, big dollars
He said the government is well aware that some of its policies contradict the goal of reducing emissions.
The government's support for the oil and gas industry, as well as the Transportation Ministry's Gateway Program, which would expand highways in the Lower Mainland, are both policies that will tend to increase, rather than reduce greenhouse gas emissions.
"They know full well that these are contradictions and they haven't got an instant way to change that," Dauncey said.
Oil and gas revenues provide $2 billion a year for the B.C. treasury, he noted.
"They don't see a way to replace $2 billion from their income at the moment. You can count that in terms of potential budget surplus or you can count it in terms of hospitals and schools."
The natural gas industry has years of "momentum and inertia" behind it, which will not be easily overcome, Dauncey said. The Gateway Program, which is being energetically pushed by Transportation Minister Kevin Falcon, also has "massive inertia," he said.
'Fantastic meeting'
Members of the Sierra Club of B.C. also met with Whitmarsh about 10 days ago and came away raving.
"I thought it was a fantastic meeting," said Sierra Club executive director Kathryn Molloy. "I'm super-impressed. It was very encouraging to hear some of their ideas that they're working on."
She said she was given the impression that the UBCM meeting will be largely devoted to discussing climate change and that the province is looking at ways to encourage municipalities to develop their own greenhouse gas reduction plans.
Molloy said the Sierra Club will be meeting with the education ministry to discuss the group's involvement in school programs on climate change. And B.C. Hydro wants to work with the Sierra Club on energy conservation.
"At least we feel like we're part of a loop that's happening and that's positive," Molloy said.
Oil industry's threat?
Molloy also said the group is very happy that Whitmarsh has hired longtime environmentalist Louise Comeau for a "public outreach" job at the Climate Action Secretariat.
Comeau, a former president of the Sierra Club of Canada, "understands the issue of climate change and the need for change in government policy and the need to sort of roll that stuff out at the community level," Molloy said.
Like Dauncey, Molloy pointed to the government's treatment of the oil and gas industry and the Gateway Project as examples of policies that don't fit with its new green image.
She said the Sierra Club told Whitmarsh that it would be a "big show of faith" if the government reduced subsidies to the oil and gas industry. She said they were told that the industry has said it will take its business elsewhere if the subsidies dry up.
"I doubt they're going to go somewhere else," she said. "And if they do, well, they'll come back."
Offshore drilling still possible
Molloy said there was little response from government officials when she urged them to come out against offshore oil and gas exploration.
Still, she said, "the fact that they're reaching out and saying 'lets work together' is very encouraging."
Campbell's commitment to fighting climate change appears to be real, she said.
"Word on the street is that the premier has had an epiphany. He has read the book Heat and he's pretty passionate about the issue."
Said Molloy:
"It wouldn't appear that Kevin Falcon has had that epiphany, nor would it appear that our minister of energy and mines has had that epiphany."
Molloy laughed and added:
"It's hard to say -- those two, we may have to drag them along that path."
Eric Swanson, a spokesman for the Dogwood Initiative, was less inclined to give the government the benefit of the doubt.
He said he came away from a meeting with Whitmarsh and Energy Minister Richard Neufeld believing that the government is aware of the contradictions within its policies "but they don't seem to mind.
"The minister is committed to expanding and helping out the oil and gas industry as much as he can," he said.
'Internal struggle'
"The impression I get is that Gordon Campbell has got religion about climate change and the severity of it. I don't think he's joking about his commitments."
On the other hand, Swanson said, "he has a Liberal party which contains elements of the former Reform and Conservative parties -- especially people like Minister Neufeld, who are dyed-in-the wool oil and gas energy supporters."
The contradictions within the government policies reflect the contradictions within the government itself, Swanson said.
"You have people who are committed to these climate change goals because they're important and they're necessary and you have people who are still convinced that subsidies and royalty credits to oil and gas is good for British Columbians.
"You're seeing things that are so obviously contradictory that there has to be some sort of internal struggle and I wouldn't be surprised if Premier Campbell has to deal with those types of issues every day -- just reconciling the more progressive ideas of his government and the carryover ideas from the Conservative-Reform oil and gas-friendly politicians."
Related Tyee stories: