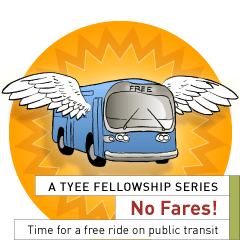 Two weeks ago, the Tyee ran a five-part series that made the case why transit should be free of charge to riders.
The response to the series' main argument -- namely that to fight global warming we must cut out cars and pull down barriers to taking the bus -- was dramatic. Traffic crashed our site, series author Dave Olsen went on national and local radio, versions of the article went viral on the Internet, and Atlantic magazine columnist Andrew Sullivan praised Olsen's argument as "a great idea." In a nutshell, the series hit a nerve.
"Should people really be paying for something that's benefiting society?" asks Lawrence Frank, an urban transportation expert at the University of British Columbia. If anything, it's drivers who should shell out more for their dirty deeds, the logic goes.
Timely as the argument is, it remains to be seen that free transit can work where it's needed most: in big cities. While taking out the fare box makes sense in smaller communities, where the costs of collecting fares often outweigh the benefits, in the city fees keep systems on their feet.
So could they really do without charging riders? Asking a number of experts, The Tyee set out to discover why past attempts to go fare-free city-wide failed in cities in New Jersey and Texas, degraded services in downtown Miami, succeeded in portions of Portland and Seattle, and might yet bear fruit in San Francisco.
Lost in Austin
Let's start with where it failed.
Both Stanton, New Jersey and Denver, Colorado, dabbled with fare-free in the 1970s; both tried it during off-peak hours and both quit one year into the experiment.
Austin, Texas, was the last American city to try ditching fares; they pulled out their fare-boxes between 1989-1990, something Joel Volinski says lead to "chaos."
Rowdy young passengers vandalized vehicles and scared off "core riders," said Volinski, who authored a major U.S. study in 2002 that concluded that citywide fare-free policies were a bad idea.
After one year, Austin bus drivers themselves rallied and had the program shut down.
Volinski saw a similar experiment fail when he was a director of a smaller transit system near Fort Lauderdale, Florida. Ridership soared when that system went fare-free, but it was soon carpe diem for hooligans there too.
"They'd jump on the bus, raise holy hell, then jump off two blocks later. They got a big kick out of that."
"It has something to do with the question of value," he believes, "when people pay nothing for something, they just don't think it has value and they treat it as such."
The Austin experiment, his report states, "left lasting impressions on transit operators throughout the country." Nothing on that scale has been tried since.
San Free-cisco
That may not be true for long. Under Mayor Gavin Newsom, San Francisco is currently taking a hard look at the viability of going fare-free. In a city beset by smog and congestion problems, Newsome recently wondered aloud if the costs of enforcing and collecting fares was worth it in a city where many skip out of paying fares in the first place.
"There's been a lot of different ideas floated here," says Peg Stevenson, San Francisco's chief services auditor.
Some of those ideas have to do with dredging up new sources of funding, which would be needed to replace the massive revenues that come from charging the city's riders. Fares add up to roughly a quarter of the system's current annual revenue, or $145 million. That's low, compared to the fare box yield in the Greater Vancouver region, where fares are more than one-third of Translink's funding sources, or $300 million per year.
By the same token, San Francisco has plans to expand transit services to outlying areas, and that has them wondering just how much new fare inspection equipment and enforcement systems will cost.
Will the city be able to afford the switch? Stevenson isn't sure -- the final report is due in August -- but she says that so far there hasn't been widespread support for the idea, nor is it clear if proposed new parcel and transit impact taxes, plus re-funneled parking tax monies, will cover it. Stevenson is also quick to point out that the normally expensive study is being carried out on the cheap since it's piggybacking a larger study on roads and service planning in the Bay Area.
Bear in mind, too as some reports have pointed out, that it is an election year in the City by the Bay.
Bus or shelter?
After sussing out the costs, managers in San Francisco will study the kind of riders a free service would invite.
Todd Litman thinks that, in Vancouver anyway, fare-free transit would attract the wrong kind of clientele.
"I have pretty significant concerns about transit vehicles becoming shelters for homeless people."
Fares, Volinski puts it bluntly, help keep off "the wacko element."
As the director of the Victoria Transport Policy Institute, Litman argues that if the over-arching goal of promoting transit is to combat global warming, the concept of a free ride is wrong-headed.
"I think we need to be most concerned about the quality of public transit, not the cheapness," he said.
Reducing emissions boils down to luring people out of their cars, something that pits public transport directly against the private automobile.
In the U.S., for example, a national household survey concluded that pretty much everybody who can afford to drive a car already owns one. The challenge now is to charm those drivers back into the transit system. How? Echoing Litman, the report's authors say operators will have to improve quality of service by reducing wait times, and increasing convenience.
Litman points out that car manufacturers now spend most of their efforts improving motoring's creature comforts: Plush interiors, sound systems and cup holders are what sell cars these days.
Transit systems have no choice but to improve services, or else they could drive away the same drivers environmentally-minded planners are hoping to entice.
"It has to become consumer-oriented," notes Litman.
U-Pass, we wait
In Vancouver, for example, current bus conditions are anything but enjoyable for the city's transit-takers, according to David Hendry. And riders have seen four consecutive fare increases in less than 10 years.
Overcrowding, pass-ups, bullying transit cops, fare increases: as an organizer with the area's Bus Riders Union, Hendry says the city's Translink system is already way too embattled to go fare-free. He blames Translink's broken promises and cut-backs from senior levels of government.
"In terms of having a fare-free bus system I think it's important to have that vision, but we also have to do the work to stop the attacks that are happening right now."
Although a resounding success, officials and experts agree Translink's U-Pass program has stretched the system to its limit. The cheap annual student fare-card has jammed the major routes to the universities where the U-Pass is offered.
Vancouver's 'terrible problem'
But even with four fare hikes over eight years, general ridership continues to climb, bucking the drops in ridership that accompanied hikes in other cities.
"It seems as though everything we put out there gets used," says Trish Webb, spokeswoman for Translink, "so while I am sympathetic to people saying [that] higher fares make it difficult for people who have low incomes, we're not seeing a big drop in ridership."
Ridership figures for this year are tracking an increase of close to four per cent over last year.
"Vancouver has this terrible problem that all kinds of cities throughout the world would love to have, which is people want to ride transit and you're simply not providing enough service," says Litman.
Canada climbs aboard
In fact, the North American Urban Transit Association says Canadians are hopping on the bus en masse: ridership is rising by 57 million trips a year, about a three per cent increase.
Association president Michael Roschlau says the upward trend is expected to continue partly due to Canadians' concern about the environment.
Canada's big-city mayors get it, and are lobbying the federal government to help cash-stapped municipalities cope with the pressures.
"We don't have the capacity to expand our transit systems," Toronto mayor David Miller said to the CBC. "We don't even have the money to keep them going."
In the zone
Some say a high-grade free service operating in the downtown core, rather than citywide, could be the answer for cities battling emissions and traffic.
But even this has lead to mixed results in the U.S.
Portland and Seattle both have what appear to be workable systems, but Miami's MetroMover -- an elevated rail system servicing the city centre -- has seen cars trashed and abused since that city decided to make that part of its system free, according to Volinksi. The previous fare was a quarter, which meant collection costs outweighed revenues.
"Boy, I rode in it just a week ago and it was a shambles," said Volinski. Shot carpet, etched windows, graffiti came with a 60 to 70 per cent rise in ridership, he said.
"They may have discounted the fact that it was going to result in a lot more vandalism, now they're going to be paying tons to fix it up."
A comparable service in Seattle, on the other hand, seems to be doing well. The Seattle Post-Intellegencer reports that the fare-free zone downtown "allows Metro buses to move more quickly, but costs the city $370,000 a year, the difference between the lost fares and the savings in bus speed."
La fin
While Olsen's Tyee series detailed several success stories and sparked imagination and conversation in B.C. and beyond, it will take more pressure from citizens to generate the political will necessary to see fare free transit in the Lower Mainland.
"It's not a big topic around here," says Webb of Greater Vancouver's Translink system.
But, things are heating up, says UBC's Lawrence Frank, who insists that the Lower Mainland could afford to go fare-free if tolls were put up on bridges leading in and out of Vancouver.
Drivers get cranky when they're asked to subsidize transit, he notes, but they're also the ones "externalizing" the environmental and health costs of driving onto society at large.
"They don't seem to care about that, because they're getting away with it."
Related Tyee stories: