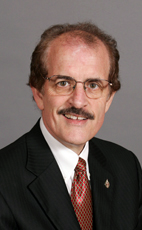 Yesterday we reviewed the performances of the five Conservative cabinet ministers from B.C. in the parliamentary session that ended in June. Today, we look at their underappreciated colleagues in the opposition and backbenches. One apparently is still battling the Soviet Union, another would seem to be grappling with delusions of being in cabinet, and the rest, well, read on.
Conservative Back Bench
With five B.C. Conservatives in cabinet, it's tough for a backbencher to grab a headline. There were a few, however, who gave it their best shot.
Delta-Richmond East MP John Cummins openly and repeatedly attacked his own party's stance on the Pacific Gateway project this year.
"It makes no sense to push ahead and spend all of this money on a port that makes the communities adjacent to it little more than doormats on which passing freight wipes its feet and leaves nothing but misery and disruption behind," Cummins said in a statement in May, according to the Vancouver Sun.
"There is no argument that B.C. should be the recipient of federal spending of this magnitude, but when our concern today is so rightly focused on reducing pollution, alleviating traffic congestion, protecting the environment and other quality-of-life concerns, we shouldn't be spending money on massive projects that ignore these concerns."
Unlike fellow Tory dissidents Michael Chong, Garth Turner and Bill Casey, however, Cummins has yet to be punished for his backtalk.
Of course, the other way to get headlines when you're not in cabinet is to pretend that, in fact, you are. That's the strategy Kamloops-Thompson-Cariboo MP Betty Hinton tried in February.
Hinton made the claim in an interview with Kamloops This Week's Markus Ermish. But when the NDP's Jean Crowder brought it up in the House, Hinton denied everything and even demanded an apology.
Unfortunately for the veteran interior politician, Ermish had his interview taped.
The incident led columnist Dale Bass to pen a scathing editorial about Hinton's performance.
"Our local MP is rapidly becoming as valuable to the Conservative government as Hedy Fry was to the Liberals during her Ku-Klux-Klan-cross-burnings-in-Prince-George phase," she wrote.
She went on to say "[S]he goes through local constituency office staff like some losing NFL teams go through coaches," and she is "becoming a public embarrassment to her own party in Parliament."
Ouch.
New Democratic Party
They all voiced ritual denunciations of government policies. They all made repeated attempts to distinguish the NDP from the Liberals and the Greens. They all tried to say "hard-working Canadian families" more often than the Liberals and Conservatives.
But there were a couple of standouts in B.C.'s NDP caucus.
New Westminster-Coquitlam's Dawn Black attracted glowing reviews for her criticism of the government's Afghanistan mission.
Black was described as a "Question Period standout" by the Globe and Mail, which said she "took the issue of Afghan detainees to heart and brought substance to the matter."
Black, the NDP defence critic, also pressed the government on the Canadian Forces' aged Leopard C2 tanks, which tend to turn into rotisseries in the Afghan heat. And she went after the Tories for the government's habit of awarding defence contracts without bothering with competitive tenders.
Skeena-Bulkley Valley MP Nathan Cullen also distinguished himself, while providing an instructive example of how minority parliaments work -- and don't work.
Cullen played a major role in getting the government's Clean Air Act rewritten in committee. The result was a bill that, among other things, included a commitment to Canada's Kyoto targets.
The Ottawa Citizen columnist Susan Riley called the feat "a rare example of the co-operation a minority parliament is supposed to foster and much credit belongs to the NDP's inspired environment critic, British Columbia MP Nathan Cullen."
Inspiration only goes so far in politics, however. Kyoto is a non-starter for the Harper government, which has dropped the amended Clean Air Act like a hot brick.
With the bill now deader than Social Credit, the question remains: is this an example of a noble non-partisan spirit squashed by an inflexible government?
Or was the inclusion of Kyoto just political grandstanding by some opposition politicians who should have known that Harper's crew would never go for those targets?
Discuss among yourselves.
Liberal Party
The most influential Federal Liberal in B.C. currently sits outside of Parliament. Backroom schemer Mark Marissen engineered Stéphane Dion's surprise leadership win in November. The former Paul Martin organizer now has a plum role as co-chair of the Grits' national election campaign.
As for his elected colleagues, only former premier Ujjal Dosanjh had a front bench role, as foreign affairs critic, in Dion's shadow cabinet.
Dosanjh made headlines outside the House, however, when he complained to the RCMP of veiled threats in a Punjabi language newspaper's editorial that attacked him for speaking out against "Sikh martyrs" in a Surrey parade.
Dosanjh was beaten with an iron bar in 1985 after criticizing the murder of Indira Ghandi by Indian Sikhs. The editorial alluded to that attack and suggested that it might not have been such a bad thing.
Just weeks later, however, Dosanjh's caucus colleague Navdeep Bains praised the same paper's high journalistic standards. Bains made no mention of the publication's dispute with his colleague.
Meanwhile on the North Shore, MP Don Bell stepped up for a truly marginalized community in May. Bell tabled an act that would create a government funded film industry lobby in Ottawa.
But don't think for a second the industry doesn't need the help. Canadian movies have enemies you don't know about, enemies lurking from the distant past.
"The intention of this [bill] is to help Canadian companies," Bell told the North Shore News' James Weldon. "We're competing with Ireland, Europe, the Soviet Union...[and] the United States."
Who knew the Red Menace was keeping Atom Egoyan down?
Bell also made news of a sort on national security. Bell and Esquimalt-Juan De Fuca M.P. Keith Martin were among a dozen Liberals to skip a vote on the extension of controversial anti-terrorism legislation in February. Both had publicly objected to their party's stance in the lead up to the vote.
Ever the naysayer, Bell was also one of three B.C. Liberal MPs -- Raymond Chan and Hedy Fry were the others -- to vote against the government's Quebecois Nation motion in November.
Read the first article in this two-parter here.
Related Tyee stories: