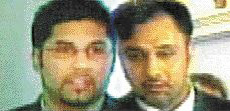 After waiting over three years, the defence opened its case in the B.C. legislature raid trial firing both barrels at the B.C. Liberal government and the RCMP.
The Crown alleges that government ministerial aides David Basi and Bob Virk received benefits from lobbyists in exchange for confidential information about the $1 billion privatization of B.C. Rail and that government communications aide Aneal Basi helped out.
Among the serious charges levelled Wednesday by Kevin McCullough, defence lawyer for Bob Virk, in B.C. Supreme Court:
That B.C. Premier Gordon Campbell was allegedly tipped off about part of the police investigation into David Basi by B.C. Liberal party executive director Kelly Reichert in June 2005
That the investigation Campbell allegedly heard about was a Crown counsel report into "media monitoring" contracts the BC Liberals had with Basi and whether there was any wrongdoing
That Basi's "media monitoring" contracts allegedly were "a highly political effort to sway public opinion through the use of radio shows and other events"
That RCMP Inspector Kevin DeBruyckere, a key Basi investigator, "was and still remains the brother-in-law of Kelly Reichert"
That former finance minister Gary Collins was allegedly under investigation by the RCMP in November 2003, prior to the legislature raid on Dec. 28, 2003
Allegations that the RCMP had "acted in bad faith" by telling the media that no elected officials were under investigation when they "knew full well they were investigating Mr. Collins in November"
That the RCMP allegedly misled the public by denying any politicians were being investigated, including through police news releases
That the RCMP were allegedly "clearly duplicitous" in obtaining wiretap authorizations by failing to disclose to another judge the concerns of the original Supreme Court justice who turned down wiretaps application because of concerns about parliamentary privilege being infringed with a wiretap on a government-registered cell phone used by Basi
Just allegations
The operative word, as you will have noticed, is "alleged" because, while these are serious allegations, it must be noted that they are just that -- allegations unproven in court.
It should also be remembered that the Crown has not yet had a chance to respond to the defence allegations and make its case that the defence is incorrect to Justice Elizabeth Bennett, hearing the case without a jury.
Former finance minister Gary Collins immediately denied defence allegations Tuesday, telling Canadian Press that police have said he was never under investigation.
It is also important to state that McCullough did not at any point in his arguments allege any impropriety on the part of either DeBruyckere or Reichert.
The BC Liberals' Reichert did not respond to e-mail and telephone inquires by deadline.
Premier Campbell was not in the legislature for question period or at the B.C. Liberal caucus meeting, and therefore not available to media for questions about the day's allegations.
And what allegations they were. McCullough, speaking on behalf of David Basi's lawyer, Michael Bolton, and Aneal Basi's lawyer, Joe Doyle, brought out the heavy lumber as he outlined the case that will be developed over the next three weeks of the disclosure application.
McCullough on BC Liberal Party Executive Director Kelly Reichert:
"It is trite to say he worked closely with Premier Campbell and Mr. Collins on their political machine."
"It became clear that Mr. Basi, while a ministerial assistant, was hired by the Liberal party on media monitoring contracts."
"That is a highly political effort to sway public opinion through the use of radio shows and other events."
"One of their [the RCMP's] investigations of Mr. Basi was whether there was any wrongdoing regarding the media monitoring contract with the Liberal party."
"Kelly Reichert was telling the premier in June 2005, one and a half months after the [provincial] election, that the RCMP was forwarding a report to Crown counsel on that matter."
McCullough on the RCMP:
"You have to consider whether the RCMP acted in bad faith in order to search the legislature," McCullough began, arguing that the police were aware from June 3, 2003 on that David Basi was a ministerial assistant to Finance Minister Gary Collins but obtained the wiretap authorizations under a drug investigation in which Basi had come to the RCMP's attention.
The RCMP, McCullough said, had proceeded, using the drug investigation as the reason for wiretaps because they were concerned about being denied an authorization because of parliamentary privilege concerns.
A B.C. Supreme Court judge had turned down earlier applications for a wiretap on David Basi's phone for exactly that reason, and ultimately the RCMP went to Associate Chief Justice Patrick Dohm with a third application and did not inform Dohm of the location of the wiretap -- which of course was the B.C. legislature.
McCullough ripped into the RCMP, saying the force also deliberately did not tell Justice Dohm of the prior wiretap applications being turned down for that reason.
"The RCMP know that the business line that they sought a wiretap for was the office line of the finance minister, Gary Collins. Yet there's no reference to the parliament buildings, no reference to Gary Collins."
"My question is whether the Crown is defending these wiretaps on the basis of good faith, and the answer is yes," he said. "They [the Crown] are arguing good faith and we're arguing bad faith."
Ironically, the wiretap on the finance minister's landline ultimately failed to work due to "technical difficulties," McCullough disclosed. "The legislature phone system is archaic."
Guess who's in court?
In another interesting development, lawyer Clark Roberts, a former B.C. Liberal party staffer and former federal Liberal Party of Canada candidate in Saanich-Gulf Islands in 1997 who holds close personal ties to Gary Collins was present in the courtroom.
Mr. Roberts told me that he was in the courtroom on behalf of a client whom he could not disclose and that he was "here on a watching brief" for that client.
And the court heard lengthy argument from McCullough about the role of another former federal Liberal candidate, Victoria lawyer David Mulroney, in the investigation in 2003. Mulroney, he said, was advising the RCMP on how to get wiretaps on David Basi's cell phone authorized by a Supreme Court justice.
But there was no discussion in court about Mulroney's candidacy for the federal Liberal party in the riding of Saanich-Gulf Islands in 2004 and again in Victoria in the 2006 election. Mulroney lost both bids for political office.
Sean Holman of Public Eye Online and 24 Hours reported in May 2004 that Mulroney had donated $3,993.02 to the federal Liberal party in 2002, and had billed the federal government $956,872 in fiscal 2003/04 for his firm's legal services. Mulroney was a major donor to the Liberals and his firm received major work from the federal government from 1995 through 2002.
Also in the courtroom Wednesday afternoon: Attorney General Wally Oppal's public affairs officer, Seumas Gordon, from the Public Affairs Bureau. I was unable to ask Gordon why he was there.
Road ahead
As the defence disclosure application proceeds over the next three weeks expect lots more fireworks and lots of strong denials of defence claims by the Crown.
After that, a defence Charter of Rights application that could potentially throw the whole case out of court over allegations about RCMP behaviour.
If the case proceeds, it will then get on to the main event, a full trial with a full cast of political witnesses, cross-examination on the stand and more information about the conduct of B.C. politics than you can even imagine.
Related Tyee stories: