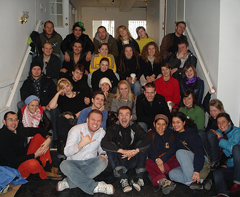 On the way in you have to hold your breath because the walls of Vancouver's Stanley Hotel double as a urinal for the drunk and the poor. Hold your breath, and weave through the people in ragged clothes making their way down the sidewalk.
Stepping into the lobby of the KaosPilots' impromptu headquarters inside the Stanley, however, is like walking into a different world. Chic-looking European MBA students are talking on cellphones or huddled in laptop scrums discussing how to help a big union or small business go green, get city hall more sustainable, or make disabled people less lonely.
If you're a KaosPilot, this is business school. Peter Froberg is one among 30 of them living and working from an SRO in Vancouver's Downtown Eastside. Like his counterparts, Froberg, a 25-year-old Dane, beat out some tough competition for a chance to join the Denmark-based program and come learn in Canada's poorest postal code. He's also shelling out considerable tuition fees because he wants to learn how to effect "a merger between the business world and the idealistic world," as he puts it.
In three years of fast-paced projects and lectures, students like Froberg plan to become a troupe of organizational contortionists, equally at home in corporate, non-profit and public spheres. It's the kind of ambidextrous business acumen students hope will help them climb the ladder, and that the program's creators hope will plug Europe's troubling brain drain.
Viking hordes
Pop quiz: which North American city is poised to undergo the next major shift in terms of business, social and cultural evolution? Vancouver, say Simon Kavanagh and Fanny Posselt, who are jointly managing this minor incursion.
"Vancouver is on the edge of something," opines Kavanagh, a Dubliner and teacher at the KaosPilots' home base in Denmark, The International School of New Business Design and Social Innovation.
"It seems to be the right choice," says Posselt of the decision to plant an "educational outpost" at the epicentre of poverty in the Lower Mainland, where the pilots have been living and working for six weeks now. "Our location is adding to our mission of looking into urban sustainability."
Against a backdrop of colourful mindmaps tacked to the otherwise bare white walls of the hotel, Posselt and Kavanagh agree that their SRO digs are proof positive the school made the right choice. They say relationships forged between students and locals quickly translated into an outpouring of support in the form of loaned tools, tables and chairs, cut-rate technical expertise and even wireless services to get them started. Not to mention free use of a derelict wing of the hotel, which was donated by the Portland Hotel Society and fixed up by the pilots, who will donate everything to the substance-abuse and housing charity when they return to Denmark later this spring.
Their HQ secured, seven groups of KaosPilots were free to fan out across the city and "play" with seven separate projects. One team is working with Ecotrust, a non-profit environmental organization, by helping it simplify carbon inventories for small and mid-sized B.C. businesses that want to go green. Another is designing workshops for the Belonging Initiative, which will be used across Canada next fall in that organization's bid to end the isolation and loneliness of people with disabilities.
Impress the flesh
All of this is, of course, quite a contrast when compared to the experiences of typical MBA students, who live for the networking opportunities at industry career expos. Crowded in with other graduates at these suit-and-tie affairs, these students know "pressing the flesh" with corporate execs can be key to a career in business management.
But Froberg doesn't mind the KaosPilots' scruffy surroundings.
"It's great in terms of reality-checking what you've learned from the school," he says. "Going to Vancouver is an added aspect of that because you reality check it in a different cultural context as well."
To Peter McLeod, a part-time KaosPilots instructor and Toronto-based educator who was instrumental in bringing them out west, kids like Froberg are a sign of the times.
He points to a whole subset of youth "who decide to go to university because they want to change the world."
"So they look in the department hand guide for 'Department Of Change The World,' and instead they find political science, or they find sociology, or they find literature, or whatever."
Big hearts, micro loans
In the end, says McLeod, the dedicated ones end up with a profession, when what they really wanted to learn was how to make a difference.
"The reason that KaosPilots is called the 'KaosPilots' is because it's about acquiring the skills for navigating rapid change. And those are skills our universities don't prepare us to learn. And yet anyone who is successful in [a given] career is successful because of their ability to navigate lots of information, lots of people, lots of contexts, lots of situations, lots of projects."
How does that play out in this niche MBA? The operative word is "process," says McLeod -- learning how to bring about organizational change so clients of all stripes can move forward.
All of which is music to Froberg's ears. A former chef, nature guide, handicap helper and academic, he says he was enticed by the "out-of-the-box projects" he could tackle with KaosPilots. That, and because he's seen so many great ideals get lost in the details, such as non-profits "that can't do shit worth of advertising or business management," for example.
For the last few weeks here in Vancouver, Froberg has been exploring how to create financial opportunities for disadvantaged people through his work with VanCity's microfinance program.
Deal or no deal
With a view to finding out if the KaosPilots were making the grade, The Tyee talked to some of their bosses around town. Turns out if report cards were being issued, there would be some A's doled out.
George Heyman, president of the B.C. Government and Service Employees' Union, had nothing but kudos for the pilots. Even though he's responsible for one of B.C.'s largest unions, he's been taking time out of his busy schedule to work personally with a team as they try to further his organization's bid to green up their operations.
"One of the things that impressed me," says Heyman, is that they not only wanted to review what we were doing and make recommendations to us, they actually wanted us to set up some working groups and begin making some change right now."
Amy Fournier, a community outreach coordinator with the city's Sustainability Office, said the Scandinavian can-do attitude and business savvy made the team "fantastic" to work with.
She points to the workshop the pilots decided to put on to expand the target age range of Fournier's One Day program.
Experts in process and facilitation, they gave themselves just three days to prepare in advance. "And it was fantastic: they pulled it together very quickly," said Fournier, impressed by their energy and the people that turned out.
"They were making connections all over the place. The people who attended weren't people in my network. They've been able to build a lot of relationships very quickly."
Location, location, location
Curiously, national interests play a significant part in the school's guiding principles.
"Europe is losing a lot of its most creative and entrepreneurial people to Asia, America and India," says Kavanagh, "because they just can't get the jobs they want or the support they want in Europe."
He should know: Kavanagh is a Dubliner who taught in Shanghai for a spell, and it was there that he saw the Euro brain drain first-hand.
A KaosPilot promo document spells it out further: "The change in the global 'productivity food-chain' leaves all of us in the western part of the world with the same question," reads page one, "who in the future will create the new jobs that will replace the ones that are now disappearing?"
For Uffe Elbaek, the school's mastermind, the answer is harnessing youth potential and educating an attractive cadre of risk-takers that can navigate the complexities of modern institutions.
"It all has to do with the merging of NGO, public and private," explains Kavanagh in his Irish brogue. He says companies are increasingly looking for people "who can think across the board," such as a public company that needs to become private in order to survive, or a private company that needs to improve its public image.
Requited love
There are regional interests, and then there is self-interest: a driving and required force in selected KaosPilots.
When I make the mistake of calling the socially-conscious students "NGO superheros," Kavanagh and Posselt's reaction is telling: they balk. Students are encouraged to take on projects in the business and corporate sectors just as often as they are non-profits, says Posselt, a Dane who, like Froberg, says it all depends on what an individual "burns for."
In fact, many grads are specifically targeted by recruiters in the private sector. Translation: that burning feeling goes both ways.
Still, roughly a third of alumni will spurn the overtures of big business and instead go into socially-responsible business for themselves. Similar fractions go out to non-profits and the private sector. The school boasts 100 per cent employment among its graduates, who typically make more money starting out than ordinary MBAs.
So do the socially-minded superstars have a bottom-line in mind when they enroll?
"Oh yeah," says Kavanagh. "The students know that. They know what they're paying for. I mean that's what they expect."
Which is why they'll gladly plunk down the $500 a month it costs to take the three-year program: the ROI is clear.
Change agents
Are China and India rising? Service and industry jobs slipping away? Kevin Millsip doesn't really know, but he's seen the KaosPilots in action and is impressed with their "mindset of a hopeful future." Millsip is coordinator for the youth advocacy Check Your Head. He's importing parts of the KaosPilot curriculum for a future youth leadership program he's starting up in Vancouver that will get youth working on the policy issues of the day in Canadian society. The funding is already in place, he says, and he's ready to get going. Add it to the list of changes the KaosPilots are making during their Vancouver visit -- maybe better to call it Viking Invasion 2.0.
Related Tyee stories: