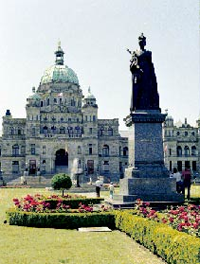 Cost-cutting measures that force each B.C. ministry to pay for its legal services rather than from the Attorney General's budget could be heightening the legal exposure of government, as well as risking lawyer burnout and poorly written laws, says an internal provincial audit.
The report by the B.C. comptroller general of July 2006 was obtained by The Tyee through the Freedom of Information Act.
The Legal Services Branch (LSB) of the attorney general's ministry handles all of the provincial government's civil law matters, and the audit said that LSB managers worried that the funding change might inhibit ministries from discussing legal topics with the branch quickly enough. It might also limit the time that lawyers could spend on a file, "potentially subjecting the province to greater legal risks."
In 2002, the government allowed the LSB to start recovering 75 per cent of its costs from ministries that used its services, up from 40 per cent. Ten of the lawyers and ministries interviewed said cost recovery has encouraged ministries to manage their own legal risks more often, "and in a few cases the shift has been dramatic."
Most of the lawyers said the LSB was understaffed since well before the new system began, and that heavy workloads are still a problem, often leading to service delays.
As a result, the audit said, several ministries complained about their lawyers being overworked, and service has suffered from a high turnover "due to stress, illness and burnout.... A number of lawyers feel quite pressured by clients' cost management tactics." The ministries said such turnover means a loss of corporate knowledge and subject expertise.
A few interviewees felt cost recovery has meant less job security for lawyers, which makes it harder for the LSB to recruit and retain lawyers, and has reduced its service capability.
Growing branch
The LSB staff has more than doubled over the past 10 years to 350 employees, 165 of them lawyers, and the branch has a $65 million yearly budget. Ministries have been using more LSB services since the change, said Linda Mueller, the attorney general's communications manager.
The attorney general's ministry decides whether to settle cases out of court, after consulting with the affected government bodies. Mueller said that government doesn't settle more cases as a result of the change, and in fact, the settlement rates have stayed fairly constant.
Yet the audit noted lawyers' concerns about ministries' delays in seeking legal advice, and they also asserted that the funding change created an incentive for ministries to settle rather than defend cases, decisions that might sometimes be unsuitable.
To cut costs, ministries sometimes try to resolve cases as much as possible before consulting LSB lawyers. But some lawyers told the auditors that because of such delays, issues are left until they have become much more serious, and such tight deadlines mean there is too little time to give good advice. One lawyer cited specific cases where government suffered "significant negative consequences" as a result of a ministry trying to manage legal issues on its own.
The report noted that ministries are "inappropriately motivated against defending legal actions," because if they settle out of court, they don't bear the settlement costs, but if they defend them, then they must pay their own legal fees.
One ministry decided it can't afford all the legal services it needs, the auditors said, and so it reluctantly chose to contract through its Service Level Agreements (SLAs) with the LSB for fewer lawyers than it needs. The report noted two other ministries might soon face the same problem due to budget pressures.
'Contradictory advice'
The NDP's legal affairs critic, MLA Leonard Krog, has no objections to the funding change. "In some ways I thought that was a good thing, to keep track of ministries' legal costs," he said in an interview. "I suspect like all things, it has its pros and cons. And many disputes can be settled before trial, but it doesn't always save money."
Another problem was found. The LSB also drafts all of the B.C. government's bills, regulations and statutes, the audit reported, and one government lawyer noted that a solicitor's advice can be needed when a ministry is developing legislation. But at times, ministries have resisted seeking this advice, to save costs, and "the lawyers noted that the negative consequences of poorly drafted legislation can persist for many years."
Another lawyer asserted that the cost recovery system can result in ministries getting "unco-ordinated and contradictory advice."
Some ministries said that, due to the funding change, fewer policy issues are now being referred to the lawyers, and the audit stated that clients and lawyers both feel this can be "ill advised" because policy and legal issues often overlap and are better considered together.
Apart from the problems found, the audit said the system was otherwise working well. Still, Mueller said, the LSB is considering the report's suggestions to see if it can improve the funding system.
Related stories: