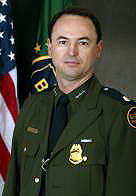 News that a prominent B.C. labour leader was arrested in the state of Washington and is being held on serious drug charges has sparked an internal probe of Ironworkers Local 97 in Burnaby.
"We want to make sure the local is squeaky clean," the Local's president, Dave Beatty, told The Tyee.
Perley Holmes, the Business Manager of 97, was arrested by U.S. Border Patrol officers Jan. 18. In addition to his position with Local 97, Holmes is listed on the website of the B.C. and Yukon Building and Construction Trades Council as a member of its executive board.
Border patrol agents say they arrested Holmes after seeing a suspicious truck heading south away from the border in a remote rural area late at night. They retraced the tire tracks, they say, back to the driveway of a rural residence, where the truck had apparently stopped and turned around.
Following tracks in the snow that indicated two walkers, the agents say they found two men hiding beneath snow-covered brush, with two backpacks next to them.
Following Holmes's arrest and the successful cross-border flight of the second suspect, agents say, a canine team "alerted to the presence of narcotics" in the packs. Field tests revealed, say the agents, that the 120 packages in the two packs contained 136 pounds of cocaine.
News media reports estimated the value of the seized cocaine at $4.3 million U.S.
Guns discovered
As part of the investigation, police found 43 guns, including an assault rifle, in a house near Osoyoos. Police would not say if the house belonged to Holmes.
A press release issued Jan. 24 by Local 97 president Dave Beatty said that the local's business manager had been arrested near Spokane for possession with intent to distribute a controlled substance Friday, Jan. 18. It read in part:
"We learned of the arrest of our local's business manager, Perley Holmes, late last Friday. Needless to say this is a shock to us, and we immediately launched our own internal investigation. Although there is no connection to the local, we have brought in external auditors to conduct an audit as required under our union's constitution.
"We're waiting to hear more about the situation," said Beatty. "Yet, at the same time we are taking all necessary steps to ensure the integrity of the local. We expect that our own internal investigation will be complete by the end of next week."
Local auditing its books
"It's tough, a complete shock," said Beatty in a telephone interview with the Tyee. "No one would have suspected anything like this."
Beatty said that the union's auditors would complete an audit of the local's affairs by the end of this week.
Holmes has been dropped from the union's payroll.
Holmes is a well-known Liberal supporter and has contributed $100 to the campaign of the party's leader Stéphane Dion.
"The border patrol has a priority mission to keep terrorists and terrorist weapons from entering the country. However, this significant seizure is proof that we also work vigorously to prevent cross-border crime," said Spokane Sector Chief Patrol Agent Robert L. Harris in a press release.
Holmes appeared before a magistrate last Wednesday, where he was ordered held over without bond. A conviction for possession with intent to distribute carries with it a sentence of 10 years to life.