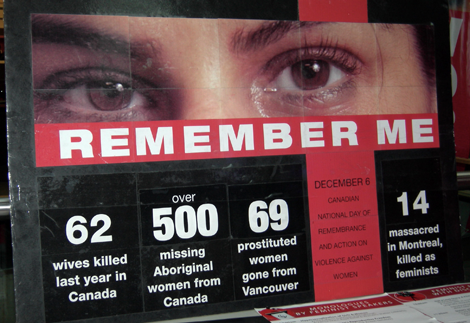 Today, in memorials across the country, Canadians remember the murder of 14 women at Montreal's École Polytechnic, 17 years ago. The memorials have become a time to focus on violence against women. Here in Vancouver, where jury selection for Robert Pickton's trial is taking place, the issue has become inexorably tied to missing women and the safety of sex workers.
But among those commemorating, a deep fissure has emerged: how best to protect women in the sex trade.
One side says that because sex work will always exist, we should decriminalize or even legalize it to make it safer.
The other side says that doing that will only entrench the violence and legitimize the abuse.
Living in Community proposes to create "safe zones" for sex workers in Vancouver. And Vancouver's Pivot Legal Society has published two reports on the sex trade, arguing for the decriminalization of adult sex work. In Canada, selling sex between consenting adults is legal, but common aspects of the sex trade are outlawed, such as being in a "bawdy-house" and communicating "for the purpose of engaging in prostitution."
"You have sex workers working in extremely dangerous situations that are a direct result of the criminal laws," said Katrina Pacey, a lawyer with Pivot who co-authored their reports.
Pacey argued that these laws put sex workers in conflict with police, meaning that the sex workers are less likely to seek -- or receive -- help when they are in danger. "I don't think we really know about the rates of violence that are going on right now because I would argue, or at least I would guess, the vast majority do not get reported," she said.
She says that a black market is inevitable in cases of criminalization.
'Beyond decriminalization'
In September, Pivot released Beyond Decriminalization, a report examining the way that human rights and labour laws would be applicable to a decriminalized sex trade. The findings were based on interviews with 80 male and female sex trade workers from the street level, massage parlours and escort services.
"People need to listen to sex workers and ask them what they want," said Pacey. According to her research, they're not asking for abolition, but for the ability to regulate their own industry to make it safer.
There is a difference between decriminalization and legalization. The former would mean repealing sections 210-213 of the Criminal Code of Canada, while the latter would involve government regulation of the industry, comparable to legislation on alcohol.
Against decriminalization
But this weekend, many activists argued that both options would exploit women. At the Montreal Massacre Memorial at Vancouver Public Library organized by Vancouver Rape Relief and Women's Shelter, the main topic of discussion was how to protect sex workers. "I think those groups who argue for the legalization of prostitution as a way to create safety for women have unrealistic expectations as to what those kind of laws can actually do for women," said Daisy Kler, the organizer of the event.
Many activists worry that decriminalizing the trade would benefit pimps and johns while offering little protection for workers. The New York Times reported that legalization in the Netherlands, for example, has lead to a boom in the sex industry, but sex workers remain marginalized. ChildRight estimated that the number of prostituted children in that country had increased to 15,000 in 2001 from 4,000 in 1996, many trafficked from other countries.
Kler says statistics like these show the problems with considering sex work as a legitimate career option. "The idea that women are choosing this, and that it is respectful to be talking about it as choice, kind of seems perverse to me when you think that the average age of women who enter prostitution is 14," said Kler.
Wrong focus?
This sentiment was echoed by Gunilla Ekberg, a former advisor to the Swedish government, who helped implement laws in that country that shift the criminal focus from prostitutes to pimps and johns.
Ekberg decried the neo-liberal perspective in countries like the Netherlands that frame sex work as a choice. Power inequalities stemming from poverty, drug addiction and racism are left out of this analysis, Ekberg argued.
She said anyone who helps with decriminalization "stands on the side of those who profit from [sex workers]."
Ekberg described how Sweden has made "the purchase of sexual services" a crime punishable by up to a 10-year sentence. Meanwhile, she argued, "the women and girls in prostitution should be seen as victims of male violence against women." And she says, above all, they have a right to assistance to escape prostitution.
Protesting prevailing opinion
This weekend, two women disagreed with the prevailing opinion at the Montreal Massacre event. Susan Davis and Amanda Bonella, both sex workers and members of the B.C. Coalition of Experiential Women, a consortium of sex worker activists, wanted to participate in the day's discussions but were asked to leave a roundtable about harm reduction in the sex trade. They protested outside with signs, one of which read, "Stop exclusionist violence to sex workers."
"We need to have a trade association and safe places to work," said Davis. She called for "basic labour standards that every person, every worker in Canada, enjoys, and we get denied, just because of the nature of what we do."
Kler said she asked Davis and Bonella to leave because panellists -- including representatives from the Vancouver Area Network of Drug Users, Justice for Girls, and the B.C. Teachers' Federation -- had agreed to work towards the elimination, and not the legalization, of the sex trade. She insisted that former sex workers were at the table, but were not asked to identify themselves.
A rallying point for all parties was that greater social supports are needed for sex workers, especially for those who sell sex because of poverty and addiction. Rather than increased policing of sex workers, activists called for a guaranteed livable income, more detox beds and the support of women's centres.
But the future does not look bright for ground-level services for sex workers since Minister Bev Oda announced that she's closing three quarters of Canada's Status of Women offices, including the B.C. office. Provincially, more than 75 community groups help women with the support of the office, including the B.C. Coalition of Experiential Women.
Which is why social justice groups say they need to find common ground on which to fight what Pacey called the Conservative government's lack of attention to women's issues.
"The human rights issues faced by sex workers are certainly not getting any attention by this government," she said. "They deserve rights, they deserve dignity, they deserve to be cared for and they deserve to be alive and not die in the context of their job."
A rally against violence against women will be held tonight at the Vancouver Public Library at 350 West Georgia from 6:30-8 p.m.
Related Tyee stories: