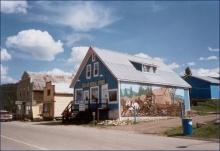 Second in a two part series. Read the first here.
Kama Steliga has some good things to say about the BC Liberals. Steliga, the executive director of the Lillooet Friendship Centre, applauds the premier's attention to early childhood education, for example. Lillooet now offers a limited amount of free pre-school to anyone who wants it.
But over the past few years Steliga also has seen an increase in use of Lillooet's food bank to 300 people a month, about 10 percent of the town's population. She's seen an elderly couple suddenly lose their benefits and try to survive on a combined income of less than $370 a month. She's been told that because Lillooet has fewer than 5,000 people it cannot have a problem with homelessness, making the town ineligible for related funding. "Tell that to the people living under the bridge outside town," she says.
Like a lot of people in Lillooet and throughout BC's rural regions, Steliga is strong on self-reliance, but shaken by the severity of cuts to her community's hospital, schools and social services.
"I really believe in the Liberals' motto 'Communities taking care of communities,'" she says. "But the cuts took away our ability to do that. They were too deep, too broad, too fast, and without enough forethought. There just didn't seem to be any kind of humane strategy to deal with social health."
When the BC Liberals were elected in 2001, did they have a strategy for rural British Columbia? The party's "New Era" campaign platform made few references to small town issues, aside from assurances that they would get the "health and education services they need."
Rural issues briefly seemed to take precedence in early 2003. The Throne Speech, while making no mention of the bruising year that had passed, unveiled the Heartlands Economic Strategy. The term "heartland" – borrowed from the American political arena – was sprinkled across the province like confetti. Jim Beatty of the Vancouver Sun noted that on February 18th, "Kamloops MLA Kevin Krueger used "heartlands" 32 times in a single speech, proudly declaring himself from the heartlands, an advocate for the heartlands and a defender of the heartlands."
How well has the "heartland" strategy been received? Just try saying the word in B.C.'s Interior or North and see what response you get.
'You Flatbushers'
"Don't you dare call us the heartland," an angry citizen of Wells told me one night in early November of 2003 as we sought warmth in the orange light of the Legion Hall. "All you down in Flatbush," the fellow growled, using a term he had coined for the Lower Mainland, "you Flatbushers just rape and pillage small communities!"
A local mining engineer joined in. "You see, when you write a column for a newspaper, it adds no value to the economy," – ouch! – "but if we go out and extract minerals or timber, that's different. We're keeping this province alive.
"But people in Flatbush," he said, savoring the new word for a moment, "reap all the benefits."
It was easy to understand their frustration. Wells was struggling, and now its elementary school was slated for closure.
Quite a few B.C. towns have faced the same predicament. Since the 2001 school year there have been 113 school closures, most of them rural. District school boards have shut down schools in response to declining enrolment and tight resources. Rural schools receive provincial funding on a per-student basis, and enrolment has fallen by 26,000 over the last three years. Despite these constraints, a task force commissioned by the Ministry of Education in 2002 recommended that schools are the "heart of the community" and they should only be closed as "a last recourse."
"The rural school represents more than a place for the children to be educated," the report said. "In many ways, it also represents the right to preserve a rural culture and a viable economic development plan."
Around the province, communities have taken desperate attempts to save their schools. In Forest Grove, angry parents occupied their school through to mid summer 2004, after the school board ordered it closed. In Wells, the Mayor, Dave Hendrixson, went on a hunger strike. Hendrixson is in his seventies. After 33 days of juice only, and 35 pounds lost, the media came. They rang his phone, they took pictures. Wells was on the map.
Of course, media success is not a victory — it's a bargaining tool. Wells struck a deal and bought the school off the province for $1. They now pay building costs — over $10,000 a year — and the school board agreed to pay one teacher's salary. It's been a real struggle to keep the school, District Councilor Judy Campbell told me, but it's worth it. "I don't want Wells to become another of one of Gordon Campbell's ghost towns."
Squinting into the future
Here is one vision of rural British Columbia's future: The young, educated, and upwardly mobile continue to trickle out of the hamlets and resource towns and into the cities. The people who remain tend to be impoverished, poorly educated, and elderly — those who don't see the shining opportunities of urban life. Resource exploitation continues but the workforce is seasonal or housed in temporary work camps. They don't spend much money in the local communities. Most industry profits flow to the Lower Mainland or to corporate headquarters outside the province. Some small towns boom as resort destinations or retirement idylls (think of Tofino and Chemainus) but many others become increasingly poor and desperate, slowly shrinking and then disappearing.
There are advantages to this situation. Public services can be delivered more efficiently in urban areas, due to economies of scale. Also, when people are packed into denser communities their per capita ecological footprint tends to be smaller — residences are generally tinier, public transit is possible, heating is more efficient. And cities these days are vibrant places of multicultural swirl, technological innovation, and the opportunity to find your own niche to inhabit. After all, more than half of British Columbians have chosen the metropolitan life.
Why, looking at the big picture, should we worry about the loss of small town life?
"That's a question that could only be posed under the current political conditions, and I think it indicates our tremendous poverty of imagination," says Bruce Milne, a former mayor of Sechelt and professor of political science, now collaborating with the University of British Columbia on a five-year study of coastal communities.
Milne argues that our society would be impoverished by the loss of small towns and the sensibilities they cultivate. When you live in a smaller community, he says, you are forced to see yourself as dependent upon and integrated with other people. You can't become as specialized or niche-bound as cities allow. In fact, he believes that Canadians deserve the chance to choose among a diverse palette of lifestyles.
"We can be more of ourselves if there are more options available," he says. "It's not just about giving small town citizens the chance to go be doctors and lawyers in the city. It's also about giving the children of those doctors and lawyers the chance to go back to the country, to cut down trees or fish or live in a quiet place and write poetry for a living."
The key is diversity, says Milne. Smaller communities provide alternatives to cities in terms of political organization, economic activity, social networks, lifestyles, values, and ways of interacting with the natural world. "A society with diversity will always be stronger than a mono-culture," he says. "It's more resilient to change."
A case for small towns
There are also strong economic arguments for small communities, says Greg Halseth, the Canada Research Chair in Rural and Small Town Studies at the University of Northern British Columbia.
"There are lots of ways that business can be done more efficiently in small towns," he says. These go beyond having a stable workforce for resource extraction. Improvements in information technology allow companies to locate production and management components all over the world — the most obvious example being the call centres that pop up everywhere from Bombay to Scarborough to Surrey. Compared to cities, small communities offer lower tax rates, property values, and commercial rents.
To make use of these advantages, however, small towns need to attract and retain dynamic, entrepreneurial, well-educated residents. That shouldn't be impossible. When Halseth asks his students to identify the best characteristics of small towns, they list the old standbys: "safe", "friendly", "strong sense of community", "good place to raise kids or grow old", and so on. Then he tells them to look at the Real Estate section of the Vancouver Sun — advertisements for suburbs and housing developments use the exact same qualities to lure homebuyers.
"Rural places have these desirable elements — and these are also marketable elements at the start of the 21st century," says Halseth.
But to attract and keep citizens, you need services, amenities, and infrastructure. You need fiber-optic cables and decent roads. You need programs to help the community's poor, disabled, or unfortunate. You need recreation centres, decent health care, and high-calibre, dependable schools.
"It's not like Bella Coola expects to have a heart surgery unit, or that every town should get a university," says Bruce Milne. "The problem is that services have been withdrawn very quickly, and without real consultation or accommodation of the people affected."
Feds rethinking their cuts
Service cuts did not begin with the Liberals. Provincially, services declined under both Social Credit and New Democratic governments. But they really started in the early 1980s with the federal government — many will remember the great Post Office debates of that time. But in recent years, says Greg Halseth, the Canadian government has come to realize that many of these service closures weren't economically efficient. They're now trying to find innovative, cost-effective ways to re-introduce services.
Gordon Campbell's cutbacks were not only more sudden than those that came in the past, they were also magnified by other policy changes. Large tax cuts and service reductions tended to reward well-to-do urban-dwellers and punish the poor and the rural. Changes in land use policies have made it more difficult to keep some profit and capital in small communities rather than metropolitan centres.
"What surprises me is how mean-spirited they've been," says Paul Bowles, a professor of economics at the University of Northern British Columbia, speaking of the BC Liberals. He points to the reduction in minimum wage (the "training wage"), the changes to welfare, the closure of women's centres and Legal Aid programs. "All these things have been hitting the people who are most insecure in the work force and in society. My view is that the costs of this strategy have been born by those who can least bear it, and the benefits have gone to people with high incomes."
Even if we could afford to put a shiny new school and hospital in every hamlet — and no one suggests we can — there are other issues to tackle. Smaller communities need to develop their own strategies to exploit their assets. There needs to be a demographic shift in small towns so they come closer to reflecting the overall Canadian picture, including education levels and cultural diversity. And there needs to be a rehabilitation of the image of small towns — away from their frequent depiction as narrow-minded, insular, and career cul-de-sacs.
Even with the enthusiastic support of the provincial government, the revitalization of rural British Columbia is a daunting task. And small-town British Columbians recognize their precarious existence. As I travelled throughout northern B.C. and the Interior, I asked people whether they preferred to be called the "heartland", the "hinterlands," or "rural B.C." Over and over I heard the self-deprecating remark:
"Why don't you just call us 'beyond Hope'?"
To read 'Hard Feelings in the Hurtland,' the first of this two-part series, go here.
[Ed. note: a change has been made above to the reference that the Forest Grove school occupation was attempted in 2003. This was incorrect; apologies for the error.]
Chris Tenove is a contributing editor to The Tyee. This article was adapted from his chapter in Liberalized: The Tyee Report on BC under Gordon Campbell's Liberals.