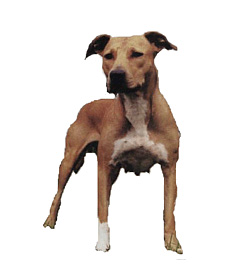 You'd be hard pressed to deny that Canada is a nation of dog-lovers. Walk down virtually any strip of retail shops in the country and you're bound to encounter one that caters to our four-legged companions, whether it be a doggy daycare, pet food store or grooming salon. According to a March 2001 Ipsos-Reid survey, there are 5,104,800 dogs in our country. That's almost 2 pooches for every 10 Canadians.
But while we may love our Golden Retrievers, Bichon Frises and Poodles, other dogs have recently found themselves on the outs – and none more so that the Pit Bull. Banned in Winnipeg since 1990, now the McGuinty government of Ontario is following suit, having announced in October that legislation for a ban would be introduced in the following months. And locally, the breed is facing the prospect of further restrictions; Vancouver city councillor Tim Stevenson is expected to push for stricter regulations concerning Pit Bulls next month, when a report by city staff who have been researching dog regulations from other cities, provinces and countries is delivered. The result could well be a breed ban in Vancouver.
Stevenson first called for action against the breed in September 2004, after a female jogger was attacked by a leashed, unmuzzled Pit Bull as she jogged along the False Creek sea wall.
"We've had our share of attacks by Pit Bulls, and people have been harmed," says Stevenson. "[The sea wall attack] finally got me to the point of saying we need to at least look at this option [of banning Pit Bulls]. It's getting a bit preposterous when you can't even go to the sea wall and jog without being attacked. It seems crazy."
Shenica's horror
In addition to the incident that spurred Stevenson into action, Vancouver residents continue to be haunted by the story of Shenica White, who was viciously attacked and permanently disfigured in December 2003 by two dogs which have been variously described as Pit Bull, Rottweiler and Mastiff cross breeds.
And just last month, a Maple Ridge toddler was attacked and killed in his own home last month by as many as four dogs. While the dogs involved in the incident included three Rottweilers and a collie, the incident has reignited the debate over whether certain breeds should be banned, starting with Pit Bulls.
Vancouver already has a 'vicious dog by-law', which classifies any "Pit Bull Terrier, American Pit Bull Terrier, Pit Bull, Staffordshire Bull Terrier, American Staffordshire Terrier or any dog of mixed breeding which includes any of the aforementioned breeds" as vicious, and requires them to be muzzled at all times in public. But this bylaw is rarely, if ever, enforced.
Bob Cristofoli, supervisor of field operations for Vancouver animal control admits "we don't have the resources to stop every Pit Bull owner out there." He says with only 10 animal control officers, he simply doesn't have the resources to enforce the bylaw, and that it's not a priority. Cristofoli doesn't think much of the idea of a ban, maintaining that Pit Bulls have been given a bad rap by the media, and "like any dog, Pit Bulls can be wonderful pets."
'Where does banning stop?'
Like Cristofoli, many animal activists insist it's bad owners, not bad dogs, that are at the heart of the problem. Besides, they claim, if you outlaw one breed, people will just turn to another.
"The problem with Pit Bull terrier legislation, really, is if you ban the breed, where is it going to stop?" asks Dawne Deeley, BC director for the Dog Legislation Council of Canada, Karelian Bear Dog breeder and owner of two American Pit Bulls."Somebody who was going to get a Pit Bull will say 'well, I'll go out and get a Bull Mastiff, or a Doberman, or a Dobo Argentino, or a Filo Braziliero, and the problem is just going to exacerbate and multiply. It's not going to go away."
Dr. Stanley Coren, professor of Psychology at the University of British Columbia and author of numerous books on dogs, including How Dogs Think and The Intelligence of Dogs, also has reservations about the wisdom of a specific breed ban, starting with the definition of "Pit Bull".
"To ban Pit Bulls, the very first problem you're going to have is trying to prove what is a Pit Bull." he says. "'Pit Bull' is sort of a loose term. In 1830, the British Parliament banned bull-baiting and bear-baiting, so people switched to dog fights. Literally, these dogs were placed in a pit or an arena, and they fought one another and were bet on. Any dog which was used in the pit became effectively a Pit Bull.
"Nowadays, we use it to refer to a variety of square-faced dogs, including the American Pit Bull Terrier, which is not a recognized breed in Canada or in the US, and the Staffordshire Bull Terrier, the American Staffordshire Terrier, and a variety of crosses which are usually things that have been bred for dog fighting."
Worth rescuing?
Stevenson's answer on how to recognize a Pit Bull is to take Winnipeg's lead."Winnipeg says: 'If it looks like a Pit Bull, it's a Pit Bull.' They're pretty recognizable."
Despite the outcry from Pit Bull lovers and dog behaviorists, Stevenson is not fighting his battle alone. Judy Stone, president of the animal rights and rescue group Animal Advocates is one animal activist who actually supports a proposed ban on the breed. She insists that because of years of breeding, dogs who fall into the Pit Bull category are inherently dangerous.
"To deny that Pit Bulls behave more or less according to the traits they were bred to behave, you would have to deny that Pointers point and Retrievers retrieve," she maintains. "Our position is that they behave more or less according to the traits they were bred for. They attack without provocation and without warning, and unlike other breeds, when a Pit Bull starts to attack, you can't call it off. That's why people shoot them. People have tried to stop them by butting them over the head with two-by-fours and they won't stop."
Stone says she has stopped rescuing Pit Bulls, as they are too difficult to place and she feels uncomfortable about placing them in homes.
"I've rescued plenty of Rottweilers, and the different is that other breeds have to be socialized to be dangerous. You can make it dangerous by chaining it up. Protection breeds like Rottweilers and Shepherds are easier to make dangerous, but you still have to do something to make them dangerous. Pit Bulls are dangerous inherently."
Besides, she asks: "What municipality has $1 million to enforce responsible ownership?"
'Combat Kennels'
Dr. Coren does admit that "breeders can create monsters", and cites kennels with names such as Armageddon Kennels, Seek and Destroy Kennels and Combat Kennels as examples.
"What are these guys doing? This is not 'come and buy Flossie here to rest on your couch,'" he says. "These guys are breeding dogs very specifically to meet a need for some people who still engage in blood sports. But does that include all Staffordshire Terriers? Does that include all American Pit Bulls? Of course not. … Do we say that nobody can have a Ford on the highway because some people are souping them up in order to use them for street racing? Of course not. We go after the street racers. That's what we should do. We should go after the people who are the bad breeders."
In any case, says Dr Coren, banning one breed simply opens up the door for other breeds to be used and abused by breeders and bad owners. He mentions statistics from Winnipeg, which indicate that following a breed ban in 1990, bites from dogs defined as "Pit Bull Type" dropped from 28 in 1989 to 1 in 2003 – but bites from other breeds have risen across the same period of time, including those by Rottweilers and Akitas.
Dr. Coren maintains that dogs classified as Pit Bulls can actually have some positive traits as well.
"Pit Bulls can be wonderful dogs. I mean, Don Cherry's dog, Blue, is going to be classified as a Pit Bull. He's ugly as sin, but is he dangerous? No. A well brought-up dog from a decent line is not going to be a problem…You have to understand that originally, these were very common companion dogs," he says. "Helen Keller had one, for God's sakes. So, we're talking about a dog which was considered to be a very acceptable, friendly dog."
He adds that, since they were originally bred to be used in the dog fighting pits, they had to learn to respond well to their trainers and other humans in the pit. Those Pit Bulls that showed aggression towards humans would not be good fighting dogs, and would be culled.
'Immediate problem'
As far as Deeley is concerned, no other breed comes close to her American Pit Bull Terriers. "I'll never be without one," she says, despite the fact that she has been the brunt of angry comments and outbursts from strangers regarding her preference for the breed. "I'll go to my grave with one. It's their devotion, their affection … This is a breed that will run a marathon one day, and the next day, if you're laid up with the flu, they literally won't go out because they're too afraid to leave you by yourself."
But for all the arguments against the ban, it's difficult to shake the conviction of those who support such a move.
"Obviously there are going to be questions of judgment," says Stevenson, who admits that without other jurisdictions like Burnaby and New Westminster on board, things could get complicated. But he feels that a ban in Vancouver could be a starting point. "All I know is that we have an immediate problem."
Jessica Werb is a journalist in Vancouver and regular contributor to The Tyee.