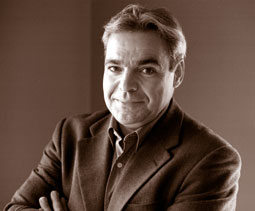 The influence of organized crime in B.C. has never been greater. Last month, the RCMP revealed five of its nine national priority investigations this year will be conducted in the Lower Mainland. The police identified the Hells Angels as one of their key targets.
Last Christmas, an organized crime investigation even lead police to search offices in the provincial Legislature. Police and politicians increasingly invoke organized crime in their political battles -- for more money, greater port security and stronger enforcement.
Yet the growing importance of organized criminals, who control a signficant portion of B.C. $6 billion marijuana industry and are entrenched in B.C. ports, has only recently been confronted, according to author Julian Sher, who spoke recently with The Tyee.
Sher and co-author William Marsden's The Road to Hell: How the Biker Gangs are Conquering Canada has become the definitive account of how the Hells Angels went from, as Sher describes them, a rag-tag group of good-old boys to the number-one organized-crime gang in the country.
Sher is also the author of the award-winning national bestseller, Until You Are Dead: Steven Truscott's Long Ride into History. He has won a Gemini and a Michener award for his work as a producer for CBC's The Fifth Estate.
The Road to Hell recounts how the Angels brand-marketed their name, took control of nation's ports and the drug and sex trades. The book is now being used in courtrooms and by police as a guide to the inner workings of the gang in Canada.
Last week, the book was used by the defense lawyer in a Montreal murder trial, during cross-examination of a Crown witness. Both lawyers signed the book after the day's proceedings. The defense lawyer wrote that he got more disclosure from Sher's book than he did from the Crown. The prosecutor drew an arrow on the opposing page and wrote, "Not true, but it was a good read."
The Tyee, which has excerpted one chapter in the Angels' B.C. exploits, interviewed Sher by telephone from his home in Montreal.
How has the Hells Angels' power grown over the past 20 years?
They've grown from a rag-tag group of bikers, who were involved in some crime but were basically a group of good-old boys, into one of Canada's and one the world's leading international crime organizations. In Canada, they went from having no members in 1977 to having an estimated 550 members and close associates and more than 30 chapters across the country.
What spawned that growth?
On one level it was just that they have hot name-recognition with anyone who has heard of the Hell's Angels -- it's like Nike -- and in that name recognition there is a sort of sexiness. It is seen as crime, but at the same time it's seen as cool and hip. Any kind of bad boy would want the sex appeal of joining the Hells Angels.I think another factor is that they were also largely ignored and underestimated by the police and by the
public and by politicians. There was a sense of "Well, okay. Yeah, they're bikers and they are going to get into some trouble, but we don't have to watch them that carefully." In our book, we quote several police officers who say that it was largely their fault for ignoring the bikers for so long.
The third factor is that they have a very unique structure that lets them expand. On the one hand they have all the advantages of the network -- a brand-name-type structure and the sharing of information. But they also have a very insular, cellular structure, so that if a problem arises, as it did in Halifax [where the chapter has been effectively wiped-out] and Quebec [where its leaders are behind bars], it doesn't affect the rest of the country.
The flip side of that is that the police were not coordinated and did not cooperate, so you had that
problem as well.
How has the range of their activities evolved?
Originally, a lot the bikers would just do enforcement for the mafia, like beat up people, and they would also be the gophers for distributors of cocaine and illegal drugs. But as they graduated, they took on a much more important role in the drug trade in actually bringing in the drugs through Vancouver, Montreal and Halifax, cooperating with the mafia or doing it independently. So much so, that by the mid-'90s, they were making millions of dollars a week in the drug trade in Montreal.
They were also successful in taking over part of the sex trade in British Columbia. Hells Angels members run some of the stripper agencies and clubs. And then they branched out. For example, in Montreal, hash is very big, so they are involved in the hash that moves through the port in Montreal, while in B.C., it's the grow-ops.
Was it situational that they started taking a more active role?
No, it's a very conscious growth strategy. Certain individuals decide "we must control this part of the trade because it's very lucrative." How does Chrysler become the number-one car company? How does Nike become the number-one shoe company? You do it through ruthless expansion into new markets and ruthless elimination of competitors.
Who were their competitors and how did they get rid of them?
In Quebec, it meant literally the elimination through bombings and murders of more than 150 competitors. If you're dead, you can't sell drugs in the Hells Angels territory. In Ontario, it was done through a massive takeover. They just swallowed up over 200 members of rival gangs.
In B.C., it was done through car bombings and drive-by shootings to get rid of some Russian competition. But overall, in B.C., they haven't had to resort to violence because there's enough of territory for everyone to operate in. Also, they were able to carve out an agreement with the Indo-Canadian and Asian gangs.
Are there statistics to show how much of the drug trade is controlled by the Hells Angels?
No, it's hard to put a number on it, but the police consider the Hells Angels to be the number-one organized crime group across the country. They are the only gang that has a national presence. The mafia is strong in Eastern Canada but not really present in the West. Asian gangs might be strong in Vancouver or other cities, but not in Montreal or Halifax. Indo-Canadian gangs are present in Vancouver and Toronto but not elsewhere. The Hells Angels have a presence in every city, and we've never had that before.
How much control do the Hells Angels have over our ports in Vancouver, Montreal, and Halifax?
Well it's a huge part of our mosaic. Any criminal realizes that the best way to bring drugs into the country is through the ports, because you can bring in huge amounts compared to the small amounts you can bring in a car or with a passenger in an airplane.
By Canada's own admission only three per cent of the shipments are actually checked. The Hells Angels realized this and have members working in the Vancouver ports and close associates working in Montreal and Halifax. In fact, the auditor-general's most recent report estimates that something like 4,000 people with ties to Canada's biker gangs and other gangs work at the country's major ports and airports.
So we do we need stronger port authorities?
You need some kind of presence. You need intelligence, it's not just men on the beat, but we also need intelligence and surveillance. That isn't being done in any major way.
What are the major impediments to challenging these gangs?
The budget, the time, and the priority to go after them. It's costly and it takes a lot of time to go after these types of criminals.
What are the differences between American and Canadian anti-gang laws?
The Americans have somewhat stiffer anti-racketeering laws. The main thing the Americans have that Canadians don't is heavier mandatory sentencing, which creates a bigger incentive to squeal and deal. They can squeeze a little guy to squeal on his boss if he's looking at a lot more jail time.
What legal changes could be made in Canada to help battle these gangs?
I think, especially with the new anti-gang law, we don't need a lot of changes. Some would make the case for stiffer sentencing guideline. There isn't a lot of incentive to squeal on people who are higher up.
I don't think we should go as far as the Americans, where they have such stiff sentencing guidelines that you have so many low-level drug dealers clogging up the jail system.
But Canada does have a new tough anti-gang law [originally implemented in 1997 and improved in 2001]
that makes it illegal to participate, even in an indirect way, in a gang's activities.
Are there systemic issues getting in the way of enforcing this new law?
Yes, there still isn't enough communication between police forces; there is still a lot of infighting between
police forces at times and I think that taking on the bikers doesn't always get the priority attention from
the politicians, the police and the public.
So how can this be improved?
Well, the media have to start paying more attention to organized crime so the public becomes more sensitized to it. The public has to be willing to cough up more tax dollars so that organized crime investigations can take place. It's important that police readjust their priorities so that more complicated issues, like organized crime, get addressed.
Did you get a sense on why the Stirling case [where police seized $330 million in cocaine but didn't arrest the principal criminals] fell apart?
What I think the Stirling case shows is that it takes boldness and initiative to go up against organized crime. You have to be willing to take risks.
Are we willing to do that in Canada?
It has been done in Halifax and Montreal -- by the RCMP and local police forces. In Ontario, there has been some good work.
What has been the hesitation in B.C.?
Well, I think police will tell you on the ground that the top brass at the RCMP have been historically rather reluctant and overly cautious in taking on the bikers seriously. But that's changing; the RCMP just recently cooperated with the organized crime agency on a major cocaine bust and now the organized crime agency has been merged into the RCMP. So, I think there is optimism in the ranks of the RCMP that things are changing.
How much has the book been used as a guide to the inner-workings of the Hells Angels?
I don't go into a city without police officers coming up to me and saying they've read the book and they can't say enough about it. It's because the experiences of departments across the countries are not shared, so they are devouring the book. Even within the province. There are some B.C. cops that don't know about the great work that has been done by other biker cops in the province.
Do you hear anything from the Hells Angels?
No, we've heard from sources that they are less than pleased, obviously. Apparently they are reading, but I haven't heard anything else.